Margaret Lamb, 35-Year English Faculty Member, Dies at 75
Published: March 30, 2011
Margaret Lamb, author, playwright and English faculty member of 35 years, died on March 22. She was 75.
The cause was complications of leukemia, according to Eva Badowska, chair and associate professor of English.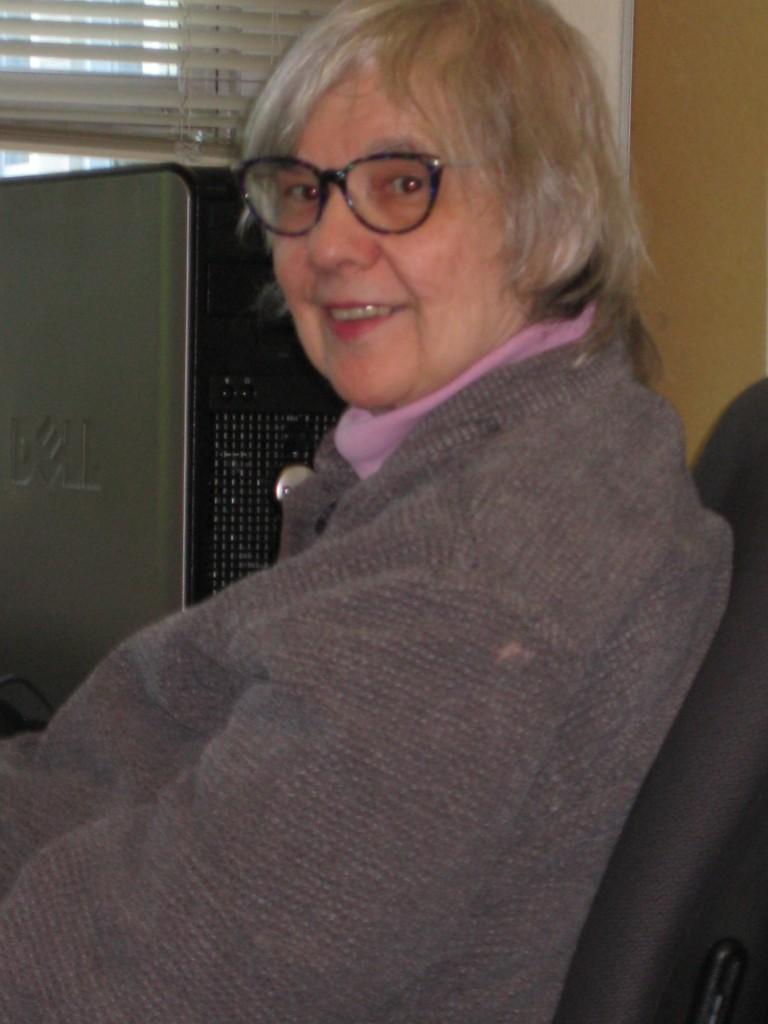 Lamb was the author of two published books, "Antony and Cleopatra on the English Stage" and "Chains of Gold," a mystery novel. Her short stories and non-fiction were featured in numerous publications such as the New York Times, the Yale Review, the Western Humanities Review, Mademoiselle and Seventeen.  She wrote five plays, including "Monkey Music," which was performed at La MaMa Experimental Theatre Club in 1980. As an associate professor at Fordham, she taught courses primarily on drama—Shakespearean through modern—as well as fiction writing, literary magazine production, film studies and women's literature.
"Mimi Lamb loved being in the classroom and relished working with our students, right up to the moment of her last illness," Anne Hoffman, professor of English, said. "I think of her as a quintessential New Yorker, someone who loved the city for its diversity and history. She had fun sharing her knowledge of city lore with colleagues and students. We will miss her wit, intelligence and good humor."
Rev. Robert R. Grimes, S.J., dean of Fordham College at Lincoln Center (FCLC), said, "Mimi Lamb was a gracious, creative and fascinating person who shared so many different gifts with the college over 35 years."
Born on March 6, 1936 in Grand Forks, N.D., Lamb was the oldest of seven children, with two younger brothers and four sisters. She spent most of her childhood in a small farming town on the prairie in Michigan, according to her sister, Julie Lamb.
When she was 18 years old, Lamb left Michigan to attend Vassar College, where she earned her B.A. in English in 1958. During her time at Vassar, she was admitted to the Phi Beta Kappa Society and won the Academy of American Poets Award three times. She received her M.A. in film from New York University (NYU) in 1965 and her Ph.D. in drama from NYU in 1976. In the same year, she began teaching at Fordham as an assistant professor.
"After 35 years of teaching and writing at Fordham, she still found essential pleasure in both," Badowska said. "She and I once talked about a minor Victorian novel I vaguely remembered reading in graduate school; but to Mimi, the characters were as alive and vital as if she'd just finished reading it. I remember thinking that the world she lives in must be a really crowded one, thronged with centuries of literature."
Frank Boyle, associate professor of English, said, "She was more generous with her time than anyone I know. I never heard of a single time she turned down a student's request for a tutorial. She saw the irony in everything, but was never bitter. She was funny, feisty and deeply learned. I don't think she ever forgot anything she ever read, and she seemed to have read everything."
Lamb's scholarly work focused mainly on Renaissance drama, though she also published works on feminism. She wrote extensively on Shakespeare's "Antony and Cleopatra," which was the subject of one of her books as well as two publications in the journal "Shakespearean Criticism."
Although Lamb was a published scholar and mystery novelist, she also had a passion for experimental and socialist playwriting. In addition to her play at the La MaMa, a renowned off-off-Broadway experimental theatre, she wrote "The Winner," a rock-musical street play that was presented in the streets of New York and at Lincoln Center plaza in 1971. She also borrowed from socially conscious modern playwrights Henrik Ibsen and George Bernard Shaw in her play "After the Masters," which includes two one-acts based on Ibsen's "Enemy of the People" and Shaw's "Major Barbara," respectively. It was performed at the Socialist Scholars Conference in 1993.
From the time she graduated from Vassar College until her death, Lamb was a resident of New York's Upper West Side. In 1984, she married her late husband, Fred Garel. This semester, prior to her diagnosis, Lamb was teaching a fiction workshop at FCLC.
"She was an amazing teacher because she actually cared about me as a person," said Sarah Schultz, FCLC '11, who took two of Lamb's classes. "She encouraged me to meet with her privately to talk about my writing, and she always took the time to ask me what was going on in my life outside of school."
Lamb is survived by five younger brothers and sisters, as well as 11 nieces and nephews.