Review: 'The Headlands' Marries Murder Mystery and Memory Play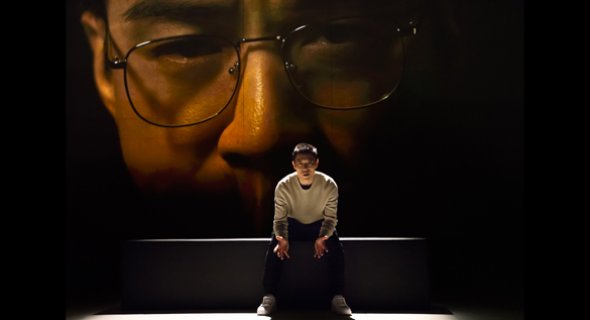 Murder mystery fans and true crime documentary binge-watchers, look not to Netflix for your newest obsession, but to the Claire Tow Theater (home to LCT3, a program that produces work by new artists) in Lincoln Center Theater. LCT3 is staging quite the investigation with "The Headlands," Christopher Chen's new work that's one part memory play, one part "Dateline" episode and all parts twisted in the most thrilling of ways.
Henry (Aaron Yoo) is our protagonist and narrator, a true crime buff himself whose enthusiasm for the topic spills from every word — to an almost inappropriate degree, considering the murder-ridden topic at hand — in an oddly endearing way. With him, we dive into the details of his own father's murder during an attempted home burglary, the ultimate cold case Henry has striven for years to solve.
Those years all blend together on the Claire Tow stage. Henry talks to us from the present moment, but at many points we're watching him and the other characters — most often his parents George and Leena (Johnny Wu and Laura Kai Chen, respectively) — reenact Henry's memories from before his father's death against various projected backdrops. He slips in and out of them, sometimes watching the scenes as though they are being beamed directly out from his mind. Other times, the projected backdrop spills onto his shirt and his adult self becomes part of a childhood memory, transcending time.
Unlike some other recently opened shows with overbearing projection design, "The Headlands" makes discriminating and skillful use of it. Shots of rain pattering in slow motion on a windowsill and of the Marin Headlands themselves imbue the sterile white walls, perfectly poised for transformation by the projections, with delicate beauty and clarify the shifts between present and past settings. On the other end of the tonal spectrum, grainy close shots of characters' faces give the production that "Dateline" feel, helped along by washes of red light and short, foreboding piano notes as new twists unfold.
There I go using that word again, "twist." It's apt to describe the trail of clues Henry unearths as new conversations — with his father's old business partner (Henry Stram, who also steals a scene as a wry detective) and his mother's old friend (a sharp Mia Katigbak), among others — give clarity to once-puzzling memories. But it describes thematic complexities beyond the murder itself just as well. Class prejudices twist many a wrench into George and Leena's marriage. The healthy facade of Henry's own relationship with his girlfriend Jess (smartly played by Mahira Kakkar) breaks open when the point of view twists to hers. "I turned her into (a true-crime lover)," Henry proudly proclaims, but whether Jess is truly his eager partner in (solving) crime is another mystery for audiences to ponder as the play trods on.
Luckily for Henry, he nonetheless has the audience on his side. It's impossible not to have some of our own twisted fun parsing out the clues for 90 minutes. Not to spoil anything, but for all his in-depth sleuthing, it's what's right in front of him that Henry seems to miss. You might not be able to solve the case before the play wraps up, either, but you can go to the theater right in front of you (across the street from campus) and give it a shot before evidence of "The Headlands" fades into the mist.