Bringing Something New to the (Thanksgiving) Table
As the leaves change and the temperature drops this season, the desire to cozy up with a warm pumpkin spice latte or indulge in a fall-flavored pastry or plate of pasta increases. With Thanksgiving right around the corner we can also expect lots of food and therefore leftovers.
Whether you are looking for healthier alternatives to home-cooked comfort foods or a few new recipes for your holiday leftovers, here are six new takes on your favorite fall flavors.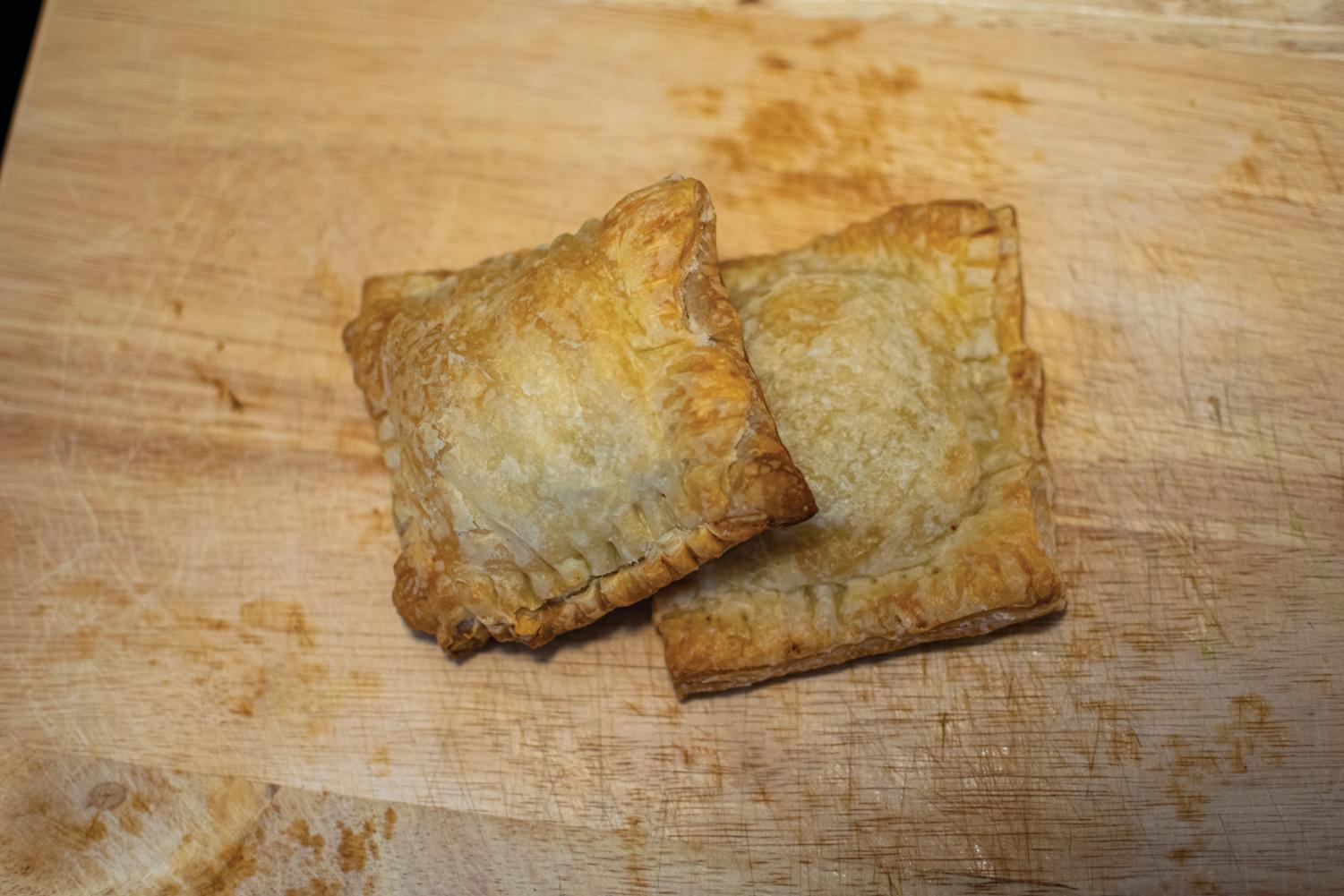 Savory Puff
This recipe is the equivalent of combining a bunch of leftovers into a crockpot and calling it a stew, but in a portable snack option. These puffs are great for a post-thanksgiving feast with your roommates or to take as a snack for that one night class you're always starving in. 
A few things to note when making this recipe: puff pastry dough can be bought at Trader Joe's and one package is enough dough to make twelve square puffs. However, the amount of puffs you can make all depends on the amount of leftovers you have. Usually one to two spoonfuls of filling makes one puff so cut the dough squares accordingly. 
Also, be extremely cautious about how long you leave your dough at room temperature because if it gets too warm it will be a sticky mess and make it nearly impossible to seal your puffs. The dough straight out of the freezer shouldn't take longer than half an hour to defrost. If you're baking them in separate batches put the puffs not in the oven in the fridge to stay chilled (this will make it much easier to transfer to the baking sheet). 
Ingredients:
Turkey (or vegetarian substitute)
Vegetable of choice (my personal favorite is green beans, but peas work great as well)
Mashed potatoes
Puff pastry dough
Butter (optional)
Gravy (optional)
Finely chop the turkey (or meat substitute) and the vegetables, making sure they are small enough to work as a filling. Fold in the chopped turkey and vegetable filling parts into with the mashed potatoes, then assemble the puff pastries (cutting them into squares work best — remember, they will rise quite a bit).
Add a spoonful of filling to the center of one square, place another square of dough on top and seal all four edges by crimping them with a fork. If the filling is starting to spill out, carefully remove some with a spoon because if it flows out of the sides, it could burn. Bake it in the oven according to the temperature and time on the dough package. You can brush some butter on the top for a golden brown crust. The dish can be served alone or with gravy.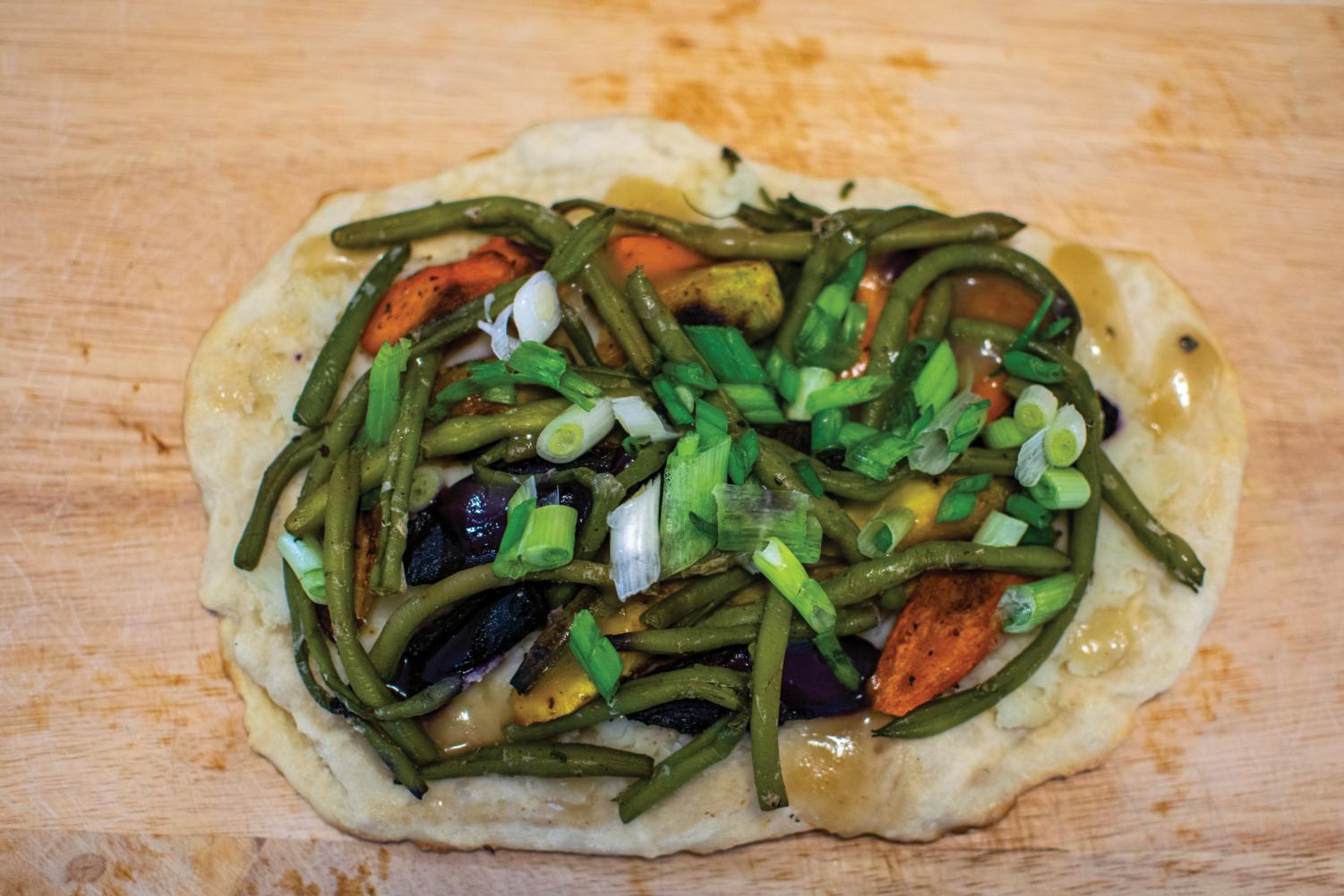 Thanksgiving Pizza
This is a carb lover's dream pizza. It's got potatoes, bread and vegetables to cut through the starch. Similar to the puff recipe, this can be altered to meet dietary preferences or work with the leftovers you were given. It will take a bit of time especially because working with pizza dough can be difficult. 
Here are a few tips: I got my dough from Fairway for around two dollars from the frozen section, because this dough is frozen it will take a few hours to defrost and it must be at (or close to) room temperature to stretch properly, so what I recommend is buy the dough at least a day in advance and store it in the fridge, which will help it warm up in about an hour. If the dough is super sticky, knead it softly with a generously floured surface and this should help it firm up. Lastly do a final few stretches of the dough straight on the baking pan and add the toppings afterward for the best results (make sure your pan is greased I used both foil and olive oil).
Ingredients: 
Pizza dough (pre-made is the easiest)
Olive oil
Green onion
Mashed potatoes
Veggies of your choice
Mozzarella cheese (optional, works better with gravy than with cranberry sauce)
Cranberry sauce or gravy
Prep the pizza dough by flouring your work surface and stretching the dough to your desired size. Doing so with your fingertips is best — work from the center outward, leaving it a little thicker around the edges for the crust. Bake your dough for half the time instructed (for example, if it says bake for 15 to 20 minutes, bake it for 7 to 10 minutes) While the pizza is baking, wash and chop the green onion.
Carefully remove the crust from the oven, spread the mashed potatoes as a base and add the vegetables and mozzarella cheese as toppings. Bake your pizza for the remaining time and, when removed, add your choice of drizzle: cranberry sauce or gravy. 
Finally, add the green onions. Crushed red pepper also works well with this dish if you're looking for a little kick.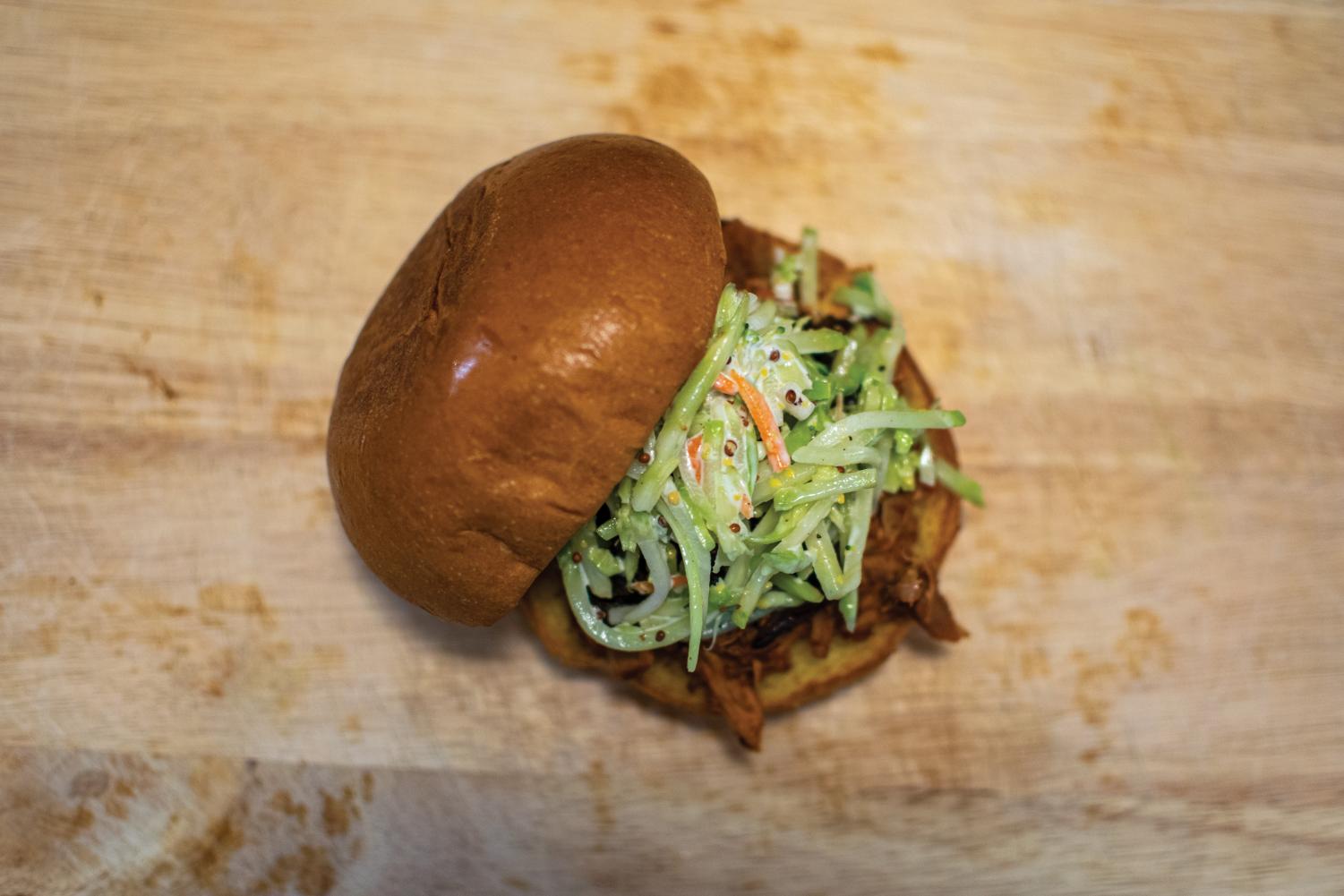 Pulled Turkey BBQ sandwich 
This recipe is a great game day meal and pairs well with french fries or potato wedges. Don't be intimidated, it's a lot easier to make than it sounds even with a long ingredient list. It's only a four step recipe: chicken, coleslaw, onions, bun/assemble. 
Here are a few tips: If you're feeling lazy you can just mix the barbeque sauce with shredded turkey and microwave it for two to three minutes and it works pretty much the same. Keep an eye on the onions because sometimes they can cook a little fast. Lastly, Trader Joe's, as well as many other grocers, sell a coleslaw mix so you won't have to buy separate cabbage and carrots if you don't want to (I like my carrot flavor to be a bit stronger, which is why I shred fresh carrots).
Ingredients:
Turkey
Barbecue sauce
1 cup yellow onion per sandwich 
Butter
Olive oil
Choice of bread
For the coleslaw:
Cabbage (or cabbage mix)
One-quarter cup shredded carrots
Mayonnaise
Dijon mustard (optional)
Black pepper
Salt 
Shred the turkey with two forks, then add barbecue sauce and toss until evenly mixed. Leave it to the side to let the sauce soak into the meat while you are completing the steps. Chop the desired amount of onion into slices about one-eighth of an inch wide. 
Heat up a pan with a teaspoon of butter and a teaspoon of olive oil and stir in your onions. Cover with a lid and allow them to caramelize while stirring occasionally. This should take about 10 minutes on low to medium heat. While waiting for the onions, mix the cabbage and shredded carrots in a bowl, add a tablespoon of mayonnaise, a sprinkle of salt and black pepper and toss the coleslaw together. A teaspoon of dijon mustard will add a kick, but this is optional. 
Add your marinated shredded turkey to a saucepan and add a tablespoon of water. Cover on medium heat for about 5 to 10 minutes to reheat the mixture. Once everything has been cooked, toast your bread with a little butter and assemble the sandwich. If you don't like coleslaw, you can replace it with mac and cheese to add a creamy element.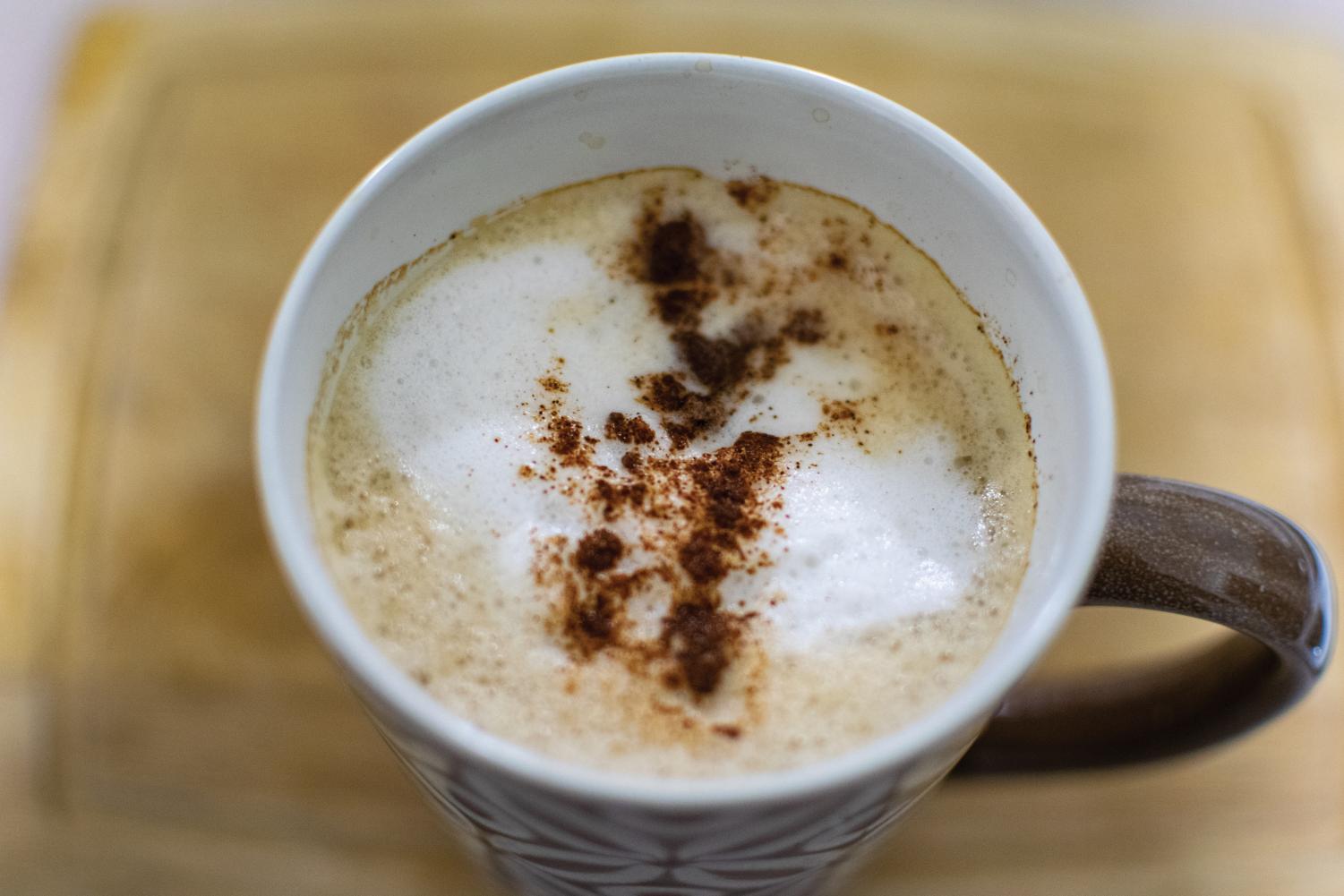 Pumpkin Spice Latte  
Ingredients:
One cup of coffee
One tablespoon of canned pumpkin
Pumpkin pie spice 
Cinnamon
One tablespoon of maple syrup 
Milk of choice
Make one cup of coffee. The amount of each ingredient used will vary depending on the amount of coffee you make and how flavorful you want the drink to be. I used a Keurig and the 8-ounce option. While the coffee is brewing, heat the desired amount of milk. I used a hand frother to froth the milk.
Mix 1 tablespoon of pumpkin into the hot coffee until dissolved. Add a few dashes of pumpkin pie spice and cinnamon to the coffee. Mix 1 tablespoon of maple syrup into the coffee until dissolved. Add the hot milk to the coffee, add a sprinkle of pumpkin pie spice to the top and enjoy.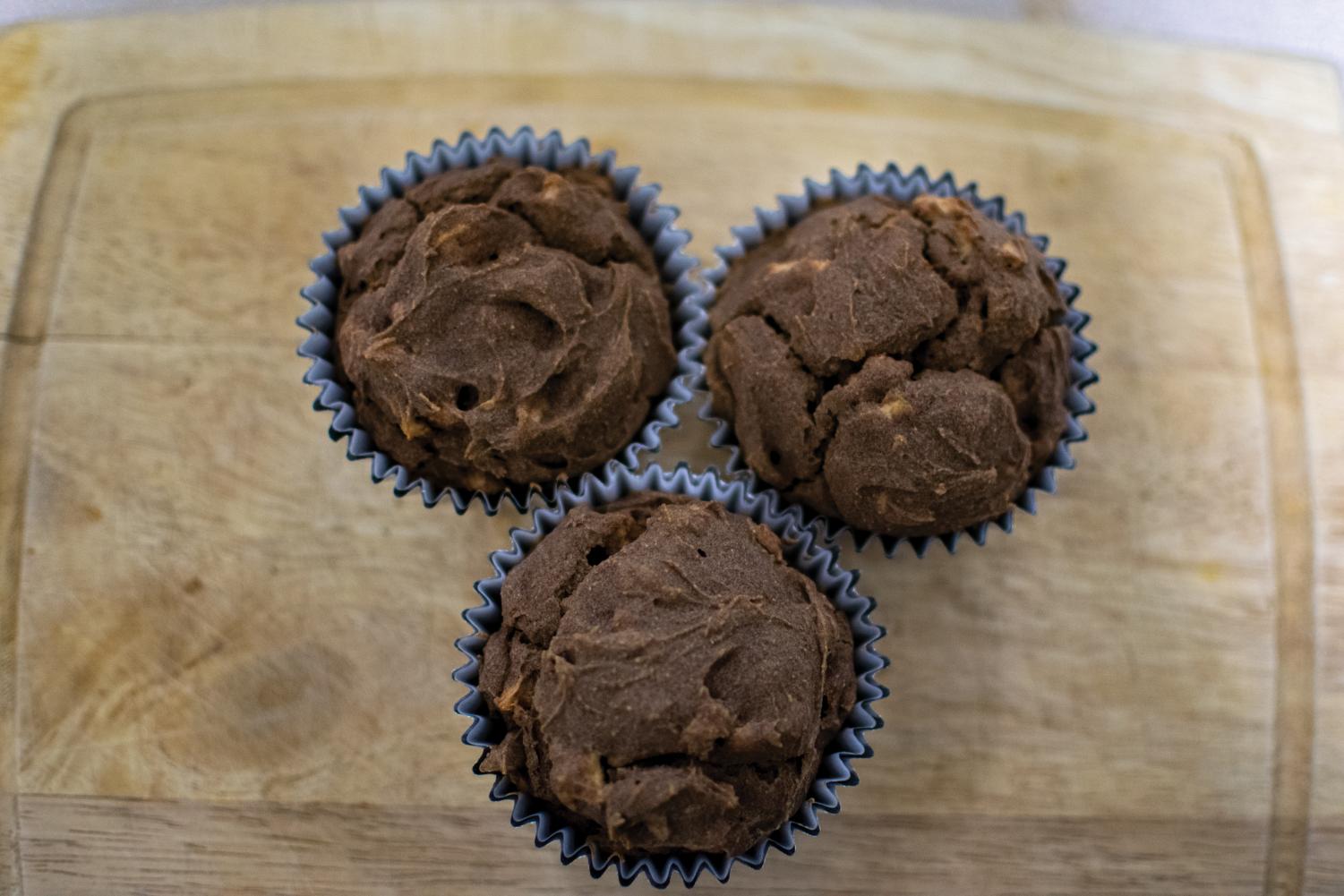 Apple Muffins 
Ingredients:
Two cups of flour of choice
One teaspoon of baking soda 
Three tablespoons of cinnamon
One to two cups of milk of choice
One-fourth cup of coconut oil
One-fourth cup of maple syrup
Two teaspoons of vanilla extract
One cup of diced apples
Instructions: 
Preheat oven to 325 degrees. Mix wet and dry ingredients together in the order listed. Depending on the type of flour used, the amount of milk needed will vary. Start with 1 cup and add more gradually if the batter is too thick. Keep in mind that the apples will add moisture to the muffins as they bake.
Fold the diced apples into the batter. Pour batter into a lined muffin tin and bake for 30 minutes. 
Take the muffins out of the oven and stick a toothpick through the center. If the toothpick does not come out clean, put the muffins back in the oven and bake in five-minute increments until done. Let the muffins sit for at least 20 minutes to cool before enjoying.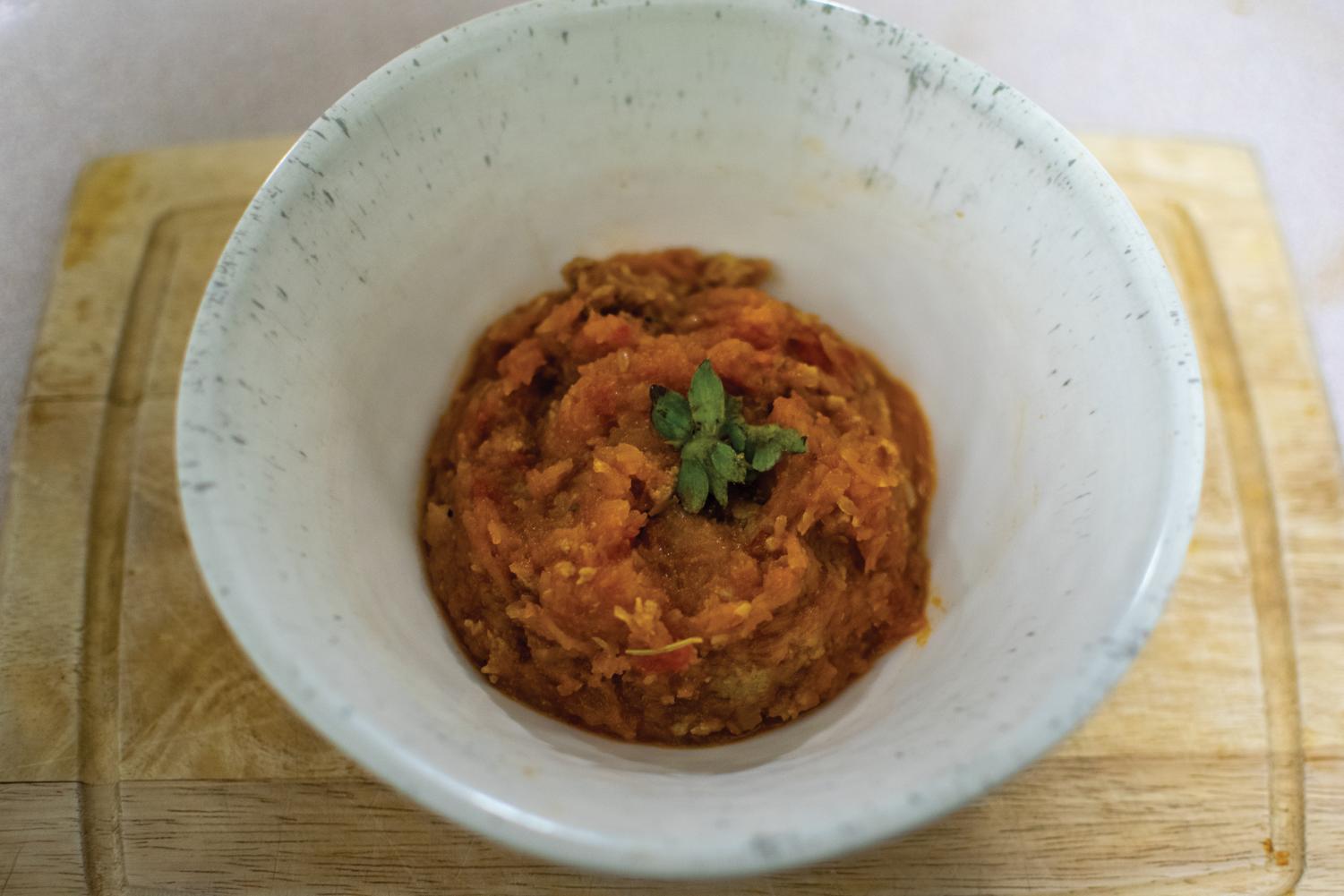 Spaghetti Squash Turkey Bolognese
Olive oil
Half of a spaghetti squash
Half of a shallot
1-ounce of ground turkey
One-half to 1 cup tomato sauce 
Instructions:
Preheat oven to 425 degrees.
Cut the spaghetti squash in half and poke a few holes in the skin of the squash with a fork. Drizzle olive oil on the inside of the squash and place it face down on a baking sheet. Bake for 35 minutes or until edges are brown and the inside is soft. 
While the squash is cooking, saute shallot over medium heat with olive oil for 5 minutes. Add the ground turkey and break it up as it cooks. Season with desired spices. I used salt, pepper, rosemary, paprika and parsley. Cook for 5 minutes until the meat is not pink anymore. 
Add tomato sauce to the pan and turn the heat down to low. Let the turkey and sauce simmer until the squash is done. Take the squash out of the oven and let it cool for a few minutes. Shred the meat of the squash with a fork. Add half of the squash to the pan with the ground turkey. Allow the squash to sit with the sauce for a few minutes for optimal flavor.
This recipe makes two servings. To add the entire squash, double the sauce recipe.