'Sound Like Yourself': An Interview with Souly Had
R&B singer Souly Had may have had a fast come-up thanks to streaming services like Spotify, but he's not looking to be just another short-lived viral craze. The Albany native recently took the time to talk about capitalizing on his streaming success and taking his craft to the next level.
Harrison McQueeney, who performs under the moniker "Souly Had," has had an interesting year. It wasn't that long ago that McQueeney was a student at SUNY Schenectady County Community College, cramming for exams like the rest of us while also releasing music on the side. His big break came when Spotify picked up a few of his songs for their branded playlists, causing McQueeney's streams and industry prospects to go up. With a plethora of new listeners came record label interest, and McQueeney fielded a number of offers before deciding on Island Records.
In the span of two years, McQueeney went from posting a cover of Amy Winehouse's "Valerie" on Instagram to being signed by the same record label that had signed her in 2002. The surrealness of it all isn't lost on McQueeney, who said that if someone had told him then that he would have the ascent that he's had, he would say, "You're actually crazy."
Recording that cover was the first time McQueeney performed in a real studio, and hearing himself recorded professionally was a novel experience. "It sounded crazy; I had never heard myself like that in headphones, it was super raw," McQueeney said.
McQueeney is confident in his sound, so much so that he says that while Spotify "sped the process up," he would have figured it out eventually. McQueeney doesn't shy away from putting in the work that acts in the 21st century need to in order to break. Part of that comes from trying to make it as a musician in Albany, a city that is overshadowed by the bright lights and soaring skyscrapers to its south. 
"The music scene isn't really much up here. I feel like no one has really made it out of upstate NY and if they did, they are lying and are from NYC," McQueeney joked before continuing, "I'm trying to make a name for upstate N.Y. almost, and be the first one to really do it from out of here."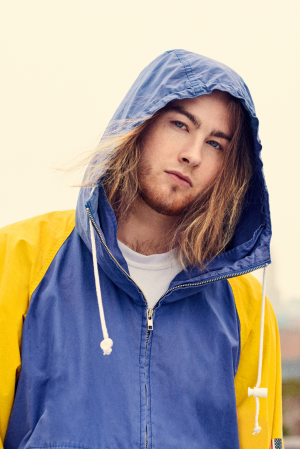 There are more resources in New York City for musicians, a fact that McQueeney readily acknowledges. Although Albany is the sixth largest city in New York, it's perhaps better known for being the political seat of the state than its music scene. McQueeney spoke to this directly: "I think it's easier for someone in the city to make it out with a bigger buzz; it's not easier to stick out, but it is easier to start going.
"People are looking in the city, people are looking in Atlanta, people are looking in Chicago. No one is looking here."
Despite the fact that it's hard to make it out of a city where the music scene isn't thriving, McQueeney cautions against taking shortcuts for fame. The best advice he could give to college students looking to break is to "try not to sound like somebody else. Sound like yourself."
Don't take McQueeney's lament about the lack of a music scene for a dig at Albany — he loves it in the capital. He has considered getting a place in Los Angeles because it's "a good home base for art in general," but McQueeney did add, "I'm not gonna make that my main spot to live. I've visited four times this year and I kind of decided I like it better up here." According to the singer, Albany simply has "a lot of real-a** people."
Maybe it's Albany's underdog status in the music industry that has bred McQueeney's work ethic. His "B.L.I.S.S."  EP is due soon and he is already working on the next one, and McQueeney is doing his best to perfect it. McQueeney is exploring collaborations, and while he performs in the collective Entre Band, it is new and different experience for him. But it is one that promises to be fruitful, as McQueeney said, "I want to work with as many people I can, because I feel like the more people you have on a record the greater it will be."
McQueeney is forthcoming when asked who his dream collaborators would be, citing Chance the Rapper, Kali Uchis, Jorja Smith and Tyler the Creator as both influences and potential partnerships. For him, putting out good music is important, and bringing "different people into the mix makes a better product."
While McQueeney does want to eventually pursue other artistic endeavors like fashion or film, he's currently focused on his music. Hyper-focused, even, as when he's writing he admits that he doesn't listen to anyone else. 
"I try to just start from scratch. I don't want to sound like anyone else," McQueeney said.
McQueeney isn't looking to parrot other sounds, but he also isn't restricting himself to one genre. "I am not putting myself in any box. I could jump on any song right now," he said. McQueeney has expressed some interest in a harder sound, as he said that he has "a lot of freestyle records that have yet to see the light of day that are super different from my sound right now."
"A lot of screaming records; I scream on the mic sometimes just for fun but it comes out really dope. Maybe at some point I'll get a little better, drop a little of that."
McQueeney is open to experimenting with his sound, and for his next show he'll play for the first time with a live band. At the show, fans can expect McQueeney to pull out material from his new EP and maybe play the guitar as well. McQueeney's new EP will have a bit of a different narrative than his previous work. 
"Before it was all love, love, love, and it's still that but kind of a different side of it — the aftermath, if you know what I mean," McQueeney explained. "There are a couple records that are more bangers."
McQueeney is looking to pull out all the stops, telling fans to "expect an overall good time, probably the best I've had in my career. I've been rehearsing everyday and getting my voice right."
As for what the viral sensation is hoping for fans to take away from his upcoming show, he said, "Keep me in mind after my set."
Souly Had plays an all-ages set at Chelsea Music Hall on August 15 as part of MTV's Push Live showcase.