Ram Jams: Jonas Brothers' 'Happiness Begins' Defies Expectations, Is Actually Pretty Okay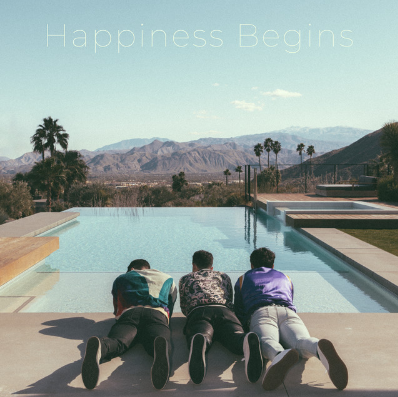 Genre: Pop, pop rock, alternative pop, ska
On a playlist with: DNCE, Hot Chelle Rae and Justin Bieber
The deets: I have one rule when it comes to pop music, and it's that it should be fun. I should want to dance when listening to it, it should have upbeat instrumentation and it should generally lend itself to club remixes (save for the traditional ballad of a full-length album).
The Jonas Brothers have delivered an album that satisfies that rule.
In the band's first heaping helping of new tunes in 10 years, "Happiness Begins" sees Kevin, Joe and Nick dramatically alter their brand image. The once-edgy Camp Rockers with MySpace-era hair fringes and emo ensembles are now tastefully dressed pop stars who are begging you to take them seriously. The band's music from 2006-09 was never considered high art by the general public, but the three-piece is clearly working hard to erase that image from our minds.
The trio opted for a far more mature sound than ever in its head-turning comeback single, "Sucker." You've probably heard it everywhere since its March release, but in case you've been living under a rock, it features a simple, reverb-heavy guitar riff in a minor key along with some delicious falsettos from both Joe and Nick. High-quality production is the bow that ties this pleasant package together.
"Cool" was the second and only other single from the album, and it's everything I described about "Sucker" except in a major key. The band's style is certainly more consistent now than it ever was, most likely because they're all grown up now and not, you know, going through puberty.
Notably, "Cool" also screams "summer" — the music video sees the band soaking up the California sun on the beach — as does most of the album. Several songs, especially "Only Human" and "Every Single Time," even see the band toying with strong ska influences that inevitably evoke imagery of Caribbean summer heat. These tracks prominently feature the signature offbeat guitar upstrokes that have defined ska and reggae for decades.
There is certainly a wide array of other influences that make themselves clear throughout the tracklist as well. Another example is the trend of boy-with-guitar singer-songwriters that has emerged in the last few years. In this vein, "Love Her" reminds me all too much of Justin Bieber's "Love Yourself," which I wish it wouldn't, as both songs are rather lazy and uninspired. "Hesitate" is a much better version of this theme: It displays vocal and instrumental prowess that is actually quite impressive coming from a band that people used to hate for fun 12 years ago.
Speaking of 12 years ago, the Jonases displayed little lyrical talent then and they continue to disappoint in that area on "Happiness Begins." The words are about as generic as they come in pop music: On "Don't Throw It Away," Joe confidently boasts, "I know you think you're better off without me now/Saying all you need is space, but baby we can work this out," which sounds like every straight guy's halfhearted attempt at winning back the girl he cheated on. Meanwhile, almost every song on this 14-track album is about a past or present relationship (a bit odd considering they're all writing about different women), which is a testament to the fact that they collectively convey the emotional depth of a pack of cigarettes.
But, on the other hand, does all that really matter? The Jo Bros' job is not to make listeners think long and hard about their relationships, and it never has been. Their job is to get people off their feet and dancing, and to look cute as hell while doing it. And, truly, they're quite good at that.
That's the one thing about the Jonas Brothers that hasn't changed: They still make girls everywhere swoon. (And boys. And others. Let's face it — everyone.)
The bottom line: "Happiness Begins" isn't much more than a handful of average pop songs that are fun to sing driving down the highway or dancing in your bedroom. But isn't that more than we expected from the Jonas Brothers when 2019 began?
The peaks: "Sucker," "Cool," "I Believe"
The valleys: "Love Her," "Rollercoaster"
The verdict: 6/10 Rams