Facilities Director Explains Eerie 'Wind Tunnels'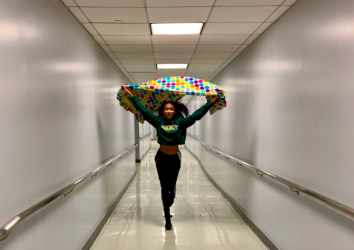 Since the opening of the 150 W. 62nd St. building in 2011, students and faculty alike have been baffled by a strange air current in some of the ground level hallways that connect the buildings of the Lincoln Center campus. A recent satirical op-ed in The Observer speculated the possibilities, eventually attributing it to the proud stride of University President Rev. Joseph M. McShane, S.J. Now, the community has a slightly more scientific answer.
The hallways in question connect 150 W. 62nd St. — which houses McKeon Hall and the Law School — to the 140 W. 62nd St. building, the Leon Lowenstein Building and McMahon Hall. Over the years, the community has dubbed them the "wind tunnels." The effect is strongest in the hallways connecting the McKeon Hall and Law School lobby to the first floor of the 140 W. building — particularly in the tunnel closest to the former of the two buildings, which facilities workers call the Law School ramp.
John McDonagh, director of facilities operations at Lincoln Center, is aware of the phenomenon on the Law School ramp and has offered an explanation.
Operating a building, McDonagh explained, requires keeping it in a static pressure, meaning that the air being circulated must have a greater pressure than the resistance to the airflow in the building. At the Lincoln Center campus, the buildings are maintained to keep a positive pressure, a type of static pressure in which the indoor pressure in the system is greater than that of the atmosphere outdoors. This keeps the weather and wind where it is supposed to be: outside.
Any excess air, or "spill" air, follows the path of least resistance, resulting in that strange gust blowing through the connecting tunnels. This is the "wind tunnel" effect with which the Fordham community has been obsessed, especially first-year students in McKeon Hall, who frequently use the Law School ramp to get to class.
In the case of the 150 W. 62nd St. building, the lobby is especially large: The ceiling is high and the space is wide open. It therefore requires more air to achieve the desired effect of positive pressure. So, there is more excess air that spills into the tunnels.
McDonagh also pointed out that during the summer, more air is required to achieve positive pressure, so the "wind tunnel" effect is greater. During the winter the opposite is true, so while the current is still palpable, it is less intense.
At the moment, there are no plans to draft a solution to this quirk in the architecture — a serious blow to anti-"wind tunnel" students.
Walking from McKeon Hall to the Lowenstein Building, students can often feel a mysterious gust of wind pushing them down the "wind tunnels" ramp.  As it turns out, changes in air pressure, not a ghostly breeze, account for this.