May Pang Reflects on Her Lasting "Weekend" With John Lennon
Published: December 10, 2009
Dec. 8 marked the 29th anniversary of John Lennon's death, a loss that is still mourned today. When people hear the name "May Pang," they often associate it with an infamous chapter in Lennon's life known as "The Lost Weekend." The term, however, is misleading.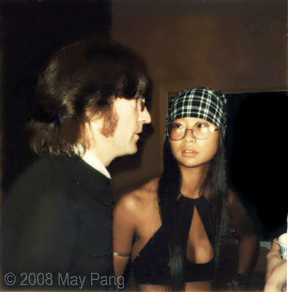 Pang was 18 when she started working as a secretary at ABKCO (the Allen and Betty Klein Company), a record label most often associated with The Beatles, and later, she became Lennon and Yoko Ono's personal assistant and production coordinator. Prompted by Ono herself, Pang dated Lennon for 18 months—not just a weekend—during a downturn in his marriage to Ono. Now, 29 years after Lennon's death, Pang, 59, is a mother of two and spends her time designing jewelry, hosting an Internet radio show, involving herself in humanitarian organizations and taking care of her rescued pets.
OBSERVER: How did growing up in Spanish Harlem affect your decision to focus on music throughout your life?
May Pang:  I was maybe one of two families living there that were Asian, but New York is the "melting pot" of all cultures. Living in Spanish Harlem opened my eyes that there were other people in the world. The only local music program that was around was Clay Cole, but there was always American Bandstand. I just watched that all the time. I never left home without my transistor radio.
OBSERVER: How did your parents, who were both Chinese immigrants, perceive your career and then, later, your relationship with John?
MP: Well, my mother was a bit more acclimated and more open. My father, not at all, even though he came here before my mother. First off, it was already bad enough that I was a girl. Then, to be out there in rock 'n' roll? I was lucky I got him to talk to me. But, in the end, my mother was really my biggest supporter. To her, you could just go and do whatever you wanted. That's what she instilled in me. She was braver than me, I think.
OBSERVER: Considering you walked right into ABKCO for work, I'd say you were pretty brave.
MP: I remember my mother saying, "What do you have to lose? If they tell you 'no,' where are you? You're right back where you started."
OBSERVER: So it all just worked out for you.
MP: Yes, and I do believe in the world, as I'm getting older, that there is no such thing as a coincidence. It was what was meant to be.
OBSERVER: After that, you were a secretary at ABKCO before working more permanently with John and Yoko?
MP: Yes, I started in September of 1969. Somewhere around February of '70, I saw my first Beatle—my favorite, Ringo. And then shortly thereafter, Badfinger. And then a lot of people started coming in. George [Harrison] had come in with his master tapes of  "All Things Must Pass." John and Yoko didn't show up until December 1970.
OBSERVER: And you were with them for a while?
MP: On and off for a few years, they would come in, leave, come in, leave, and then they sent me over to England. Finally, in '71, they decided to live in New York permanently, and I ended up leaving ABKCO to work solely for them.
OBSERVER: Which projects did you especially enjoy being a part of?
MP: There were so many; again, it was a whole new learning process for me. I got to be in the recording studio. I'm actually singing on "Happy Xmas (War Is Over)." I got the chance to work with Iain MacMillan [who took the photograph for the "Abbey Road" album cover].
OBSERVER: You also worked on films with them as well, right?
MP: Yeah, I worked on their films, the longest and most famous being "Imagine." John and Yoko's idea was to have their music, their album, set to five vignettes they were doing for this film. They were ahead of their time. These were pre-video days, so this was all done on film. I remember the day he did "Imagine" on the white piano.
OBSERVER: So you were really there.
MP: In the original "Imagine" movie [not the 1988 documentary by the same name], I see myself throughout the whole thing. For the credits, I was listed as part of the Japanese film unit… no one was Japanese.
OBSERVER: From the things I've read, it seems that you got along with Yoko during your time working with both of them, but then, when John went back to Yoko after your relationship with John ended, why didn't you communicate with her at all?
MP: I guess she didn't expect John and I to fall in love or to be together as long as we were. It was basically her idea for John and me to get together, so I'm not sure why there'd be any problem. But it was a great time for John creatively. I was with John when he got his only number one single in his lifetime. I was tired of hearing how miserable he was during our time together, which is why I put out my latest book, "Instamatic Karma." The pictures tell the story.
OBSERVER: In light of the recent Phil Spector murder trial, I have to ask, what was it like being witness to the infamous sessions he had with John?
MP: It was a nightmare. He definitely wanted me out of the way because I was almost the 'gatekeeper' for John. Phil knew I wasn't going to let John fall for anything. He couldn't bribe me with drink. He couldn't bribe me with drugs. He couldn't bribe me with any of those things because I wasn't into them. He tried every which way to make John think, "How could you trust her?"
OBSERVER: That seems to be a trend with most of the women in his life.
MP: True. But it gets even better. John and I never thought in a million years that the guns in Phil's house were real… not that they were fake guns, but [we didn't think they were] loaded. I was in the studio when Phil shot a gun into the ceiling and hurt John's ears. The next day, John and I were with [Beatles roadie and friend] Mal Evans, and he showed us the bullet from the ceiling. John said, "They were real?" We both just looked at each other and couldn't deal with it.
OBSERVER: During the 18 months you were with John, he scored his first number one single ("Whatever Gets You Thru The Night") with a number one album ("Walls and Bridges"), and he collaborated with a number of musicians. What importance do you feel your role had in his creative success?
MP: In that year and a half, he was so prolific. If you think about it, we actually lived with Ringo for a few months, he got back with Paul, he was hanging out with George, he produced Harry Nilsson, Mick Jagger, he co-wrote a song with David Bowie—"Fame"—which was Bowie's first number one. John also gave songs to Johnny Winter and Keith Moon and worked with Elton John. I didn't realize it at the time but I made it easy for him to mend fences and reach out to his old friends – and family. I wanted to make sure that he resumed a relationship with his first son, Julian, who he hadn't seen in a while.
OBSERVER: This past June, Julian Lennon was quoted in an interview with The London Times as saying, "My memories of that time with Dad and May are very clear—they were the happiest time I can remember with them." How did you forge that relationship between John and Julian?
MP: I go on instinct. And my instinct was, you've got to be with your child. And it was important. It was important to Julian. And it was important for John to realize there was a child here and not to do what his father had done to him. I was trying to make him realize that.
OBSERVER: Where were you when you found out that John had been shot?
MP: I really can't believe 29 years have gone by. I was having dinner with a friend, and they began talking about it on the radio which was playing in the background. Those words just hit me. I was in a complete state of shock. I called a friend, because I couldn't believe what I was hearing. He was just as dumbfounded. Nobody could believe it.
OBSERVER: Did it take you a long time to move on from his death?
MP: I was absolutely devastated—both from a personal point and also for the world. I, too, was a big fan of John's. It's not something you ever 'get over,' but it is made a lot easier by the fact that he's all around. You turn on the radio, he's there. A new generation is protesting a new war, his message is there. Sometimes a song will come on and I smile and say, "Yes, John, I'm thinking of you, too."
OBSERVER: In many interviews, you've been asked a great deal about John. Do you ever tire of being the memory keeper and sharer?
MP: I'm not tired of it because if you're going to ask me a question about John, I want it to be correct. I'm willing to be the one to keep sharing how it happened the way it happened. I don't talk about anything prior to our time together. If I wasn't a part of it, I don't talk about it. The only time I like to talk about is my time with John because there are a lot of myths about that.