A Risky Business: Chloe Rice's Journey Off-Broadway
At the Starbucks on 59th St. and Columbus Ave., I met Chloe Rice, Fordham College at Lincoln Center (FCLC) '21, for a drink and an interview. When she first walked in, I almost didn't recognize her; the vibrantly dyed hair that she usually displays was replaced by an earthy chestnut, an early indication of the reason we were meeting up in the first place. After paying for both of our drinks, we sat by the window – I with a bottle of Ethos Water and Rice with a strawberry refresher – and got down to business. Asking how her summer had been, she answered with a characteristically understated response: "It's been good. A lot's going on. More than I expected." You see, Rice had auditioned for and been cast in an off-Broadway show, "Comfort Women: A New Musical," which plays at the Peter Jay Sharp Theater from Tuesdays through Sundays, until Sept. 2nd.
Originally, Rice wasn't supposed to be anywhere near New York as she thought someone else had gotten the part. "I had submitted [myself for the role] but I didn't hear anything for a while," she explained, on the audition process. "I assumed that they'd gone with somebody else. That's how it goes a lot of the time."
Her mother works as a caterer in Bel Air, Maryland where Rice had sojourned after finishing her spring semester of freshman year. Rice informed me, "Our catering company has a food truck that goes to a lot of festivals and farm stuff during the summer. So, I actually originally agreed when my mom asked me earlier this year to work the food truck during the summer and I was actually really stoked to do that. I was excited to try something new and that kind of thing, but it hadn't started by the time that I found out about [the show]."
She described her current situation as "a pretty big jump" from where she would have been, but that her parents were incredibly supportive of the entire situation, even though she had spent a mere week and a half at home before receiving the callback. "They were really, really great the whole time," Rice said. "They didn't know that I'd submitted myself for this so when I did get the callback I sorta just went to them and said, 'Hey, I'm going to Manhattan. I got a callback for an off-Broadway show.' And they were just kinda like, 'Okay. Let's make some phone calls and figure [everything out].'"  Within three days, she arrived in New York, performed at the callback, was offered the role, fitted for costumes, went home to pack, dyed her hair brown and went back to New York for rehearsals. Rice described the experience as "kind of a whirlwind."
Rice also mentioned that it had been a big risk going to perform for "Comfort Women," though it is difficult not to think that her whole life had been preparing her for this sort of decision. Discovering a love for theater at age four, she had always wanted to move to New York to act, and fulfilling that dream necessitated taking a lot of risks. One of those risks, as it turned out, was going to Fordham. By the time that she had been accepted to FCLC, she could no longer apply for the theater program and she had to weigh whether or not she still wanted to attend. While it was not too late for her to audition for the program, she would have to do so in the middle of the semester, and Chloe explained that getting in was far from a sure thing. Biting the bullet, she decided to audition mid-semester. Her determination to go to school in New York City had won out – and she continued to take risks like acting in a production of "The Tower," despite not being a part of the program. There, she got to know a lot of the people within said program. "I was just surrounded by a lot of really great theater people," she said. "I'd heard about all of these things through the grapevine and I thought, 'I might as well audition.' The cast and crew of 'The Tower' were super supportive when I was auditioning [for the program]." Eventually, Rice was accepted into the theater program and will begin acting for it come the beginning of her sophomore year.
The culmination of all that risk-taking, however, was getting involved with "Comfort Women," which has been something that Rice has put her all into. "Nothing could have prepared me for the scale of this show," she confessed. "It's just been super fun seeing all the advertising that we do for it. When I see ads for the show while I'm out or I talk to people and they've heard of it or seen it and being part of something that's so much bigger than myself — it's something I'm not used to. There's been so many people working on it and so many moving parts and I think that's the most shocking part for me." Rice began rehearsing nine hours a day for six days a week at Molloy College starting in the middle of June until the show opened on July 20. "It really felt like I was taking a class," she said. "But all day, every day."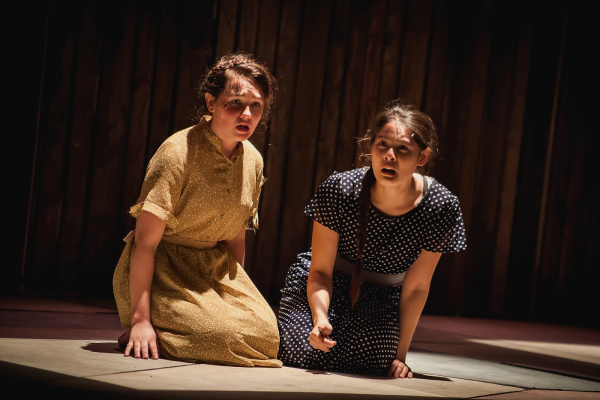 "Comfort Women" follows the everyday life of a group of sex slaves during World War II. At camps called "comfort stations," they would serve Japanese soldiers and, as Rice put it, "relieve them of their stress." Rice plays the role of Ellen Jansen (nicknamed Jan but pronounced with a "y" like "yam"), who was based on a real person, Jan O'Herne, an Australian-Dutch comfort woman whose historical experiences informed much of Rice's performance. Jan is the only Caucasian character in "Comfort Women" as the rest of the cast consists of both Asian and Asian-American actors and actresses. Rice learned to internalize how much of a "loner" her character was. Speaking to her time working with a majority Asian cast, she said, "As a white person, I've been privileged enough to never feel like a minority in any context. It's been awesome getting to learn about the other cultures present in this space. We have a lot of castmates who traveled from China and Korea to work on this play, and learning from them has been an awesome experience." Rice also described her growing understanding of the struggles that Asian-American actors and actresses face in the media landscape. "[These women] are so much like me in a lot of ways, but then I hear that there are certain things that they'll never be able to audition for or cast in just because of their ethnicity," she said.
"I feel like I've learned so much about these women and the history and culture and the business of theater," she said, of working on off-Broadway. "I've learned, in the long run, what really matters and how hard it is for the managers and producers and the stage managing team. It's been a learning experience that I could never have imagined."
So, what's next for Chloe Rice? "I'm looking forward to taking a step back," she said, talking about her excitement to return to Fordham. "I want to focus on my theater classes and honing my craft and improving it. I want to learn, and I know there's always more I can work on." She also has more ambitions for her future: "In the long run, I want to create and put out my own work. I love doing serious things and plays, but I would love to do comedy and crazy, absurd theater that no one's ever seen before. If I could do that for a living, then that would be number one."
A previous version of this article erroneously stated that one could enter the theater program in the middle of the semester; this is false. There was also a brief mention of the theater program being a "department" when it is not. These errors have since been corrected effective Sept. 1, 2018.