Fordham Restroom Signs Shift to 'All Gender'
Fordham University has taken an important step regarding gender inclusivity on campus by changing the signs on single-occupancy bathrooms: the signs will now state "All Gender Restroom" instead of "Restroom." The gender-fluid bathroom signs will be installed on the Lincoln Center and Rose Hill campuses.
Lincoln Center Dean of Students Keith Eldredge was a key figure in the decision-making process. "During the academic year, students contacted me to discuss the bathroom signage and submitted a proposal requesting to change the signs to 'All Gender Restroom,'" Eldredge stated. "I met with them several times throughout the spring semester in order to better understand the reasons for their request."
Albeit a significant milestone for the LGBTQ community at Fordham University, this process has been years in the making. Discussions of implementing gender neutral restrooms trace back to the 2014-15 academic year, to the joint effort of the United Student Government and The Positive, a student-led coalition fighting for gender rights, who were among those who called for gender inclusive spaces on campus.
Chris Hennessy, Fordham College at Lincoln Center (FCLC) '15, sparked this process by launching an online student survey in 2014 in order to see how many approved of gender neutral restrooms. 90 percent were in support of a potential change, but Hennessy graduated before witnessing Fordham's decision.
The fight for inclusive restrooms on campus was then taken up by The Positive II, who carried on the legacy of The Positive to further advocate for gender equity.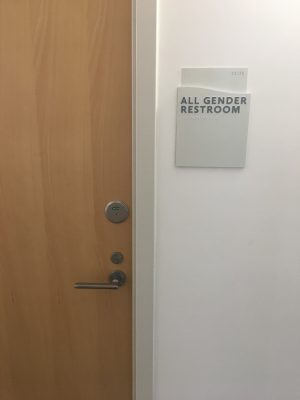 Gender inclusivity and increased safety for all community members are matters that Eliza Putnam, FCLC '19, has always passionately fought for as a student leader of The Positive II and the unofficial organization, Students for Sex and Gender Equity and Safety (SAGES).
"I am glad that Fordham students and community members will now have improved access to our campus through explicitly inclusive bathrooms signs. When I first heard the news, I cried out of joy, but also frustration," Putnam stated, referring to the multiple meetings it took to settle on an agreement for the change.
Along with her peers, Putnam fought to convince the administration to change perspectives in regards the signage. She said that despite the "university's own Title IX policy [that] claims to protect against gender and gender identity discrimination", the administrators had the same stance as the Catholic Church, that states there are only two genders. "Fighting that hateful mindset took years of advocacy and education of our administrators."
Putnam credited the change to student organizing, namely protests and awareness events. In addition to the multiple legal consultations and meetings with administrators, students also tackled the issue online by launching surveys and publishing opinion editorials in the Observer.
The signs officially indicate that everyone on the gender spectrum is allowed to have full access to the restrooms on campus and are expected to be up before the beginning of the upcoming fall semester.
"I take this policy change to mean that Fordham will finally respect all students' genders and gender identities, in letter and spirit," Putnam concluded. "I anticipate this is the first of many policy changes, especially as more students, alumni, parents and donors speak out and say that discrimination has no place at Fordham."