Fordham College Republicans to Host Roger Stone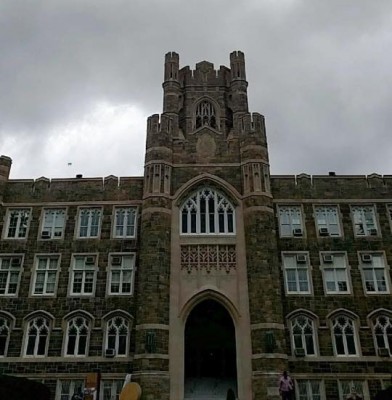 The Fordham University College Republicans announced on Oct. 5 that they would be hosting political strategist and controversial figure Roger Stone on Oct. 10. The decision is already drawing backlash from some parts of the Fordham community.
"Stone has built a legacy as a political strategist, single handedly changing the face of politics," the club wrote on their Facebook page. "His recent work as President Trump's advisor has raised some accusations of 'Russian collusion' and he has a history of towing the line of political ethics. Hot off a congressional hearing, Stone will be joining us to discuss this past election and more!"
Stone, the College Republicans' first speaker of the year, comes at a time when tensions surrounding conservative speakers at college campuses across the country continue to be inflamed and discussions regarding political polarization at Fordham are a touchy subject. Last year, Dean of Students Keith Eldredge vetoed the formation of Students for Justice in Palestine as an official student club on the grounds that it would be too polarizing. Back in 2012, the College Republicans disinvited Ann Coulter from speaking on campus after University Rev. Joseph M. McShane, S.J., voiced his disapproval.
Fordham SAGES Lincoln Center, an unofficial student organization, were among the first to criticize the College Republicans' decision to host Stone. "Roger Stone, a known racist, sexist, homophobic, anti-Semitic former Trump advisor, is speaking at Rose Hill next week at the invitation of Fordham College Republicans, a USG and SABC-approved club," the group posted on their Facebook page on Oct. 6.
The College Republicans launched a GoFundMe campaign to bring Stone to campus, and recognized the controversy surrounding him in their Facebook posts promoting the event.
On Sept. 29, the College Republicans thanked "dedicated alumnus and donor" Joseph Campagna for his "huge contribution."
"I do not agree with everything Mr. Stone says or stands for, but I feel it is important for him to have his voice heard on our campus," Campagna wrote as a part of the post. He also stipulated that "the intolerance being shown on our campuses towards speakers who do not share the political views of university administrators, professors, and students poses a threat to American democracy and our ability to have passionate, but civil, discourse in our nation."
"All the best to the Fordham College Republicans, and to any Fordham organization looking to bring a speaker to campus, however controversial they might be," he concluded.
SAGES has been the main source of backlash from within the Fordham community so far, writing a lengthy Facebook post that went online on Oct. 6.
"To bring this man to speak on campus is to give a platform to white supremacy and hatred. College Republicans is explicitly choosing to endorse and crowdfund money to protect a literal fascist collaborator," their post reads.
The event will take place on Oct. 10 at 7 p.m. at Keating Hall and will include a Q&A with Stone.
This is a developing story and will be updated as more information becomes available.