BFA Students Join Alvin Ailey in Production of "Memoria"
For many dancers, taking the New York City stage is a milestone, an accomplishment of the crème de la crème. This coming December, Ailey/Fordham BFA dancers Malerie Dempster, Fordham College Lincoln Center (FCLC) '17; Grace Bergonzi, FCLC '17; Amarachi Korie, FCLC '18; Minga Prather, FCLC '18; Lauren Russo, FCLC'18; Ellie Sato, FCLC '19; Sara Erickson, FCLC '19; and Sam Kaltenthaler, FCLC '19, will perform alongside Alvin Ailey American Dance Theater in its production of "Memoria" at the New York City Center.
Each year, the company invites students from The Ailey School to audition for the piece. This year, eight Ailey/Fordham BFA dancers were among the 26 students selected.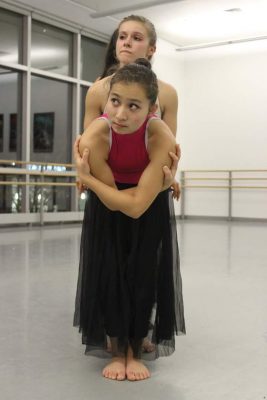 "I remember getting texts from friends telling me that I got into the piece," Sato said. "I didn't believe it. Since then, I have been so inspired and happy. In such a difficult career path, these opportunities feel like large victories."
Korie cited her excitement of being cast, and the honor to dance with Alvin Ailey American Dance Theater Company members. "Upon seeing that I was cast in Memoria, I burst into tears because could not believe this dream of mine was coming true!" Korie said. "For years, before I came to the Ailey School, I have looked up to and marveled at the Company members in the Alvin Ailey American Dance Theater. The dancers demonstrate such grace, power, and passion  and I wanted more than anything to come to the Ailey School to study the techniques and to learn to perform as beautifully as they do."
For Dempster, this will be her second year performing "Memoria."
Rehearsals began mid-October and take place on Mondays, Wednesdays and Fridays for two hours with Ronni Favors, a former Ailey dancer. After learning the choreography, Favors runs the group section by solos, spending 10 minutes with each individual to ensure a mastery of the choreography. Bergonzi described the rehearsal process, saying, "Every single minute of the rehearsal is used so efficiently, you're always gaining something from it. [Favors] is also teaching us about how to be professionals in the field beyond the dancing. Throughout the weeks she's given us lessons about being timely, responding to emails, going to studios and how to represent yourself in a way that makes you desirable for a company."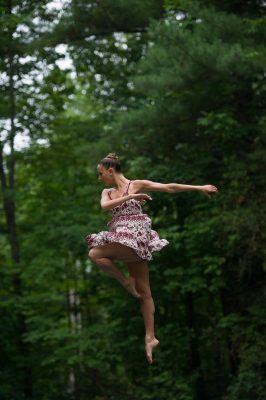 "It's a really different experience from dancing in the BFA program, because the choreography is so specific. Your pinky has to be in the perfect place at the right time," Dempster explained. Typically, students in The Ailey School work with outside choreographers who create pieces specifically for the Ailey students. Learning Ailey repertoire poses a new challenge for the students. "Memoria" requires an almost militant attention to detail, timing and placement. "[Favors] really wants to see us grow as artists; on stage, in rehearsal, out of rehearsal, she expects a lot out of us," Dempster added.  
Prather echoed the same sentiment. "'Memoria' is a very technical piece, so the challenge is making the technique not look like technique. It's learning how to perform it and make it look like it's more than what it is so it translates on stage," Prather said. "You have to know who you are and stay true to that. It's easy to be boxed in by the technique, so you need to make sure you know who you are and how you move can still translate into the movement."
For Russo, this was not always the case. "One of my biggest challenges was definitely doing the steps without being a perfectionist," Russo said. "It is not always easy showing the emotion I'm feeling to the audience while staying true to the dance steps at hand."
Within the Ailey school, there are three different programs, with the BFA program partnering with Fordham. Although the programs mix in classes, it is rare to work intimately with students of a different program. "It brings the BFAs, Independent Studies and Scholarship students all together," Dempster explained. Erickson added, "It has been an amazing experience rehearsing with dancers from other programs at The Ailey School that I otherwise might not have had the opportunity to collaborate with during my four years in the Ailey/Fordham BFA program."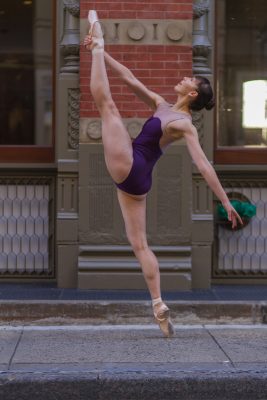 In "Memoria," the students dance together as a corps de ballet, a group of dancers that frame the company members. This opportunity is no doubt lacking in intimacy. With around 50 people on stage, the students must figure out how to perform fully while surrounded by bodies.
"My first year it was really nerve-wracking because I was with all the older students, but this year I'm a lot more comfortable with the choreography and [Favors]. I understand why things are the way they are, and what exactly [Favors] is asking us to do," Dempster said. Although demanding, Dempster can't help but smile when describing the fun, energetic environment of rehearsals and the excitement of working not only with different students, but the company members. "Rehearsal is one of my favorite parts. You get to be with the company and just see them goofing around," Dempster said.  
"It has been amazing being able to learn repertoire that was choreographed by Alvin Ailey himself, let alone one of his most memorable and famous pieces," Bergonzi said. Choreographed by Alvin Ailey in 1979, "Memoria" celebrates the life of his dear friend and colleague Joyce Trisler. "[Favors] makes a point of us knowing who we're celebrating; the teachers that have come before and led to Mr. Ailey," Dempster said. Russo felt a personal connection to Mr. Ailey's inspiration. "This piece means a lot to me because I dance for [Trisler] and the people that I have lost."
"Memoria" goes through various tempers, beginning with a painful first section of a woman isolated despite the surrounding dancers and ending with a joyous and vibrant celebration. 
"Memoria" is accompanied by the jazz music of Keith Jarrett. "The music is really challenging because there's no real counts. A lot of dancers are accustomed to a standard meter, and in 'Memoria' you have to listen to the multi-layered dimensions of the music; the different instruments, the different tones," said Bergonzi. "And that's where you get your cues to switch position or transition. It's a lot of being tactically aware of your surroundings and the music. If you're off the music, it just doesn't work."
Because "Memoria" is not as physically demanding as other Ailey repertoire for the company, Ailey dancers try to create a fun energy for the students. The combination of anticipation and nerves that come with looking out at the colossal theatre holding tiers of patrons is perhaps the perfect breeding ground for pre-performance jitters. "Of course you get a little nervous, doing penches (a position where the leg lifts behind you to a 180 degree angle) in one count," Dempster joked.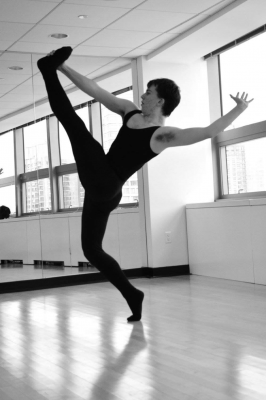 "It's unbelievable dancing with the company, getting to see the dressing rooms, the costumes, and the lighting…it all starts when you're backstage seeing all the dancers warming up, watching from the curtains, cheering each other on and telling us good luck. They're all so encouraging of each other and of us," Dempster said.
Bergonzi added to this, saying, "It's such a big deal to be dancing with the first company at City Center. This is a piece that was created for the company to perform and we're just being inserted into that. So we have to hold ourselves accountable for dancing at a certain level because you're not just responsible for yourself, but the outcome of the group."
"It is such an immense blessing to perform in 'Memoria,'" Kaltenthaler said. "The ballet is full of wonderful movement and it is an absolute joy to dance with such incredible people."
"Memoria" will be performed at New York City Center on Dec. 3, 4 and 10. More information on seeing "Memoria" or other Ailey works during its 2016 winter season can be found on the Ailey website. https://www.alvinailey.org/engagement/new-york-city-center-2016.
(COVER PHOTO COURTESY OF MINGA PRATHER)
CORRECTION: A previous version of this piece did not list Amarachi Korie as one of the BFA dancers cast in "Memoria." The article has since been updated to include quotes from Korie.