Bramble Embodies What Fordham Is All About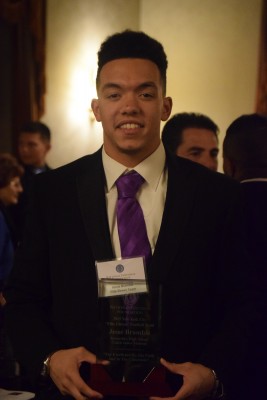 "I just want to go out there and give it my all in everything I do."
That may seem like a generic statement from an athlete, but it's truly how Jesse Bramble approaches football, school and his community.
Bramble, a senior at Tottenville High School in Staten Island, will be playing safety for the Fordham Rams in the fall. I had the opportunity to meet and talk with Bramble at the National Football Foundation's "Elite Eleven" reception where he was being honored as one of the top 11 high school football players in New York City. The award goes beyond just the gridiron as recipients are determined based on their combined achievements on the field, in the classroom and for their leadership contributions in their communities. Based on that criteria, Bramble exemplifies what it means to be an "Elite Eleven" award recipient.
During my time with him, Bramble made it clear that his love of football has existed since birth. He explained, "When I was born, my mom used to hold me in the cradle as she kept stats for my dad while he was a high school coach."
Bramble accentuated his football background when he talked about his passion and dedication to the game. "My goal is to go and be the best I can be and contribute to the team in anyway possible. At the end of the day, I just want to be the best teammate I can be." This drive to compete and be beneficial to the team is exactly why Fordham recruited the 6'0, 180-pound safety.
This offseason, new Head Coach Andrew Breiner emphasized wanting to add players with SPEED, an acronym for Superior Preparation, Effort, Execution and Dominance. A hard worker on and off the field, Bramble stressed the importance of being determined and a good teammate. Bramble strives to not only better himself, but also those around him.
Whether he's playing football or in class, Bramble tries to emulate his favorite player: Patrick Peterson. Peterson, a talented safety for the Arizona Cardinals, works tirelessly in his community to help those less fortunate while being a standout player on the gridiron. Bramble said if he could play with any player in history, it'd be Peterson. Bramble explained, "He's not only one of the best football players, but also a good guy." Bramble attempts to follow Peterson's lead with his dedication in the classroom and commitment to his teammates. The holistic approach to being a college football player fits perfectly in with Fordham's Jesuit teaching of "cura personalis," meaning care for the whole person.
In addition to being named an "Elite Eleven" recipient, Bramble has received numerous other accolades for his play this season. Bramble was the unanimous choice for the Al Fabbri Award, which is given to Staten Island's best football player, was named second team ALL-USA New York and was selected 2015 First Team All-City. Consequently, since he is a New York native, coming to Fordham felt just right.
While he succeeds on the field, his work doesn't end there. So while it may be a generic response to his hard work with his teammates and dedication in the classroom, Bramble truly goes out there and gives it his all in everything he does.