What Is Hidden Underneath: Patti Smith's Veil
Published: April 9, 2009
Sometimes musicians take the leap into different forms of art. While most of these musicians cross over to acting, the other handful tries their luck in more complex forms of art and for different reasons. Singer-songwriter Patti Smith has been toying with various media since she was an art student in NYC during the 1960s. There she met her lifelong friend, late photographer Robert Mapplethorpe, who inspired her to unleash her inner self through different means. For the past three decades, Smith has been well-known and respected in the art world, especially for her photography, drawings and poetry. However, the execution of this exhibit, titled Veil, on view at the Robert Miller Gallery at 524 W. 26th St., might not allow viewers to see amount of talent that Smith has.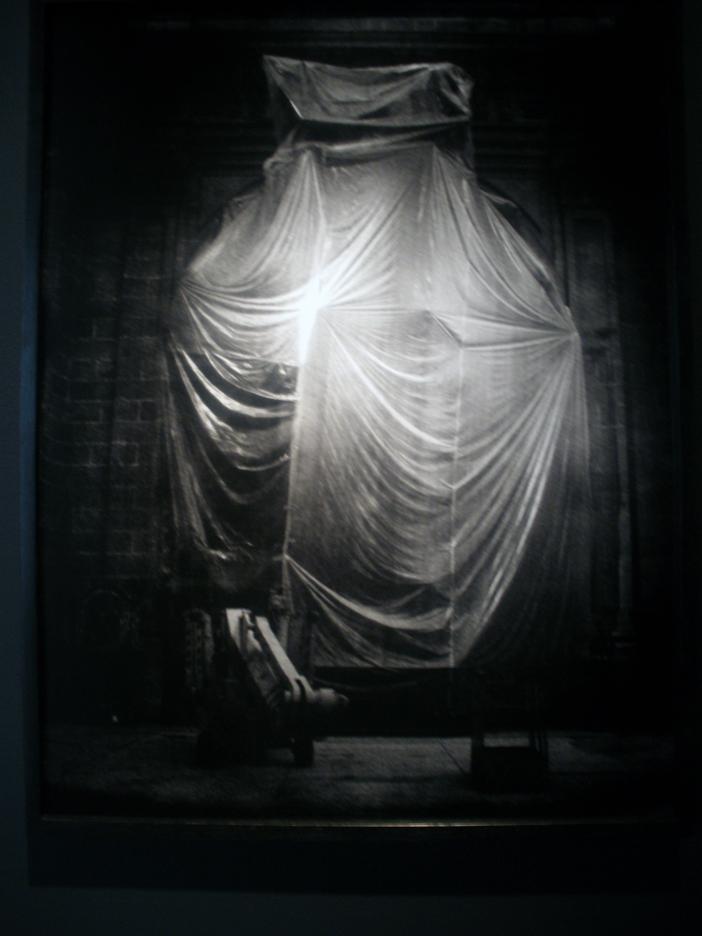 As described in the press release, Smith's "oeuvre encompasses irreverence and solemnity, defiance and tenderness, the elegiac and the celebratory, constantly returning to homage to her creative heroes." The main focus of the exhibit is veils. She tries to convey that certain imperfections or truths can be hidden underneath softer fronts, thus the world has a harder time deciphering what is real and what is false. Smith does a decent job getting this idea across to onlookers, although her art seems to suffer because of this.
Smith's sketches, comprised of emotionally suffering people with exploding heads and looks of agony on their faces, and confusing poetry lacked focus. Her drawings seem more like doodles and sketches than real masterpieces like works by Jackson Pollock or Vincent van Gogh. Smith has a real knack for drawing, and it shows when it comes to subjects such as religious figures (more specifically Saint Sebastian) and the events that personally affected her (such as 9/11). These drawings are technically simple, drawn with only colored pencils, but are beautifully executed with her levels of complexity and emotion vividly highlighted. One picture in particular, entitled "South Tower," is created using ramblings to create the image of one of the World Trade Center towers.
However, there are a few pieces of art that seem amateur. For example, there is one piece of a paper airplane with phrases and poetry scribbled within the airplane. Other than these, the majority of her drawings seem like testing grounds for her oil crayons and charcoal pencils. While it seems like she intentionally made the pictures messy, the pictures seem to lose meaning when the focus is lost.
Smith's photography, while having some bright spots, has some beginner's flaws and lacked connection. There are a few pictures where mistakes, such as putting the photos out of focus, make the images look better, since they gave rigid objects a softer, veiled look. However, there is a good portion of photographs that have basic flaws, such as excessive blurriness, scratchiness, overexposed film and objects getting in the way of the view of the subject.
Aside from this, it seems like Smith is taking pictures of objects or locations that she encountered in her travels. It's not clear as to whether she decided to come up with the theme of this show before or after she traveled, but it seems she's trying too hard to make them connect with the whole exhibit. It's baffling to see how a naked statue in Venice connects to a horse behind a barbed wire fence.
Perhaps there is more to the exhibit than is apparent upon first examination, but Veil did not seem to reach its full potential. The kind of message Smith might have been going for is understandable, but the execution of a lot of her photographs and drawings are confusing and could make viewers question the depth of the exhibit. I bet a lot of art enthusiasts will disagree with me in terms of my opinion on the exhibit; however, I wasn't really a fan of the exhibit at all. I prefer Patti Smith with a microphone, as opposed to a colored pencil.
"Patti Smith: Veil" is on display at the Robert Miller Gallery until April 18.