First Ever Broadway Convention Takes Place in New York City
While watching the 2013 Tony Awards ceremony, BroadwayCon co-creators Melissa Anelli and Anthony Rapp received a text from a friend, who was watching as well, asking if a Broadway themed convention existed. The answer was no. The text was inspired by the moment when six-time Tony winner Audra McDonald commanded the stage at the end of the telecast with a now infamous mic drop. It was then that Anelli and Rapp witnessed the power that existed within the Broadway community, and they knew they had to create a platform to bring together those who love live theater. This is how BroadwayCon, the first ever convention created specifically for Broadway fans, began.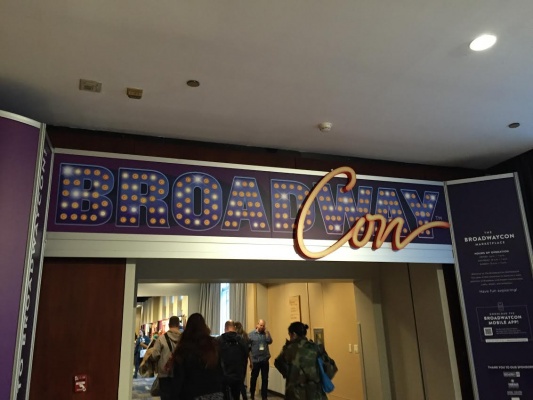 Anelli, who runs Mischief Management, a company that organizes fandom based events, is no stranger to conventions. According to Playbill, she and her team are the creators of the Harry Potter-themed convention LeakyCon, as well as GeekyCon, a convention for "self-proclaimed geeks." Rapp, who originated the role of Mark Cohen in the musical "Rent," is an acclaimed performer.
Held at the New York Hilton Midtown Hotel during the weekend of Jan. 22-24, the inaugural celebration proved to be a smash, even in the midst of one of the worst blizzards New York City has ever seen. Although all Broadway performances were cancelled on that Saturday, the convention continued on, providing three full days of Broadway excitement for participants.
The convention brought together over 3,000 people. Fans of all ages came from all over the world to share their love of Broadway.
In attendance at the convention was Frank DiLella, Fordham College at Lincoln Center (FCLC) '06, now a Fordham professor and producer of NY1's "On Stage," a show about what DiLella moderated four panels, including  "Why Didn't it Run?: Back to Before Edition," where he and his two guests discussed shows that could have been more successful and why they weren't. The other three were "Adapting for the Stage," "Making Your Own Work" and "Stage on Screen."
DiLella remarked on the number of attendees, saying, "I went into BroadwayCon not knowing what to expect, and what was amazing to see was the amount of folks who turned out for it. DiLella then commented on the popularity of musicals, adding "Broadway is not just a street in New York City, it is a worldwide brand."

Other FCLC grads served on panels as well. Among them was John Johnson, (FCLC) '02, a Tony Award-winning producer. Johnson sat on the "Producing 101" panel, where he, along with several other industry leaders, gave insight into the job of a producer and what it takes to break into the business. Several current FCLC students served as volunteers or attended the event.
Fans participated in workshops, panels and sing-alongs with their favorite Broadway stars and industry leaders. Some headliners included Jonathan Groff, "Hamilton" creator Lin-Manuel Miranda, Krysta Rodriguez, Leslie Margherita and many more. Fans were also able to cosplay, dressing up as favorite fictional characters, with many going as the Schuyler Sisters from "Hamilton," Alison from "Fun Home," Elphaba from "Wicked" and Elder Price from "The Book of Mormon."
The convention brought a variety of insight into the entire world of Broadway, with a diverse array of panels ranging from "Producing 101," "The Art of Stage Management" and "How to Market a Show." BroadwayCon also invited the casts of several currently-running Broadway shows to give panels. These included the casts of "Hamilton," "Fun Home," "Something Rotten!" and "Spring Awakening." There was also a special panel given by the original cast of "Rent," in celebration of the show's 20th anniversary.
DiLella also commented on the value of the panels at BroadwayCon, saying that they were "very informative and really the best of the best were there—the best of the industry." Participants had the chance to learn about the intricacies of the Broadway world, with panels about directing, costume design, scene creation, among others.
Look out for BroadwayCon 2017, as event coordinators expect the event to become an annual occurrence.