Discussion with Darren Star, Creator of "Sex and the City"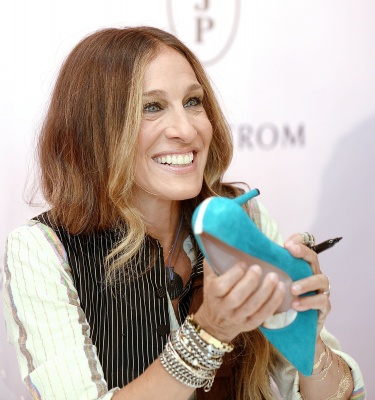 Your friend group of four has undoubtedly typecasted itself as the characters from "Sex and the City." You have, and do not deny it, wanted to be Carrie Bradshaw and have experienced utter disappointment when considered any of the other three cast members. 20 years after its HBO debut, "Sex and the City" remains a pop culture phenomenon. BuzzFeed periodically releases "which character are YOU?" quizzes, there's been a spin-off series and the show continues to appear on syndication.
Darren Star, the creator of this mega-hit series, gave a Q&A at Fordham Lincoln Center (FCLC) on the evening of Dec. 2. The event took place in room 3-01 at the Fordham Law School and was led by James Jennewein, Artist-in-Residence at FCLC. The discussion focused on three points: Star's earlier career, his newest TV show and the ways in which the entertainment industry has changed.
"I got into television because I was working as a screenwriter,"  Star said, fidgeting with one of two Smart Water bottles on his desk. "[A] development executive that I was writing a script for at the time went to become head of drama at Fox, which was sort of this fledgling network, and they asked about developing a high school series and put me together with Aaron Spelling."
He was referring to "Beverly Hills, 90210," a show that would become a staple in teen-angst drama and ultimately catapult Star's career into television. Following the release of "Beverly Hills, 90210," he went on to work for big name networks such as ABC, HBO, the CW and FOX, developing "Melrose Place," "Central Park West," "Sex and the City" and"Kitchen Confidential," to name a few.
"Star's work in general has tended to always be comedic," Jennewein said. "Night time soap comedies (Melrose Place), teen romantic comedies (Beverly Hills, 90210) and adult-themed romantic comedies (Sex And The City). He isn't interested in creating alternator universes or other more high-fantasy or sci-fi stories."  Indeed, Star doesn't "get the whole superhero thing" and refers to it as "comfort food."
Some of the shows that Star has created, such as "Central Park West" which "looked at New York with a glamorous point of view," flopped and were not renewed past the first season. However, his career demonstrates that failure often provides the best opportunities for success.
"CPW really tanked on CBS. It was just the wrong network for the show, and we did a whole season of it," he said. "It was a big bomb for [CBS] and after that, I loved the idea of doing a show set in New York, but I rethought how I wanted to approach anything." Going back to the writing board resulted in the creation of his biggest hit, "Sex and the City."
After obtaining the rights to Candace Bushnell's column in The New York Observer, Star considered creating a film adaptation but was contacted by HBO to turn "Sex and the City" into a television series. "I just thought, let's do an adult comedy about sex and relationships," he said. "[It] was from a female point of view and this column was a really great way to enter a great storytelling device."
The discussion then veered from Star's past work to "Younger," his newest show with Sutton Foster and Hilary Duff. The series is about a recently divorced, 40-year old woman named Eliza who begins to pose as a much "younger" 26-year old shortly after moving to Brooklyn. The series revolves on the repercussions of Eliza's lie, which help her secure a position at a large, glossy publishing company along with a 26-year old tattoo artist boyfriend named Josh.
Attendees of the Q&A had the opportunity to watch the first episode of "Younger's" second season, which premieres on TV Land on Jan. 13. This series, with it's powerful female lead and raunchy comedic cues, is reminiscent of Star's work on "Sex and the City."
"'Younger,' in addition to the question of age at the core of it, is similar to "Sex and the City" in that it also tracks one woman's romantic entanglements and asks us to emotionally invest in her journey," said Jennewein. "Plus, it touches on sometimes raunchy or risqué humor and/or physical comedy, and I think there's a freshness to this level of truth that both female and male audiences respond to."
The last part of the Q&A focused on the rapidly changing landscape of the entertainment industry, specifically network television. Star argues that television is no longer consumed on the actual network—streaming services such as Netflix and Hulu are getting the most eyeballs.
"['Younger' is] getting a lot of viewers on other platforms, and that's what I think all these networks need to survive," he said. "To become multi-platform, to be originators of content but to have that content go to Hulu, iTunes, Amazon… all the streaming platforms."
He also mentioned the importance of creating social media bases for fans, citing videos and other content being uploaded and asking for "a certain number of likes on a video to unlock a scene" and other similar gimmicks to get fans more involved.
For Fordham students who plan on pursuing careers in the entertainment industry, Star also provided hope: "[you're] bullshit detectors for writers in the room that aren't in their 20s," he said to a laughing audience. "We have writers in their 20s, and we pump them for ideas all the time. They haven't written a script yet, and they will. They're just good character idea generators."
In that case, here's to hoping that one of us Rams will create the next Carrie Bradshaw.