AFROPUNK's Messages of Activism Conflict with Artists' Lyrics
AFROPUNK Fest is a music festival that first began in 2005. It was part of an urban movement to gather people of different cultures, especially black, who shared an interest in punk, alternative and indie rock. The idea of the festival arose from Matthew Morgan and James Spooner, creators of the film 'Afro-Punk' (2003). They wanted to show that there is another audience outside of white people who have a passion for the punk/hard-rock scene. My two days spent at this year's AFROPUNK Fest, Saturday, Aug. 22 and Sunday, Aug. 23, were full of loud music and Korean food. The festival certainly displayed a vast array of fashion, music and people, but I found conflicting messages between the performers on what 'afropunk' and the festival is all about.
'Afropunk' says more than being black and liking punk and rock music. The term also implies being different from the mainstream. For this reason, the term may also seem like another form of a hipster. However, afropunk is different because it also connects activism with its celebration of people who feel different from others.  On the website, people were able to sign up to do volunteer and activist work within their communities or on social media. This way, they would earn a ticket to go to the festival for free. The festival used to be free, but this year was the first year that people had to pay for their entry; there have been complaints about this decision. Some people have questioned whether it was leading to AFROPUNK selling out.
The term 'afropunk' also celebrates people's unique style without judgment. It encourages people to join together and stand up against hate in society. At the festival, the main stage was lined with banners that read the festival's title but also had phrases such as "No Sexism", "No Racism", "No Homophobia", "No Transphobia" and more. Crowds shouted "Black lives matter!" during a performance by Raury, a 19-year-old musician.
Raury, who is from Atlanta and makes a mix of soul, hip-hop, and folk rock, sang and rapped about a better world. He plays the guitar and sings passionately, also making some rather dramatic head movements throughout. He performed on AFROPUNK's smaller Red Stage. His set had songs about love but also about issues in the U.S. He mentioned in one rap performance the vicious cycle of expensive college tuition and the pressure to make money and get a job to pay for it.
One song was about perhaps the biggest issue in the black community today: police brutality. His song, "Fly," is about the black people who lost their lives in police altercations and how he worries that because of the way he looks, he could become a victim of police brutality. He also sang about hope for improved relations between people of different races, fostered love and children who will be dreamers. Before performing the song, Raury explained that he was not someone making music for the money. "Times is too serious for people to be making music about bull****," Raury said over the microphone.
Raury explained that he was not someone making music for the money. "Times is too serious for people to be making music about bull****.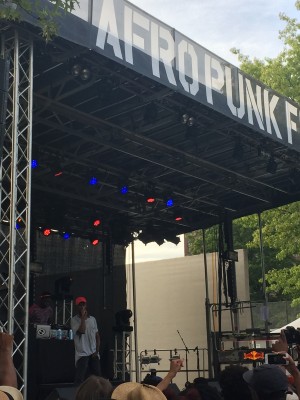 Ironically, the next performer, Goldink, was rapping heavily about women and sex in his opening song. There seems to be a contradictory message between the artists that AFROPUNK would have a difficult time avoiding. Partly, it is because the variety of artists that the festival has lined up brings in a larger crowd to support it. The festival's goal is to gather people who have alternative tastes from the mainstream together, and so AFROPUNK would not deny the artists that fit this category. The misogyny is present in so much music, but the catchy beats do not stop people from listening. I remembered this idea from the Chapel Hill student, Madiha Bhatti, in her poetry slam that she posted in November 2012.
AFROPUNK Fest is diverse, and it's not only about rock music anymore. The festival promotes love, but some of the artists on its stages do not seem to fully embody the message of all that the festival is against. It is contradictory, but we as consumers of this type of music do not make it easy to truly stop it.