Makeup of London
As a makeup connoisseur of sorts, I was excited to see what people tend to wear in London. Whenever I see someone at a restaurant or a store sporting a bright pink lip or a soft smokey eye, it's hard for me to resist asking what products they are wearing. So when I needed to write an article based on London, I jumped at the opportunity to interview people about their makeup. A little nervous at the prospect of approaching strangers and asking if I could take a picture and ask them questions, I was pleasantly surprised at their reactions. Everyone seemed flattered, but then again I would be too if someone noticed the effort I put in to the art of enhancing my facial features.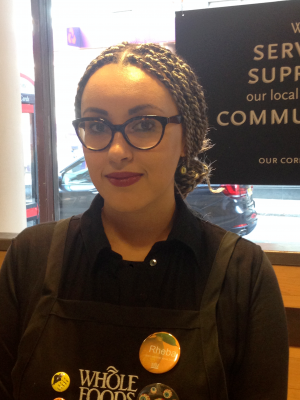 The first woman I met was Reba. Because her lips were stained in a gorgeous deep plum and she was sporting glasses, I was immediately intrigued. It can be difficult for someone with glasses to effectively wear makeup because they take away the visibility of the entire eye. However, Reba seemed an expert in makeup for glasses, as the focus was on her lips, which she later informed me was Lavera lipstick in the shade Plum Matte. For her eyes, she enhanced them by buffing a bronze cream shadow, such as Maybelline's Bad to the Bronze, on her lid. With a touch of mascara, that was all Reba needed to complete her look (which costs a total of $26.56.)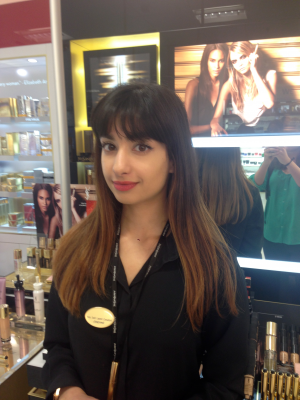 When I spotted my next interviewee, Jacqueline, I knew I wanted to talk to her right away. She was wearing a classic look of winged liner and a bright lip. Excited to find out what products she used, I was a bit disappointed because they were all Yves Saint Laurent (way out of my broke college budget). Nonetheless, her makeup looked flawless, and as it should for the price. For foundation, she was wearing YSL's Le Teint Touche Éclat, an illuminating formula that conceals imperfections while still looking natural. To further conceal and brighten under her eyes, Jacqueline used the Touche Éclat concealer. Her perfectly winged eyeliner was attributed to the liquid Baby Doll Eyeliner in black. She paired that with the Baby Doll Mascara, enhancing her big, round, brown eyes. The pop of color on her lips was the Rouge Pur Couture Lipstick in number 13 (with the whole look coming in at $201.20.) When I asked her what she would wear on a night out, she answered without hesitation, as if she knew I was going to ask her and had already prepared an answer. "When I go out I like to wear big, thick liner, demi wispie false lashes, a strong contour and highlight, and a strong red lip," she exclaimed. Feeling her passion as she talked about makeup made me feel an instant connection with her.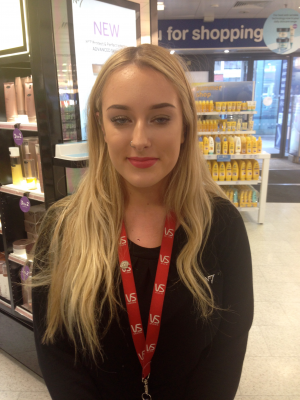 As I approached Sarah, I was dying to know what she was wearing on her skin, as it looked flawless. Any makeup lover (and most women) strives for unblemished, wrinkle-free skin, as it is important to have a near perfect base for dramatic looks. Sarah informed me that she layered No 7 Instant Radiance Foundation with a translucent powder to set, No 7 Dual Bronzer just below her cheekbones, No 7 Honey Blush on her cheeks, and No 7 Instant Radiance Highlighter on top of her cheekbones. This may sound like a lot of makeup, and even Sarah admitted it was, but the outcome was perfect skin. For her eyes, they were enhanced with No 7 Cream Shadow in Bronze and No 7 Extravagant Volume Mascara. And as it has become increasingly popular to do so (think of the well-known phrase "eyebrows on fleek"), Sarah used a brow pencil to fill in her brows and set with a gel, which still looked fairly natural. On her lips, she wore No 7 Soft Blush Lip Liner under No 7 Tropical Beach Lip Crayon (costing $122.91.) Since she was wearing a bold lip, I wondered whether she preferred smokey eyes or strong lips because as any makeup buff would know, wearing both together can be a faux pas. Her quick response surprised me as she answered, "Oh, both!"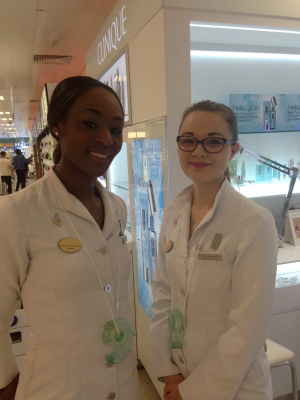 The next two makeup aficionados that I met were perfect contrasts. Teresa, having a rich, dark complexion, wore quite an intense eye with bright lips. Her skin was flawless, which she attributed to her base preparation using Clinique 3 Step skin care. She used Clinique Beyond Perfecting Foundation, a unique mixture meant to be used as both foundation and concealer. For a soft, pinky flush on her cheeks, she used Clinique Sunset Glow "blusher" (the British term for blush). Her chocolate brown eyes were lined with Clinique Intense Ebony Quickliner, and smudged onto her lid. Clinique's High Impact Mascara heavily coated her lashes. For the deep pink stain on her lips, Teresa used Clinique's Luminous Rose Chubby Stick (the cost for this look is $183.19.)
Teresa's friend, Jessica, sported a different look. Her milky, white skin was perfected with Clinique's Moisture Surge Tinted Moisturizer, a formula lighter than foundation with SPF 15. To give the appearance of thicker lashes, she smudged Quickliner in black brown into her lash line and put a light coat of High Impact Extreme Mascara in extreme black. Because she was going for a natural look, Jessica filled in her brows with SuperFine Liner for Brows in soft brown. Clinique Chubby Stick for Cheeks in Amped Up Apple gave a youthful flush to her face, and she finished off the look with Long Last Lipstick in matte plum (coming in at $167.47.) When I asked them if they preferred to wear bold eyes or bold lips, Teresa laughed and spoke for the both of them saying, "Well, I definitely prefer a bold eye, but she would probably say bold lips."
Learning about what makeup people choose to wear and which products and brands they favor always interests me. From my interviews, I noticed that bold lips are a trend in London, even in the daytime. I also learned not to be afraid to ask what products someone is wearing. It's a flattering gesture that can result in lengthy discussions about a shared passion. And, for better or for worse, you may walk away with a new list of makeup must-haves (better for those not on a college budget).