Editors Picks: The Grammys
From the Best to the Worst to the Overlooked, Arts Editors Evaluate the Grammy Nominees
Published: January 29, 2009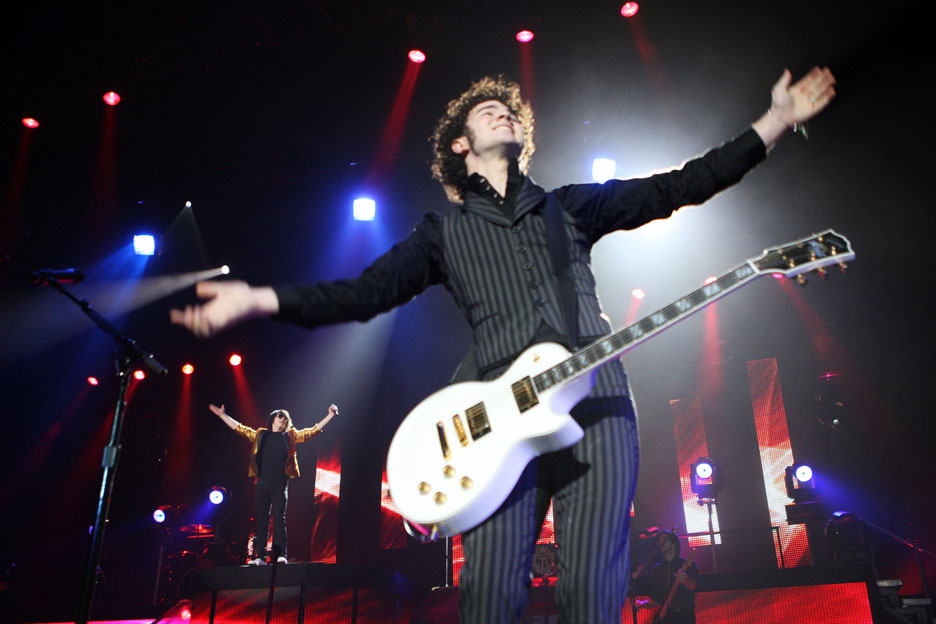 TIM JALBERT, Asst. Arts and Culture Editor
WORTHY NOMINEES
Robert Plant and Allison Krauss: With the help of Allison Krauss, Robert Plant has given new life to a voice that has been lost. Truly, high-noted Zeppelin songs like "Immigrant Song" will never be the same again, but there are enough songs like "Killing the Blues" and "Gone, Gone, Gone" that definitely make up for the loss.
Kings of Leon: I've been a fan of this Tennessee-based band since "Youth and Young Manhood." This album is not the best work they have put out, but it is still a great step in the band's evolution. These four brothers have matured their instrumental skill and lyrical material, leading to a broader and stronger fan base. Songs like "Closer" and "Crawl" show that Kings will be around for years to come.
Metallica: "Death Magnetic" got a lot of slack for being "too loud," which is like telling Jackson Pollock that he used too much paint. Metallica avoids another crash-and-burn album like "St. Anger" and returned to their roots; songs like "The End of the Line" are all too reminiscent of "Ride The Lightning."
B.B. King: King proved with "One Kind Favor" that he can still hold his own as a guitar virtuoso. His cover of T-Bone Walker's "Get These Blues Off Me" lets any listener know that he truly is the king of blues.
UNWORTHY NOMINEES
Jonas Brothers: People should snap some sense into themselves and stop comparing these talentless hacks with the Beatles. When are people going to learn what good music is?
Kid Rock: Apparently beating people up at IHOP wasn't enough; this trashy artist had to come out with a new album. I'm wondering how many people out there actually sit down and listen to his music, and say, "Wow, this is awesome."
Lil' Wayne: He sounds like a frog, and he has no talent. Apparently, those are the credentials for becoming a multi-platinum artist nowadays. So many people argue that Lil' Wayne is the best rapper ever. I think people need to listen to any other rap album and they will be proven wrong.
SNUBBED
Ray LaMontagne: Maine native Ray LaMontagne got very inventive on "Gossip In the Grain." Deviating from his previous albums, he added a much more dynamic instrumentation as well as a greater musical range to the likes of "Winter Birds" and "Let It Be Me."
Q-Tip: This Tribe Called Quest veteran had one of the best hip-hop albums out there this year. It also happens to be his personal best solo piece. Every track sounds phenomenal, and most importantly, each song works well by itself, speaking to any listener in any place. I think his reunion with A Tribe Called Quest definitely snapped him into creative overdrive.
TV on the Radio: I don't think enough people appreciate "Dear Science," let alone this band. Lead singer Tunde Adebimpe lets his vocal range fly on songs like "Dancing Choose." This album allows the band's interesting mix of blues and funk to produce something that is truly amazing.
————————————————————————————————————————————–
RACHEL WEINICK, Asst. Arts and Culture Editor
WORTHY NOMINEES
Jonny Greenwood:Greenwood's haunting score for "There Will Be Blood" was snubbed from last year's list of Oscar nominations due to a technicality. Far from being pleasant, Greenwood's score is, to say the very least, effective.
Raphael Saadiq:To say Saadiq has an aptitude for crafting impeccable retro sounds with a contemporary edge on his new R&B album, "The Way I See It," is an understatement. Give one listen to "100 Yard Dash" or "Never Give You Up" (featuring Stevie Wonder), and you'll be hooked on this album that evokes the sounds of Motown with a modern twist.
Robert Plant and Allison Krauss: Plant's and Krauss's country-folk collaboration, "Raising Sand," sounded pitch-perfect. Even if "Killing the Blues" making its debut on a JCPenney commercial may have come across as selling out, the music on the album—which includes covers of songs by Tom Waits and Townes Van Zandt—is timeless.
UNWORTHY NOMINEES
Katy Perry: Are you kidding me? Neil Young and The Who have never won Grammys, and they're actually real musicians.
Duffy: I'm just not buying it. I've seen her live, and while she may have the ability to put on a retro vibe, it's important to emphasize the words "put on." However sweet she may be, Duffy's the epitome of marketing, often giving off the impression of a well-manipulated, stiff doll.
Jonas Brothers: Do I really have to say anything at all?
SNUBBED
Fleet Foxes: Both their E.P.—"Sun Giant"—and their self-titled, full-length album were standouts this year. Magazines like Paste, Rolling Stone, Spin and Mojo all ranked Fleet Foxes in their top albums of the year, which begs the question, how could the Grammys have been so oblivious to such talent?
Jakob Dylan: Dylan's first solo album, "Seeing Things," was quietly released last spring, produced by the tasteful Rick Rubin. A definite departure from the style of The Wallflowers, the album is an outstanding example of contemporary folk music.
Thenewno2: Released this summer, "You Are Here" is the debut album by Thenewno2 (pronounced "The New Number 2").  Led by Dhani Harrison (yes, that Harrison) and Oli Hecks, Thenewno2 blends a uniquely refreshing sound of electronica, blues and surf-rock You may have even heard their first single, "Yomp," while playing Rock Band.