Could Ian Desmond Make the Mets into Contenders?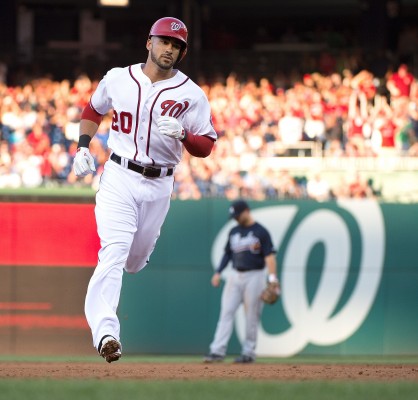 With baseball season only a month away, the Mets are preparing for a season that will hopefully end with postseason success. The Mets, with their newest acquisitions believe they have a greater chance at contending for a World Series Championship.
One of the newest acquisitions by general manager Sandy Alderson is free-agent Michael Cuddyer. The Mets believe that with Cuddyer, who has a batting average of .332, they have a greater chance of making it to the World Series and possibly winning it.
Moving on to the infield, the Mets are trying to acquire a shortstop. NBC Sports reported that the Mets were looking to trade for Ian Desmond by working with divisional rival, the Washington Nationals and the Tampa Bay Rays. Although, the deal fell through after the Rays wanted two Mets' prospects, the Mets are still considering trading for Desmond, but should they? A trade directly between the Nationals and the Mets would involve prospects, something the Mets have shown that they are unwilling to trade and a large sum of money. Currently the Mets are close to exceeding their budget of about $95 million, according to ESPN.
During the 2014-2015 offseason the Mets signed two pitchers, an outfielder and prospective shortstops Edgardo Fermin for $250,000, Yoel Romero for $300,000, and Kenny Hernandez for $1 million. Trying to acquire yet another in shortstop, Ian Desmond, might not be a possibility because of their tight budget. Even though the Mets increased their budget by about $10 million from last season, they are still on a tight budget because according to ESPN, three players, Curtis Granderson, Bartolo Colon and Jonathon Niese, got a raise that amounted to $27 million.
Moreover, with the three new prospective shortstops that the Mets acquired they now have five total prospective shortstops, one of which, Francisco Lindor, is their second top overall prospective player, according to the the Mets MLB website. The Mets clearly have a problem with their shortstops and are trying to fix it in order to have a chance at the running for the World Series, which they haven't won since 1986.
However, acquiring Ian Desmond is not the going to fix their problems. According to Ian Desmond's stats on ESPN, he has been slowly declining. During the 2012-2013 his batting average dropped from .292 to .280 and last season, it further dropped from .280 to .255. Also, his on-base percentage (OBP) decreased as well from .335 in 2012 to .331 in 2013 and finally to .313 in 2014. In Ian Desmond, the Mets are hoping to find a trustworthy shortstop and an aggressive offensive player as well. However, his declining statistics shows that he might not live up to their expectations and make an impact on the team's running for the World Series. More so, he might even hurt the Mets offensively.
Instead of trying to acquire more new shortstops, the Mets should focus on training and improving their current active shortstops, Ruben Tejada and Wilmer Flores. Since Flores' major league debut in 2012-2013 season, his batting average has increased from .211 to .251 last year. There is room for improvement in his numbers, which is what the hitting staff should focus while training him. Therefore, if Flores' improves his batting average, he will help the team score more runs, win more games and make it to the World Series.
If the Mets want a chance at taking the World Series title from the current champions, the San Francisco Giants, they should focus on improving the team they currently have rather than trying to acquire new players. However, if the Mets still want to acquire Ian Desmond, they can always do so next season when he will be a free agent.