Fordham Community Responds to Bans on Gay Marriage In CA., FL., AZ.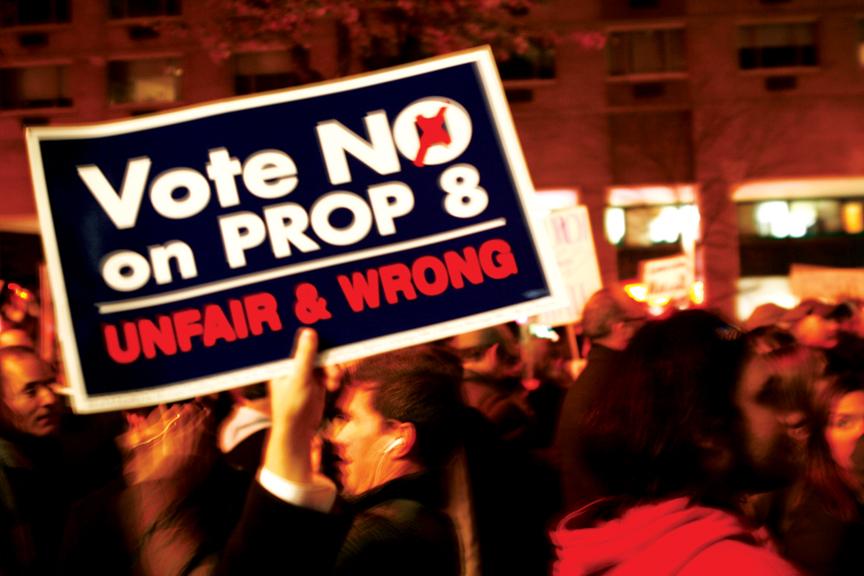 Published: November 20, 2008
On Nov. 4, California, Florida and Arizona passed measures that define marriage as a union between a man and a woman, which effectively banned gay marriage in these three states. Proposition 8 in California overturned the state's Supreme Court ruling recognizing gay marriage. Fordham professors and students from California both attributed the success of the measure to confusion, a conservative "silent majority" and the fact that proponents of Proposition 8 were better funded than the opposition.
The California ballot stated that Proposition 8 "eliminates [the] right of same-sex couples to marry." It passed with 52 percent of the vote;  similarly, Proposition 102 in Arizona passed with 56 percent, and Amendment 2 in Florida passed with 62 percent.
According to Bruce Berg, associate professor of political science at Fordham and chair of the department, Proposition 8 passed for two main reasons.
"The opposition [those in favor of same-sex marriage] were not as well organized or funded as those in favor of the proposition," Berg said, citing that opponents of the measure probably felt that it "would go down to defeat easily."
In addition, Berg cited the fact that the African-American vote that overwhelmingly supported President-elect Barack Obama also overwhelmingly supported the ban on gay marriage.
"African-American voters in California…voted 70 percent in favor of Prop 8," Berg said. "This speaks to the social conservatism of many African-American voters and may have its roots in the strong influence of the African-American churches in mobilizing black voters."
In the weeks leading up to the election, the battle over Proposition 8 in California became heated between conservative groups who fought in favor of the ban and gay and lesbian alliances who made a push in opposition to the measure.  In the week prior to the election, a poll conducted by SurveyUSA showed that among likely voters, 50 percent were likely to vote against the measure and in favor of gay marriage, while 47 percent were in favor of the ban.
Some California residents at Fordham cited their surprise at the measure's passing. Tara Aquino, FCLC '12, who is from Los Angeles, said she's "really surprised" Proposition 8 passed. Aquino pointed to the differences among generations that led to the divide in opinion.
"Though there were a lot of young people…who voted against [Proposition 8]…our parents [and] grandparents who grew up more conservatively voted for it," she said. Aquino cited her mother, who voted
for Obama and in favor of Proposition 8, as an example of a voter who based her opinion on "religious background." She said, "Despite how loud the youth is in L.A. and San Francisco, I think there was a silent majority [of conservatives.]"
Ella Ceron, FCLC '11, another Los Angeles resident, noted that the wording of the ballot may have been a factor in its passing.
"I think part of the reason why it didn't pass has got to do…with the way it was worded," she said. "If you voted yes on 8, you were voting for the ban on gay marriage, and if you voted no, you were voting against the ban on gay marriage and therefore for gay marriage—which could have confused a lot of people."
Reports of confusion were not isolated. A Los Angeles Times article from Oct. 31 said that many voters may "be confused by a choice that can seem counterintuitive." The article, entitled "In the Fight Over Prop. 8, Confusion Reigns," said that many people instinctively voted 'yes' in support of gay marriage and 'no' in opposition.
"Everyone I know from southern California wanted to vote [in support of gay marriage]," Ceron said. "Southern California tends to have a pretty liberal mindset." An electoral map compiled by CNN.com shows that the proposition was largely opposed in the coastal counties that tend to vote liberally, while inland, more conservative counties voted in favor of the ban. In Los Angeles County, according to the map, the majority voted in favor of Proposition 8.
Dan Drolet, FCLC '12, who is an advocate for gay rights, said that in addition to the fact that many Californians grew "comfortable" and "lax" with the marriage laws, one reason the proposition passed was "the extensive backing from the Mormon church."
Along with other religious organizations, including the Roman Catholic Church, the Church of Jesus Christ of Latter Day Saints, also known as the Mormon Church, was a very public proponent of Proposition 8 and the gay marriage ban. In a letter released by the First Presidency, the church's governing body, members were asked to donate their "time and means" to the passing of Proposition 8. On Nov. 5, the church released a statement saying that while the Mormon faith defines marriage as a "union between a man and a woman," the church's "opposition to same-sex marriage neither constitutes nor condones any kind of hostility toward gays and lesbians."
The battle over same-sex marriage may not be over in California. According to a Los Angeles Times article, Gov. Arnold Schwarzenegger "expressed hope that the California Supreme Court would overturn Proposition 8."
Gwenyth Jackaway, associate professor of communication and media studies at Fordham, agreed that the fight for same-sex marriage is far from over. Jackaway cited the equal protections clause of the 14th Amendment, which states that "all people are entitled to equal treatment under the law," as possible grounds for appeal.
"The next step [for advocates] is to file suit claiming [Proposition 8] is unconstitutional…we don't just change the laws because people protest in the streets."
Jackaway continued, "The job of the Supreme Court is to asses whether laws passed…are constitutional." Since Proposition 8 proposes to amend California's state constitution, proponents for gay marriage must now prove that the amendment contradicts the federal constitution.
Aquino said that she "knows for sure the fight isn't over." She continued, "It's an issue that people feel so strongly for or against that it seems like, because of that, it would never settle. I feel like it's going to be a constant struggle." A number of rallies in opposition to the passage of Proposition 8 cropped up in cities like Los Angeles, San Francisco and Sacramento immediately following the Nov. 4 decision.
It is unclear whether the same-sex couples who were already married in California will face a nullification of their marriages. Berg said that it is "a matter that the California courts will decide." Schwarzenegger predicted in the Los Angeles Times article that the couples who have already married "would not see their marriages nullified."