Who the Knicks Should Draft and Why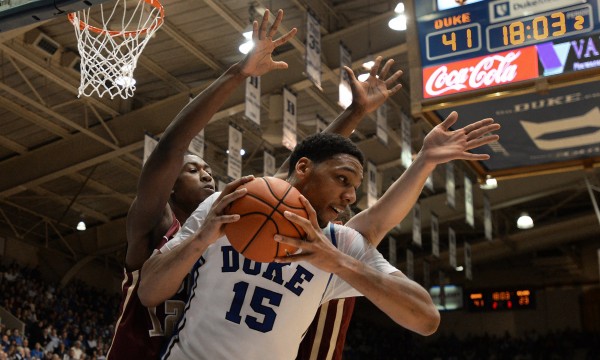 It's no secret, but the Knicks are a mess. In fact, New York basketball in general is atrocious, and the Big Apple desperately needs the NBA Draft to bring it a savior to pump some blood into the orange and blue heart that makes this town beat.
The Knicks are currently 10-39, owners of the second-worst record in the league. The proud owners of the worst record are the Minnesota Timberwolves at 8-40, but the tanking race is expected to come down to the wire. Throw the awful Philadelphia 76ers (11-39) and Kobe-less Los Angeles Lakers (13-35) into the mix as well.
This year's NBA Draft is going to be tricky, as the only "sure thing" is eventual number one pick Jahlil Okafor. Everyone else is a question mark, but this will be a guide for the players the Knicks will be looking at on the draft board, and which ones fit into their roster and system moving forward.
The Center: Jahlil Okafor (Duke)
The freshman center should translate well to the NBA and should eventually become a game-changer as well. His 6 feet 11 inches height and 270-pound frame will allow him to bang with the other NBA centers, and he could become one of the few throwback centers in a league that has evolved into one driven by point guards.
Luckily for the Knicks, who have no franchise (or even NBA-quality) center, Okafor would likely start and play a lot as a rookie. If they were lucky enough to land him in the draft, they could then shift their free agent focus off veteran center Marc Gasol and distribute that money to a point guard such as Dallas' Rajon Rondo or even a power forward like Portland's LaMarcus Aldridge.
Okafor is averaging 18.3 points, 9.4 rebounds and 1.5 blocks per game for the Blue Devils this season. With him in the mix with Carmelo Anthony and a projected $30 million under the salary cap to play with, the Knicks could actually be a lot better next season.
The Guards: D'Angelo Russell (Ohio State) and Emmanuel Mudiay (China)
Both of these players are very good prospects and could wind up being franchise players one day. Although they're both just 18 years old and might not be able to be immediate difference-makers, the Knicks would be happy to get either of them given their atrocious play from their point guards this season.
Russell is having an excellent freshman year, averaging 19.4 points, 5.6 rebounds and 5.4 assists per game. The lefty can create off the dribble, create his own shots and is an incredible three-point shooter – for the season he's shooting a ridiculous 45.4 percent from downtown. The problem, however, is that although he's a good passer, his size makes him more of a combo guard and not a true point guard. People have compared him to Manu Ginobili, but from watching him, I'd say he is a cross between two players who were former teammates: Brandon Jennings and Monta Ellis. Most of his makes are jumpers and he isn't much of a rim attacker.
Mudiay, on the other hand, is almost the exact opposite. He's a relentless penetrator and always looks to attack the basket and challenge defenders at the rim on every possession. His flashy, aggressive style of play mimics all-stars John Wall and Russell Westbrook. He's averaging 17.7 points, 6.0 rebounds and 5.9 assists per game, but he's a poor free throw shooter (58.1 percent) and struggles from behind the arc (30 percent). Additionally, he is  playing in China where the level of competition is in question. Former NBA role player Andray Blatche averaged 31.1 points and 14.6 rebounds per game with Xinjiang Guanghui this season.
The Others: Stanley Johnson (Arizona) and Karl-Anthony Towns (Kentucky)
Johnson is a nice prospect, but the small forward position is the only one on the floor that is occupied, with star Carmelo Anthony signed for four more seasons. At 6 feel 7 inches, he's too small to be a power forward and too tall to be a shooting guard, so he isn't much of a fit for the Knicks.
Towns is intriguing because of his potential and rim protecting qualities, and could be a prospect for the Knicks if they fall down to the fifth of sixth draft positions. His main issue is playing time, as he is averaging just 19.6 minutes per game this season. Still, the 7-footer is averaging a respectable 8.5 points and 6.1 boards per game in limited action, making teams wonder what he could do if given 25 or 30 minutes of run.