ISIS Takes Back the Night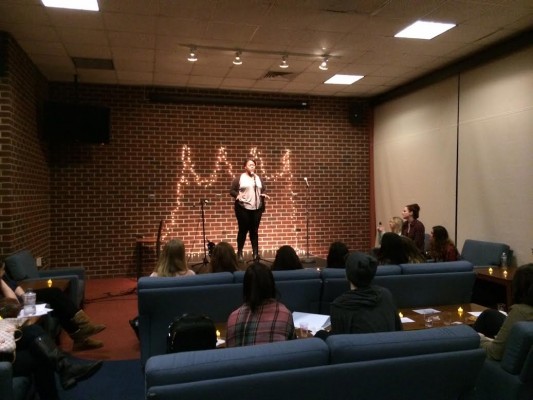 On Tuesday, Oct. 28th at 6pm, In Strength I Stand (ISIS), held its annual solidarity gathering: 'Take Back the Night." This event, held in universities across the country, seeks to raise awareness for sexual violence and provide a platform for those that would wish to express themselves with their experiences dealing with sexual violence and abuse.
Performers showcased their talents under the dim lights in the student lounge at Fordham College at Lincoln Center (FCLC). Performances ranged from music to spoken word. In Strength I Stand (ISIS) President Wallis Monday, FCLC '16, said, "Some [people] do choose to share their stories onstage, but that's not something we see a lot of. Art is a way to express these difficult topics."

Monday explained that while the use of art as expression is not exclusive to Fordham University, "Take Back the Night in other universities takes different forms. Some universities hold candlelight vigils, some just provide a space for students to talk about their experiences, but our space is mostly about giving [students] a platform for their experiences".
Members of ISIS's executive board presented facts about violence towards women in America in between performers and emphasized that this space was a place of safety and solidarity. This message was repeated in a group debriefing led by Fordham's Counseling and Psychological Services Department (CPS) after the student performances, where students were encouraged to give their thoughts and reactions to the night of performances and the overarching message of awareness. Kathleen Hayes, FCLC '16, another member of the ISIS e-board, said she enjoys her relationship with the event, because "it creates such a beautiful and supportive space, and that it always felt like a place of love and support for both the performers and non-performers; as well as for those who have been affected elsewhere by violence".
Many others gave their opinions in the debrief on "Take Back the Night," some by relating their personal experiences with sexual assault, and how they had hope the event would continue to gather more students unfamiliar with the purpose of "Take Back the Night." CPS moderated the talk with the help of other members of the Fordham administration.
Keith Eldredge, dean of students at FCLC, and Jenifer Campbell, director of residential life at FCLC were in attendance. Kelly Schumacher, assistant director for alcohol and other drug education (AODE) was also present, commenting that "it was a wonderful way for students to discuss a difficult topic in a safe environment."Anthony Varner, Resident Director for Freshman Students, echoed her sentiments. He said, "This event has a strong impact, and it discusses issues that affect us as both a university and a global community, and this can also prepare students to have these conversations in the future".
ISIS plans to hold more events to promote discussion about the topics of violence against young women in the future. Monday also mentioned the event "Cover Girls" as an upcoming open mic, "[Cover Girls] will be a bit more light hearted, whereas Take Back the Night is more solemn in that we are trying to…respect the atmosphere of sexual violence".
Student response to the event seemed to be very positive. Nicole Kucik, FCLC '17, said, "The performances were spectacular, and there was so much talent and emotion put onstage for us to see, and we seem to have great support for it as well".