McKeon Hall, FCLC's Newest Residence Hall, Dedicated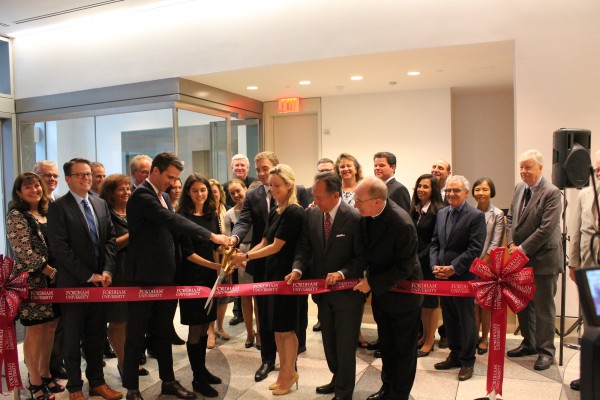 On Wednesday, Oct. 1, Fordham College at Lincoln Center (FCLC)'s newest residence hall was dedicated. Robert A. Milici, Jr., vice president for development and university relations, Rev. Robert R. Grimes, S.J., dean of FCLC, among others. Because of rain, the dedication occurred inside of McKeon Hall at the Skadden Conference Center.
"Wisdom and knowledge is being made here," Grimes said of the new residence hall. "This building is becoming a house, becoming a home, as it welcomes new students to the community that is Fordham."
On behalf of the McKeon family, Robert B. McKeon, Jr. told a story about his father's times at Fordham and how his father wished that FCLC had a dormitory. His father "would have loved this building. He would have loved it for its bold and impressive architecture. The statement that it makes about the quality of the Fordham experience."
At the end of the dedication, Rev. John J. Shea, S.J., director of campus ministry, blessed McKeon Hall, followed by a ribbon cutting ceremony.
Construction of the hall began in 2011 and was recently completed. McKeon Hall currently houses around 400 freshman and will remain the freshman dorm.