Will New York Knicks Fans Even Care This Season?
Last Year's 23-59 Disaster Will Test Fans' Dedication to the Organization
Published: October 16, 2008
After a disappointing 2007 campaign filled with coaching controversies, sex scandals and dissent in the locker room, the New York Knicks are embarking on the new, post-Isiah-Thomas era. Last season, public demand for the firing of head coach Isiah Thomas landed more back page stories than the Knicks themselves as the team finished with a disappointing 23-59 record.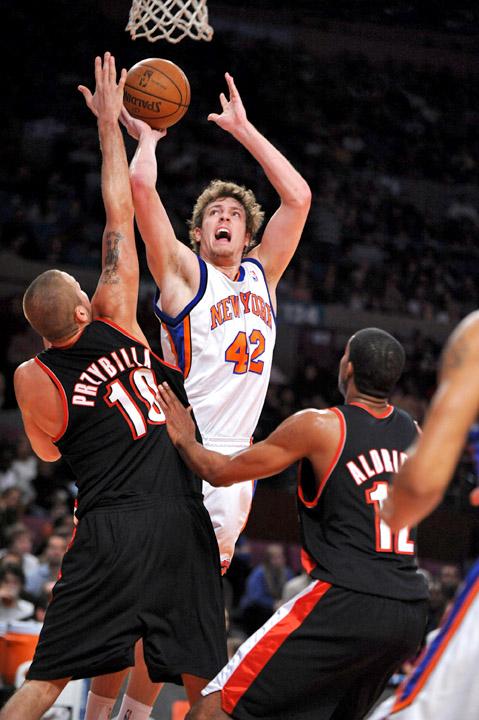 Indiana Pacers CEO and president Donnie Walsh was signed by James Dolan on April 2 to replace Isaiah Thomas as team president. At the close of the 2008 season, Walsh fired Thomas and replaced him with Mike D'Antoni, former head coach of the Phoenix Suns. Thomas's legacy with the New York Knicks includes a 56-108 coaching record, one of the largest and most expensive sexual harassment suits in sports history and several ill-advised signings of players that compounded the Knicks' salary cap woes, while contributing little and frequently missing time with injuries.
But despite Thomas's bearing the brunt of the blame for the debacle of the last few seasons, many fans have criticized Stephon Marbury for his commitment to the franchise after numerous spats between himself and the coaching staff. The point guard also elected to have season-ending ankle surgery during the year that was not deemed necessary by the franchise. Marbury has had numerous reported instances of not getting along with coaches in the past, and as he returns for the '08-'09 season, he will find himself playing for the coach that traded him away from Phoenix.
The presence of a new head coach alone seems to be enough to create a sense of optimism for fans. Given the slim chance of acquiring any game-changing players for this season, it might have to be. Knicks' team president Donnie Walsh discussed his frustration at pulling off trades and acquiring new players at a recent press conference reported on ESPN.com, saying, "Look, if you call up the New York Knicks and every trade, people call up and they say, 'I want your first-round pick and $3 million and you're getting a lesser player than I'm getting.' At some point, somebody's got to say, 'I'm not going to do that. Period.'"
But some fans still see signs of hope. "I am finally excited for a Knicks season to start," said Kevin Quinn, FCRH '09. "I have a very good feeling about D'Antoni and his approach to the game. A high-speed, running offense is the escape the Knicks need from Isiah Thomas's frustrating tendency to go from an outside game to an inside game, then back again. It might take a couple of months for the Knicks to really show the results D'Antoni's offense can produce, but we're Knicks fans so we're kind of getting used to the waiting game."
The theme of waiting was echoed by other fans as well. "I care about the Knicks in '08-'09 because this offseason I saw the first signs of light that I have seen in a while," said Steven Spada, FCRH '09. "The key is that both D'Antoni and Walsh agree that the team we have is not the team we want. We are no longer 'going for it' this year. We are not going to pick up a [center like] Eddy Curry or a [forward like] Zach Randolph late in the offseason to hope they will add up to a championship the following year. That has not worked and will not work because all we do is have a team with bad chemistry and a team that has a salary higher than many teams doing much, much better. The reason I care about this season is because it is a stepping stone to 2010."
Many Knicks fans are holding their breath until then, hoping one of the elite free-agents-to-be will find his way to New York. If there's one thing for Knicks fans to look forward to, it's the prospect of a marquee-name like LeBron James, Dwayne Wade or Chris Bosh appearing in the starting lineup every night at the Garden. Until then, they wait.