Softball Starts Their Road to Another Championship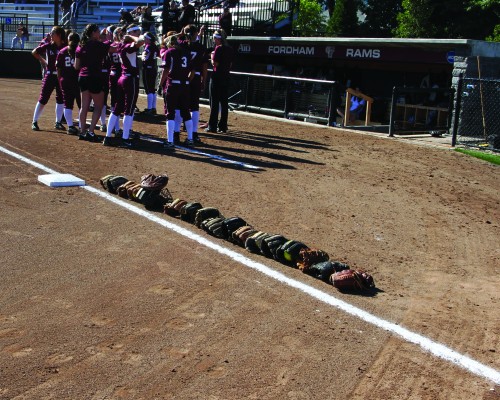 This past weekend, the Fordham softball team started off their 2014 season in Orlando, Fla. After a round of explosive offensive effort and consistent superb pitching, the team improved to 2-1. And Head Coach Bridget Orchard believes this year's team can win the Atlantic 10 (A-10) Conference once again.
"I think we're the front-runners right now. We are definitely the best team in the conference," Orchard said. According to Operations Assistant at the A-10 Conference, Tom Waterman, a preseason poll of the league's top 10 head coaches agrees with that statement. In late January, the coaches predicted Fordham to win the 2014 A-10 Championship ahead of competitive schools such as Saint Joseph's College and George Washington University.
Winning the title this year would give Fordham back-to-back championships. And although Orchard believes that the Rams can do it, she still worries about some aspects of the game. "I think our biggest challenge every year is to stay healthy. As long as we're healthy, we'll be good to go but that's always a challenge," she said.
Orchard is also worried about the youngest members of the team. "Freshmen have been starting this year; seeing how they develop and adapt to the college level will be another issue to see if we repeat as champions." Two of the four freshmen, Sydney Canessa, Fordham College at Rose Hill (FCRH) '17, and Lauren Quense, FCRH '17, have been productive. Canessa has an average of .273, with one run batted in during the 12-3 win against University of Tennessee at Chattanooga on Saturday. In that same game, Quense pitched two innings and did not give up a single run, walk or hit.
But Fordham's biggest players were Michele Daubman, FCRH '15, and Gabby Luety, FCRH '14. "Both of them have absolutely been leaders since they got here their freshman year. They lead by example and also lead on the field," Orchard said. Daubman pitched 13 scoreless innings over the weekend and ended with a 1-1 record. Her one loss came from two unearned runs against the University of Central Florida on Feb. 9. Fordham lost that game 2-1.
Luety had driven the offense all weekend. In six at-bats, she had five hits. Of her five hits, she batted in three runs and knocked in one home run. She even managed to stay patient at the plate, with a total of five walks in three games. Heading into this week, her batting average is a red-hot .833. Luety was named the A-10's Softball Player of the Week, while teammate Daubman was named Softball Pitcher of the Week.
Daubman, Luety, Orchard and the rest of the team use the word "relentless" to describe their commitment towards this season.  "It's a word that we talk about a lot. The girls are very relentless as far as their work ethic being on the field, off the field and academically," she said. "We have 17 of our girls above a 3.0 GPA so they work hard in the classroom. On the field they are working hard and they have that gut instinct for a desire to win and to not let up."
In addition to their drive to win, Orchard also believes that the road to another championship will be a lot easier because most players have the experience. "This year's team has a little bit more poise," she said. Whereas last year's team had a couple of players going to the championship for the first time, this year's players now know what it takes to get there and win. "They come in here this year and know what to expect. That will help them when we get into the postseason."
The team is also glad for their support from Fordham students. Unlike some sports in which there is hardly an audience to follow them, Orchard believes that they have a pretty good turnout for games. "With the field being right at the center of campus ,we get students come up and watch us. Some of the girls' roommates and friends as well as other students come and support us," she said.
Playing big games have also helped a lot. "We played Alabama here a year ago and more than a thousand people were at the game," Orchard added. This season, Louisiana State University will be visiting Rose Hill, and that game will probably bring in large crowds once more.
As for now, Fordham will be heading to Charleston, S.C. this weekend to compete in the College of Charleston Classic. Their first of five games will be on Feb. 14, against the University of Mississippi at 9 a.m.