Lincoln Center Athletes Maintain Competitive Edge with FCLC Soccer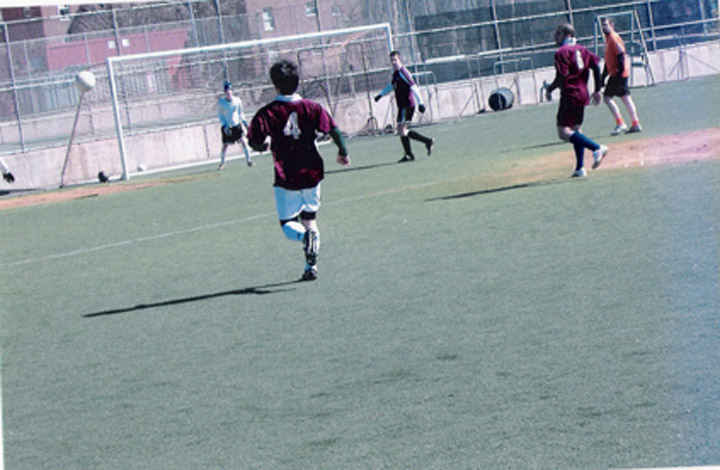 Published: August 28, 2008
Playing as part of the Metro Soccer NY league's Bryant High School division, the FCLC soccer club has not seen many victories in past seasons, though not for lack of trying. With all of the factors working against the club, it speaks volumes of the players that there is even a team. In addition to playing against older, more experienced teams, the squad plays on Sundays, out in the far-off land of Queens with few opportunities to practice.
"It was strange at first," said Richard Scott of playing in the Metro League. "Most of us are probably used to playing against peers of similar ability."
And as students understandably put academic and work obligations ahead of the club, scheduling conflicts are a common hindrance to the team's success.
"We don't have a set team," said Pat Wyllie, FCLC '09, of the shuffling lineup. "It depends on who shows up. Playing on Sundays is hard for college students."
This improvisational approach toward the lineup offers a spot for any and all Lincoln Center athletes, from beginners to Beckhams.
"We play whoever wants to," said Wyllie. "Everyone gets a chance to play, especially if they come to the practices we hold."
Despite the logistical difficulties, FCLC soldiers on, hoping to build on the improvements made at the tail end of last season.
"I'm not predicting eight gold medals," said Scott. "But I expect us to improve the basics like ball-handling, defense and chemistry as a team. Toward the end of last season we showed a lot of progress in those areas."
"We have been improving with each season, and I expect this improvement will continue in the upcoming season," added Peter Muller.
No matter when and where FCLC soccer plays, there is no doubt the club will show up ready to play hard.
"To see commitment, just look at the fact that we had the same small group of guys show up week after week despite our losing record," said Scott. "I play on the team because I love sports and the challenge of playing against tough competition."