Kaitlyn Carballeira Ends Fordham Soccer Career With Senior Night Win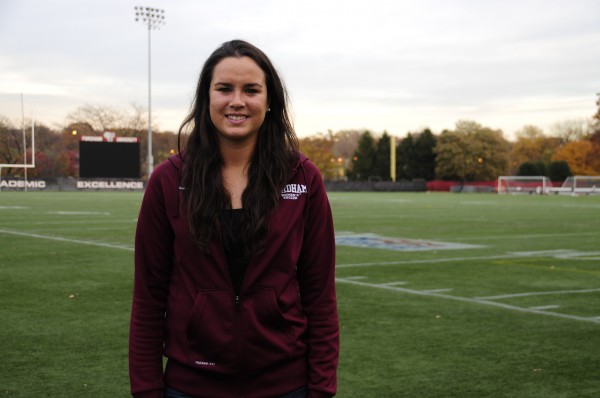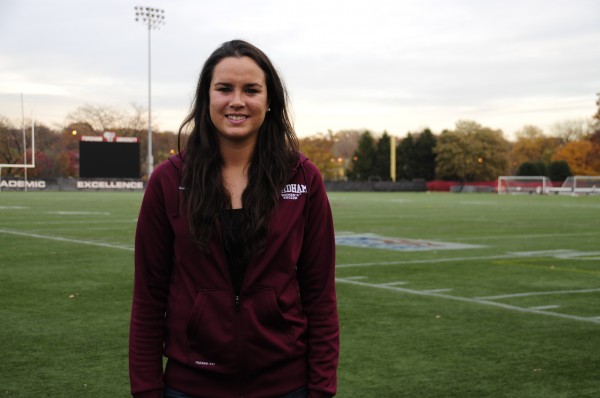 During the final game of the women's soccer season, Kaitlyn Carballeira, Fordham College at Rose Hill (FCRH) '14, and her fellow seniors bid farewell to the team for which they played for four years. But before ending her Fordham soccer career, Carballeira scored the lone goal in a victory against Duquesne University.
Twenty minutes into the game, Carballeira headed the ball after her teammate Mary Solimine, FCRH '14, sent a free kick her way. "It was an incredible feeling! I could not have asked for a better senior night," Carballeira said. "My teammates really made it special, and being able to score the winning goal off an assist from a fellow senior was amazing."
Carballeira started playing soccer at the tender age of five and immediately fell in love with the sport, spending hours in her backyard practicing. She also comes from a family of athletes. Her older sister swam at a Division One college and her younger brother plays both baseball and basketball in high school. "We're all pretty competitive, and sports are a big part of our family dynamic," she said.
At first, Carballeira played the forward position on her team. But one day her coach moved her to center back, which proved to be a success. "I liked having the pressure of being the last defender. I found that I had success there because of my ability to lead the defense. And since I'm so tall I was able to win all the air balls," the 5-foot-11-inch defender said.
Her favorite game of her Fordham career was the team's win against the University of Maryland in 2012. "They were ranked top 25 in the country, and we went in there thinking we would get destroyed," she said. "Then, with a little luck and a lot of hard work we pulled out a 1-0 win. I got the assist on the goal, and it was an amazing feeling beating such a high-ranked team."
One aspect to winning games is team chemistry. Over the last two seasons, Carballeira found that she connected with her teammates on a deeper level, but sometimes, it could be hard for newcomers to the squad. "Each year it's been different. It's always hard as a freshman to come in and click immediately with the team," she said. "But each year we've had great girls who really try to get everyone acclimated right away." Having a supportive coach is also imperative to team chemistry.
Head Coach Ness Selmani recently retired from his position but Carballeira credits him for her Fordham career. "First off, he recruited me to come here and he gave me the opportunity to play soccer at such a great school. I will forever be grateful for that," she said. "He cares so much for us, and he has always been so encouraging of me. I truly enjoyed every second that I played soccer with him as coach, through the good times and the bad."
Now that she is graduating next semester, Carballeira has a few options. "I may try to get my masters and play for a year in England, but I'm not sure yet," she said. "However, I definitely see soccer in my future, whether it be playing or coaching." She doesn't see herself playing professional soccer though.
Besides soccer, she could put her accounting major to use. "I chose to be an accounting major because I found the material to be challenging. But at the same time, I understood it, and I could see myself being successful at it in the future," Carballeira said.
No matter what she does next, graduating and leaving her team behind will be difficult for her. "I'll definitely miss the girls and playing soccer at such a competitive level," Carballeira said. "I don't want to graduate! I love this team and everything about Fordham."