Mandela Movie Screening Brings South African Struggle Back to Fordham Students
On Tuesday Nov. 13, the Coca-Cola Company hosted a New York City screening of the 2013 biopic, "Mandela: Long Walk to Freedom," the first in a series of college screenings, but this time, it's directed towards Fordham University and Columbia University students.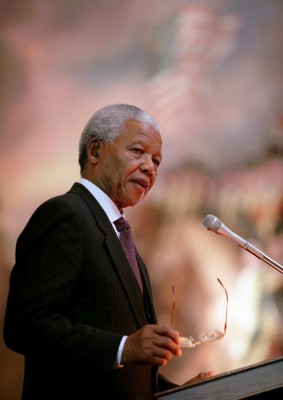 The AMC Loews Lincoln Square 13 was all red. The trail from the entrance to the sign-in table, which was spotted with glass, Coke bottles and draped with crimson cloth, was blazed by red carpet. The carpet stretched past the table and under the feet of a woman who had been the 95th person to sign into the event and because of this, had won $500 and a photograph with the event's cosponsor Harvey Weinstein. The photo was later projected onto the gigantic, rounded theater screen amongst various tweets about the event, hashtagged "#Mandela."
The film, according to Idris Elba, who played Nelson Mandela, is "one of the biggest films in South Africa." It individualized the South African struggle and simultaneously universalized it. The passion of both the violent and nonviolent protestors was palpable in this film, unlike in black-and-white descriptions that school textbooks tend to give.
"Mandela: Long Walk to Freedom" pulls the viewer away from distanced, banal perceptions of struggle and into the red-hot crucible of revolution. Throughout the film, Mandela oscillates between his South African tribal past and his suit-wearing, political present. He leads protests through the street and onto the "whites only" train. He declares that he will live and, if need be, die for freedom, and he spends about twenty years in prison, which ferments the anger of the South African people, both white and black.
Nelson Mandela is a living, breathing, cheating, loving, laughing and crying icon. The film personalized the great Mandela and considered each person's ability to induce change for the better. Director Justin Chadwick said, "He's not just this image from the history books … he's a person, a man in flesh, and he's living now," he continued, "Maybe the leaders in my country can learn from Mandela, we can all learn from Mandela." Mandela didn't monopolize the screen, either. While he is imprisoned, his wife Winnie (Naomie Harris) sustains the rebellion with her fist raised.
When the screening ended, the director and the actors sat between the audience and the darkened screen, framed by a still, deep red tapestry and discussed the reality behind the film and the heroism behind its namesake.
Audience members left their seats and crowded in the front of the theater. It was strange to hear Elba and Harris (Winnie Mandela) speak in English accents and to see them interact casually amongst themselves, their on-screen performances so moving as to make them semi-iconic.
Mandela's courage and strength are not supernatural but intrinsic. That very aspect seemed like the crux of the movie and, more specifically, of the college screenings. "I'm not as graceful or as great as he is … I'm still carrying the weight of what Mr. Mandela has taught me about being a man,"  Elba said, of his performance. "Actually, every single one of us is a powerful individual that can do similar. If he can do that and we can do that, then there's a lot of change that can happen."