Race is Not a Halloween Costume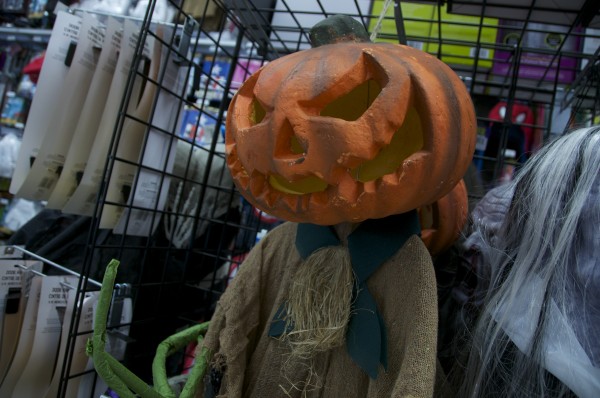 Halloween is not an excuse to be offensive.
It is completely possible to dress up as people of other races without changing the tone of one's skin. Not only is it wrong, offensive and takes all the fun out of the night, but it's also completely avoidable.
Julianne Hough shocked everyone last week when she showed up to a Halloween event in a "Crazy Eyes" costume from the original Netflix series "Orange is the New Black" – complete with "blackface" and dark-painted hair.
Crazy is right! Historically, blackface has served as an outlet for white people to put dark paint on their faces and act out incredibly racist caricatures of the African-American stereotype. When people alter their complexions for a costume, they are portraying a racial stereotype that should never be perpetuated or even mildly accepted by society. Hough's getup was part of a group costume, but she was the only one to alter her complexion. Her lame attempt at Bantu knots looked more like a Cindy Lou Who hairdo. With the right hairstyle and outfit (she wore orange, whereas Crazy Eyes' jumpsuit is a beige color), it would have been a fun costume of the popular character. But because she chose to sport a blackface, she offended fans of hers, the show, and Uzo Aduba, who plays "Crazy Eyes."
To me, this is just as offensive as traditional Native American culture being monopolized in the fashion industry, or worse, the Halloween costumes recreating tragedy. Twenty-two year old Alicia Ann Lynch took to Twitter to show off her costume this year—a Boston Marathon bombing victim. Needless to say, this was inappropriate and insensitive, and fellow Twitter users mauled her. She was sent threats of rape, violence and even death, in addition to being fired from her job.
Also fired from her job after this year's Halloween festivities was a Massachusetts mom who posted a picture on Twitter of her sons in their costumes: Trayvon Martin donning black paint on his face and fake blood on his hoodie, and George Zimmerman. Both the Boston Marathon bombing and the murder of Trayvon Martin were horrific tragedies, and there is no place for society to poke fun in these situations.
The same rule of thumb also applies to the reverse of blackface: a person who isn't Asian shouldn't powder their face for the sake of a geisha costume. Simply wearing the right costume will suffice. Speaking from experience, I can tell you that you can pull off any costume you want without changing your real appearance in any drastic way. I have fairly dark skin and black hair, and I never let that stop me from being Jeannie from I Dream of Jeannie as a kid. Nor did I make myself darker for a Jasmine or Pocahontas costume.
Yet no one ever questioned who I was trying to be.
Simply put, costumes should apply to wigs, dress, shoes, and other exterior things. It should be a fun thing for everyone, not hurtful or blatantly racist or any other form of hate. Though controversial costumes are nothing new, this year's level of disrespect was off the charts.
Next Halloween, I sincerely hope that people really think about their costume choices, keeping in mind the backlash and consequences of the worst costumes from 2013.