Swift Overacts to Dating Joke
There are two types of celebrities: those who are indifferent to privacy and those who crave it. Some celebrities don't make big efforts to separate their personal and professional lives while others, such as Jodie Foster, lash out and write speeches about not wanting to become another Honey Boo Boo. Taylor Swift probably falls closer to the former group. Her infamous string of boyfriends is no secret to the public. For every guy she breaks up with, she writes a vengeful song and makes it a hit. However, her lack of discretion does not justify her right to get upset when she's criticized or ridiculed in the media.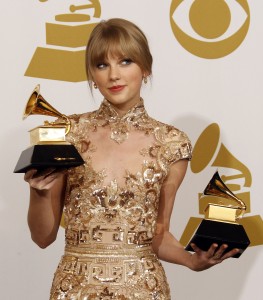 In an interview published in the April edition of Vanity Fair, Swift reacts to a joke by Amy Poehler and Tina Fey at the Golden Globes about Swift's love life, humorously telling her not to pursue Michael J. Fox's son. I'll be honest:  if I were in Swift's shoes, my cheeks would have heated up and I would have hid my face for a good five minutes before I rolled my eyes and laughed it off. Unfortunately Swift didn't laugh it off, and instead quoted Madeleine Albright stating, "There's a special place in hell for women who don't help other women." Swift's reaction to such mockery is unwarranted, especially since she indirectly encourages it. Being upfront about her relationships is her prerogative but she can't become sensitive every time the media depicts her as a "manizer."
Her love life has been, for the most part, public record. Whether it was Joe Jonas, John Mayer, Jake Gyllenhaal, or most recently Harry Styles, Swift has never tried to disguise her relationships as anything less. In fact, when she broke up with Joe Jonas, she ranted on Twitter and on The Ellen DeGeneres Show about how he dumped her over a 27-second phone call.
In all of Swift's complaining, she seems to have forgotten that when hosting Saturday Night Live, she even made fun of herself by singing a love song while calling out Taylor Lautner's name. Swift is only setting herself up as a hypocrite if she lashes out at others for doing the same thing she does. One thing's for sure: Amy and Tina should expect a vindictive song about them from Swift's next album.