The Many "Hidden" Museums of New York City
New York is a hub of art-related activities. It is almost impossible to keep up with all of the city's attractions—especially for museum-lovers. The Observer selected three student friendly museums, from the 67 "hidden" museums of New York as alternatives to the "big name destinations."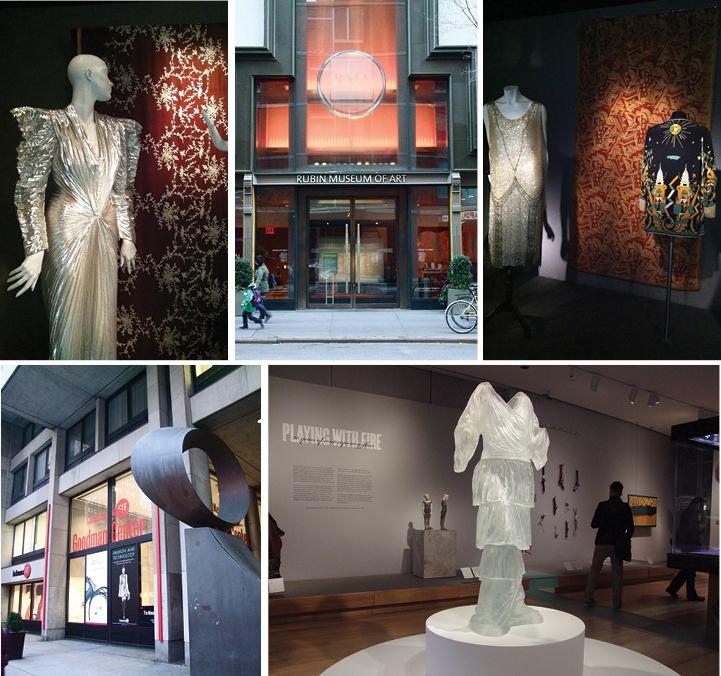 Museum of Arts and Design
2 Columbus Circle
Price: $12
Phone: (212) 299-7777
Hours: Tue.- Sun. 11 a.m. – 6 p.m., Thurs. – Fri. 11 a.m. – 9 p.m.
Getting There: Take the A, C, B, D or 1 trains to Columbus Circle
Starting close to the, Fordham College Lincoln Center (FCLC) campus, the Museum of Arts and Design (MAD) offers many opportunities to students. The museum offers exhibitions and programs that focus on artists' creativity, transforming materials through different processes, such as artisanal and digital. Two exhibits now showing that reflect these purposes are "Art of Scent," presenting the evolution of olfactory art from 1889 to 2012, and "Playing with Fire: 50 Years of Contemporary Glass," featuring more than 100 works of glass. On Thursdays, MAD offers "Pay What You Wish Fee" from 6-9 p.m.
MAD can be considered an innovative museum for its open studios. Every day, the upper part of the museum has different artists publicly working on their projects. Furthermore, one floor up from the Open Studios is the museum's restaurant, Robert, open for lunch, tea service and dinner, serving contemporary American fare with Mediterranean influences and views of Columbus Circle.
The Museum at the Fashion Institute of Technology
Seventh Avenue at 27 Street
Price: Free
Phone: (212) 217-4558
Hours: Tues. – Fri. 12 p.m. – 8 p.m. Sat. 10 a.m. – 5 p.m.
Getting There: Take the 1, N, or R to the 28th Street Station. Take the A, C, E, F, or M to the 23rd Street Station.
The Museum at the Fashion Institute of Technology (FIT) is one of the few NYC museums devoted entirely to fashion. Open since 1975, the Museum at FIT has won several world awards during the years, such as the first Richard Martin Award for Excellence in the exhibition of Costume from the Costume Society of America and gained international awareness.
This fashion museum features three main galleries: one is designated for student and faculty works, one for permanent exhibitions and one for special exhibitions located downstairs. The permanent exhibition section now features "Fashion and Technology," an exhibit featuring clothing and accessories from the corsets of 18th century to what is presented on the runways today. Important designers such as Adrian, Balenciaga, Chanel and Dior are represented.
The special topic gallery now features a must for every fashion lover: "Shoe Obsession." Exposed under big glass cellars, under colorful lights, this gallery presents over 150 examples of the most extraordinary shoe styles ever created. All three galleries are well-curated and arranged.
The Rubin Museum of Art
150 W. 17 St.
Price: $5, free Fri. 6 – 10 p.m.
Phone: (212) 620-5000
Hours: Mon. and Thurs. 11:00 a.m. – 6:00 p.m., Wed. 11:00 a.m. – 7:00 p.m., Fri. 11:00 a.m. – 10:00 p.m., Sat. and Sun. from 11:00 a.m. – 6:00 p.m.
Getting There: Take the A, C, E, 1, 2, 3, F, M, L, N, R, Q, 4, 5 or 6 trains to 14th Street.
Not too far away from FIT museum, is another less-known museum of New York: The Rubin Museum of Art. From the outside, this museum might seem Buddhist or religion-based, but it is not. The Rubin Museum of Art is home to a comprehensive collection of art from the Himalayas and surrounding regions. Ongoing shows include "Sacred Art & Common Ground: Making Personal Connections with Himalayan Art," "Femininity and Form," "Peace and Wrath: The Many Faces of Compassion" and many others.
The RMA is also known in NYC for its variety of programs, which take place at its Café Serai. Presenting an excellent Thai cuisine, the café offers artful after-work happy hour with live music and exceptional programming in the theater. From 5-7p.m. non-members can enjoy a 10 percent discount on all items on the Café Serai's menu. Every Friday night Café Serai becomes the K2 Lounge, offering a special Pan-Asian tapas menu along with music by DJs, thematic gallery tours and programs. The café is open to the public during museum hours and does not require a museum admission ticket.