Whittenburg Praises Departing Seniors for Program Turnaround Despite Losing Record
Published: April 3, 2008
When Fordham University men's basketball head coach Dereck Whittenburg arrived at Rose Hill in time for the 2003-04 season, he inherited a team that had gone 10-46 the past two seasons. Now, five years later, Whittenburg has managed a 65-83 mark at the helm, including an 18-12 campaign in 2006-2007 that saw Fordham advance to the Atlantic 10 Conference Tournament semifinals in the Rams' first winning season since 1991.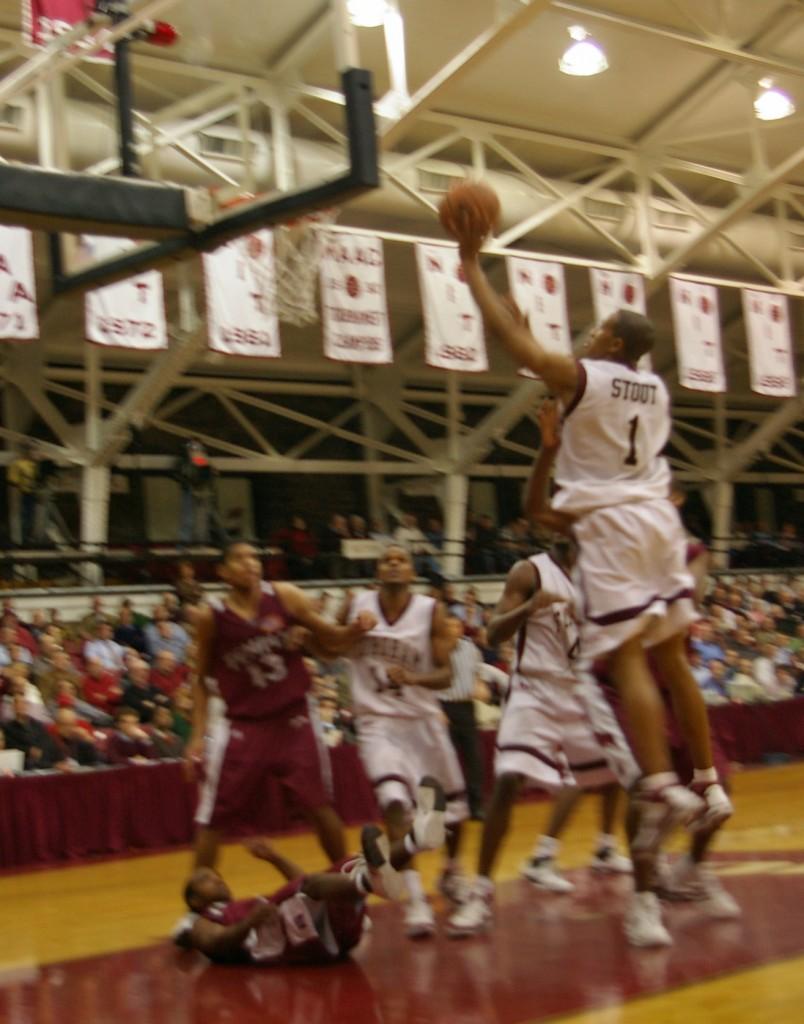 Whittenburg began to see success at Fordham sooner than anticipated. Just two years removed from an abysmal 2-26 season under coach Bob Hill, Fordham went 13-16 in 2004-05 with just four scholarship players and five true freshmen on the squad; those were Whittenburg's freshmen, his first recruiting class that will now graduate this spring. Bryant Dunston, FCRH '08, then a freshman out of St. John's Preparatory School, showed his first signs of greatness by winning A-10 Rookie of the Year Honors. Another cornerstone of the current squad, Marcus Stout, FCRH '08, started the final 18 games that year and managed 14 points per game. The unlikely turnaround had begun.
"When they gave us this program, there was no blueprint to win the Atlantic 10," Whittenburg said. "They just said, 'Save us. Save us from embarrassment. Restore some pride [to this program],' and that's just what these kids did."
That first recruiting class had led a resurgence of sorts, earning deserved accolades in the process. Fordham's 2006-07 success also garnered a fair deal of pre-season buzz this year, as the Rams were picked to finish fourth in the conference and received plenty of ink before even tipping off. Now, many are left wondering if that early admiration lulled Whittenburg's senior squad into a state of complacency. Even the coach himself wondered out loud in many a post-game press conference if all the hype was detrimental to the team.
Still, Whittenburg sees no reason a weak finish to this season should diminish the accomplishments of the five seniors.
"To me, [making the tournament this season] is icing on the cake," he said. "We haven't had any negative incidents off the court and we've won with class and we've taken our lumps with class. They have not embarrassed the program and they have given the school a good name."
It remains to be seen if 2007 will go down in the books as Whittenburg's last real chance to capture an Atlantic 10 title. Gone is Dunston's inside presence and Stout's ability to hit the big shot. Of the returning players, most of the weight will rest on the shoulders of Brenton Butler, FCRH '10, a capable guard who averaged 11 points per game this season. Mike Moore, FCRH '11, also had his moments this year, like the 17 points he dropped against the College of Charleston. Still, there is no ignoring the gaping holes left by the departing seniors.
Only time will tell if Whittenburg can continue winning with a new crop of talent or if the Rams' chances of winning the A-10, like the graduating seniors, are gone for good.