Hellogoodbye Perform at FCLC's First Winterfest Concert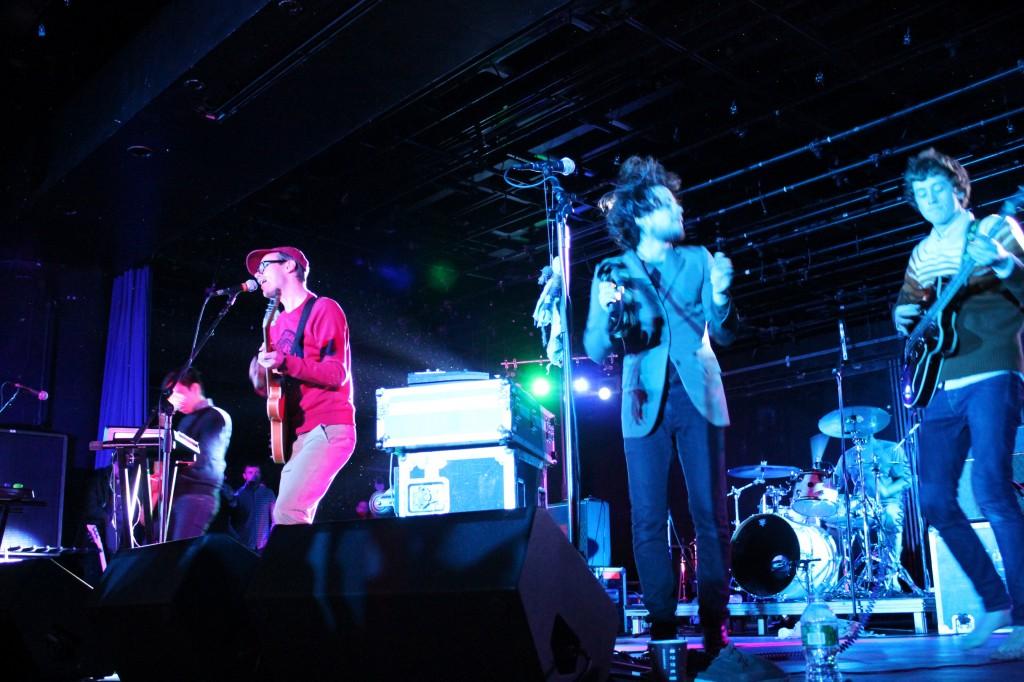 Fordham College at Lincoln Center (FCLC) hosted its first ever Winterfest this semester, which culminated in a performance by the band Hellogoodbye on Nov. 30. The event was coordinated by Campus Activities Board (CAB). An estimated 200 students congregated in Pope Auditorium for the event.
The opening band, Jarflower, fronted by Matt Mirro, FCLC '14, and including non-Fordham musicians Robert Hill, Steve Kocal and Jake Stamoulis, came on stage for their set in a uniform of black T-shirts and blue jeans. They played a wide range of songs including covers of both Black Sabbath and the Goo Goo Dolls sprinkled throughout a set of primarily original tunes. Their song "Picture" elicited a particularly strong reaction from a crowd, which had been fairly relaxed up to that point.
"Matt Mirro's band was fantastic, it was cool to see a Fordham band opening," Jeffrey Cipriano, FCLC '14, said.
Between sets, a group of men came out to set the stage and prepare for Hellogoodbye's turn on the stage. After recognizing that they weren't dressed in the baby blue staff T-shirts that CAB volunteers were wearing, students a few rows back from the stage began searching for images of the band on their cellphones to find out if that was Hellogoodbye setting up for themselves. After a few clicks and a burst of recognition from the rest of the audience, they realized this was correct.
When the band reappeared, this time with instruments, lead singer Forrest Kline and guitarist/keyboardist/tambourine banger Andrew Richards were wearing maroon hats with large white F's stitched on the front. "You guys like our hats?" Kline said to a hearty response from the crowd, "we got them from you." Although they did their best to befriend the crowd at the start, they did make a few comments later in the set, which didn't get as positive a response, jokingly referring to Fordham students as "a bunch of rich kids" attending "the most expensive school in the country."
The crowd seemed satisfied with the event, from the music to the free churros, popcorn and pretzels that lined the entryways. Students were happy to see an event like this at Lincoln Center and hoped that it would become a regular occurrence.
"I think for the first time of something like that ever happening it turned out really nice," Tiia Fischer (FCLC '14) said. "I think if they continue to do things like this in the future it can build up to something really big and a good tradition that Lincoln Center can have."