50th New York Film Fest Offers Wide Cinematic Range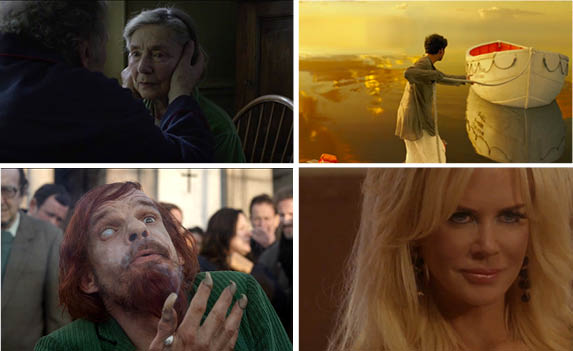 Celebrating its 50th year, the New York Film Festival is inarguably the most prestigious film-related event in New York City. Already underway, here a few of the notable cinematic entries in this year's edition of the festival, which is as open-minded as it is rigorous in its commitment to showcasing the best in international film.
Life of Pi
Since having its world premiere last week as the festival's Opening Night Selection, "Life of Pi" has already garnered substantial acclaim and award show buzz. An adaptation of the acclaimed novel of the same name, the film follows a young boy named Pi who escapes a sinking freight ship and finds refuge on a lifeboat with a tiger, an orangutan, a hyena and a zebra. Impressive digital effects and the 3D format have been rigorously employed in immersing the viewer in Pi's struggle for survival in the middle of the Pacific Ocean. Director Ang Lee, whose unique career trajectory has seen him direct such divergently acclaimed films as "Brokeback Mountain" and "Crouching Tiger, Hidden Dragon," is sure to be both surprising and crowd-pleasing enough for audiences when it officially hits theaters Nov. 21.
Frances Ha
Low-key and immaculately observed, "Frances Ha" is a pretty much perfect dramatic comedy with a winning central performance by Greta Gerwig. Frances is a twenty-something Brooklynite whose life is thrown off-balance when her best friend, Sophie, promptly moves out with her fiancé. Rather than adhering too rigidly to any sort of plot mechanics, the film follows Frances as she floats around the city, finding temporary room and board with friends and friends-of-friends. The movie allows you to luxuriate in her encounters, and they feel authentic and precise.
Holy Motors
The first feature film in over a decade by French director Leos Carax tracks a mysterious man named Oscar who rides around in a limousine at night assuming various jobs and identities. This leads the film on an assortment of bizarre, surreal tangents. Having already assumed something of a cult-like status since premiering at Cannes last May, "Holy Motors" is sure to be one of the odder attractions at this year's festival; it is not very often you come across a movie that includes Eva Mendes being kidnapped by an ogre, a sequence of erotic dancing in motion capture suits and a singing performance by Australian pop star Kylie Minogue.
Amour
Winner of the top prize at the Cannes Film Festival, Michael Haneke's "Amour" tells the story of Georges and Anne, a couple in their eighties dealing with their disintegrating health and coming to terms with their impending death. The film has caught a lot of people by surprise, as Haneke is known for making films that come across as chilly intellectual exercises. For him to tackle such a raw and moving story is a bit unexpected, but it is a gamble that seems to have paid off.
The Paperboy
Director Lee Daniels has followed up his Oscar-winning "Precious" with a provocative and outrageous Southern tale, which stars Zac Efron as a college kickout who helps his journalist brother (Matthew McConaughey) as he investigates the indictment of a death row inmate, bringing them into contact with his pen pal girlfriend Charlotte (Nicole Kidman). Kidman, who is the subject of this year's Gala Tribute at the festival, has already turned heads with her bold performance, which includes peeing on Efron in an attempt to assuage his jelly fish sting.