Christopher Columbus Moves Into His New Living Room
Now is the time to get yourself a seat on the couch next to one of the most prominent figures in history. Over the past few weeks, scaffolding has been going up in Columbus Circle around the 70-foot column on which the Christopher Columbus statue is perched, engulfing it in a nondescript white box. While one may infer that it is simply part of some sort of routine maintenance, looks can be deceiving. Rather, it is part of an ambitious piece of interactive artwork conceptualized by Japanese artist Tatzu Nishi.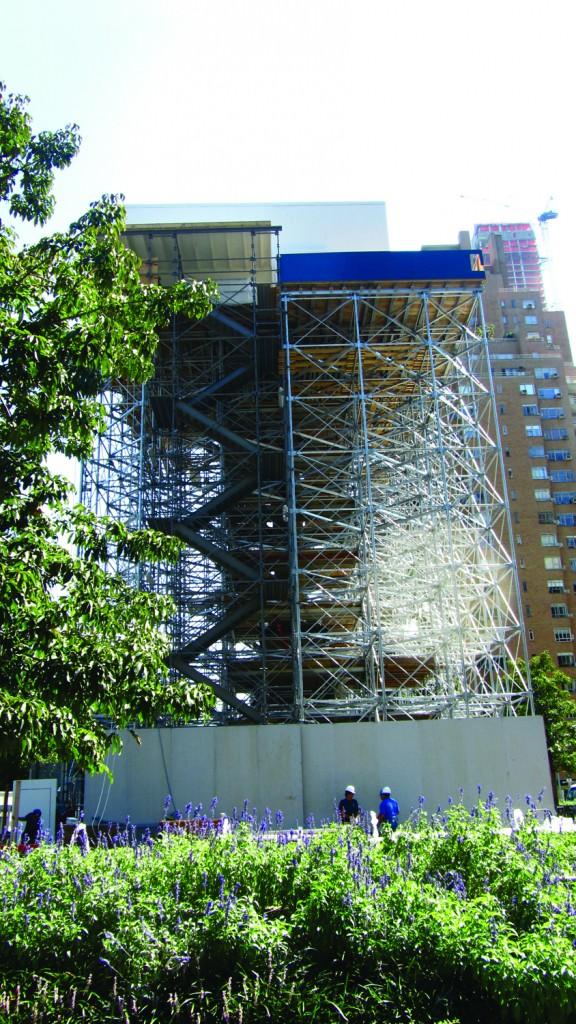 Six flights above the commotion of Columbus Circle, the space has been converted into a modern living room for Columbus, completely furnished with a couch, coffee table, lamps and, of course, a 200-year-old statue of the world's most famous explorer. Beginning on Sept. 20, visitors will be able to climb up the six flights of stairs and enter the living room to take in views of Central Park and Midtown. Until now, such a vantage point was only available to the lone statue.
Tatzu Nishi, the mind responsible for Columbus' new digs, was able to make his project possible with the help of the Public Art Fund, an organization dedicated to providing free public art in the city.  "Discovering Columbus" is the first of three pieces the organization has planned to go up around the city, and will run from Sept. 20 through Nov. 18.
"When Tatzu first visited New York City, he became fascinated with the statue," said Nicholas Baume, director and chief curator of the Public Art Fund in an official statement. "He realized that despite its central location, the Columbus statue is barely visible, a solitary figure hiding in plain sight atop a column some 70 feet in the air."
The structure will give visitors a chance to interact with Columbus' figure in a much more intimate way than ever before. Upon entering the exhibit, guests will be face to face with the statue and appreciate it on a human, rather than monumental, scale.
Nishi, who has created several similar living spaces that engulf landmarks, will be making his debut in the United States with "Discovering Columbus." In 2002, Nishi constructed a one-room apartment over a Swiss cathedral. In 2011, he built a functioning hotel around Singapore's Merlion Fountain.
In addition to providing visitors with an exciting new public space, the piece will also allow restoration work to be done on the statue. The scaffolding that has been erected will allow workers to examine the statue and column to be inspected for damage due to weather and aging and to make any necessary repairs to the monument. Although the exhibit will end in late November, restoration work will not be completed until January of next year.
In order to climb the six flights up to "Discovering Columbus," visitors will need a pass, which can be reserved on the Public Art Fund website beginning Sept. 12. Visitors will be allowed access to the room between the hours of 10 a.m. and 9 p.m.
For more information on "Discovering Columbus" and other Public Art Fund commissions, visit http://wwww.publicartfund.org.