Fordham Mainstage Tackles Immigration in the U.S.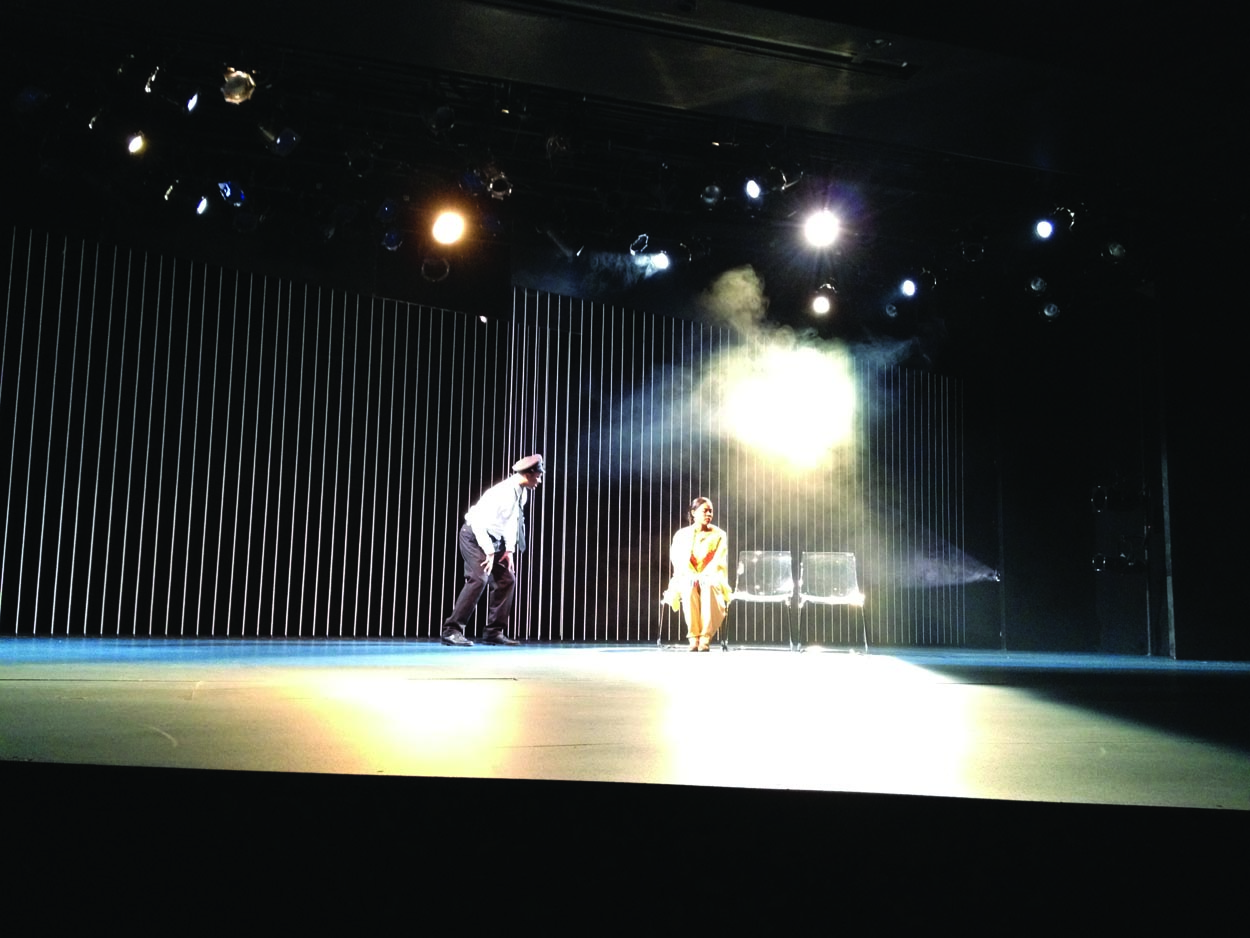 While Fordham's recent mainstage play, "Swoony Planet" has a heightened poeticism in its tone, its story is rooted firmly in the ground.  The play tells a thought-provoking story of immigrants in search of their place in America, couched in soaring language which is beautifully delivered by its talented cast. I had my problems here and there, but I walked out of what is the last production of the season for the Mainstage, feeling impressed, intrigued and at peace.
"Swoony Planet" was written by Han Ong, an American immigrant writer from the Philippines. Ong is a lauded playwright and novelist, and one of the youngest recipients of the MacArthur Foundation "Genius" Grant.  His background as a gay immigrant is well explored in his work, "Swoony Planet," where the feeling of being an outsider is central to tying the story's many threads together.  I found the language interesting, lying in the gray area between realism and poetry.  Occasionally, the characters will break from their scenes and engage in poetic soliloquies. Even in the scenes, however, this heightened language occasionally makes an entrance, blurring the lines between the realistic and the heightened worlds. Overall it makes for a wonderfully written play, if not the slightest bit ostentatious.
The cast does a good job at making the language work.  Micha Green, Fordham College at Lincoln Center (FCLC) '13, has a theatrical exuberance that is difficult to top. Her presence fills whatever scene she is in, which makes her possibly the best at delivering the heightened language. However, this theatricality ends up being her biggest weakness. She tends not to listen to her scene partners, making her less believable.  It's as if she is waiting for each line to be delivered. Her monologues are fantastic, but she isn't receptive enough to make her scenes feel as alive as she is. Precious Sipin's, FCLC '12, performance has the exact opposite virtues. She responds to her cast mates and she keeps her focus on other people, but I found myself occasionally losing interest in her struggles.  She tends to use the same tactics too much, making the pursuit of her objective less interesting.
Daniel Velasco, FCLC '14, strikes a nice balance between the two. His pensive performance leads to many touching moments, but has less of a journey than the other characters' do. He was reserved, which was usually perfect for his role, but sometimes made him seem detached from his character's deep internal conflict. His scene with William Yuekun Wu, FCLC '12, was the highlight of the show, where his character finally meets his long lost father. Wu has a fantastic balance of humorous character acting and introspective emotional struggle. His character could have easily fallen into a comedic trap, but he brilliantly keeps his performance believable and relatable.
In fact, this is something the supporting cast pulls off very well.  Harry Dreyfuss, FCLC '14, plays two extremely entertaining roles, and his gravitas is perfect for both. But he never veers into the absurd, and he keeps his characters well rooted into the ground by committing fully to his scenes. Taylor Armstrong Purdee, FCLC '14, also has a strong theatrical presence, but counters it with his full commitment and concern for his scene partners. And Paul Thode, FCLC '15, gives a generous performance. He listens and reacts well, delivering his lines with surprising sensitivity and ease.
The play was directed well by guest director Mia Katigbak, the artistic producing director and co-founder of the National Asian American Theatre Company. The staging is fantastic, with a great use of the space. Certain moments, like the father and son dressing in sync or the magician's center-stage act, add a great deal to the style of the play.
The transitions between scenes are smooth, but need to be sped up. A long transition can kill a play's momentum. Katigbak lacks cohesion in how she directs her actors.  It seems that she brought out the best in each of them, without being concerned with how they contribute to the play as a whole. It ended up feeling disjunctive, with some performances being very subtle (such as Velasco and Sipin), and others being very large (such as Green and Dreyfuss). The play could have benefitted from a more overarching direction of the actors.
However, the set, lighting and sound were all beautifully done.  The row of bars in the back of the set, followed by a mostly empty stage, gives a good representation of the characters' struggle to find a place in their country.  The lighting is stark and dramatic without drawing too much attention away from the actors. And the sound is fitting, ranging from the eerie noises of something like a Bartok string quartet to calming folk music.
"Swoony Planet" strikes a resonant chord in the viewer. It has a unique style which, while occasionally being upset, manages to contribute positively to the play's fantastic script.