FCLC Junior Mixes Paints and Beats
Fordham College at Lincoln Center junior Ike Edgerton is a visual arts major that has a knack for making art that grabs peoples' attention. Not only has he been painting eye-catching canvasses for as long as he can remember, he also creates rap music in his spare time that has gained publicity from NPR and in places as far away as Hong Kong and the UK.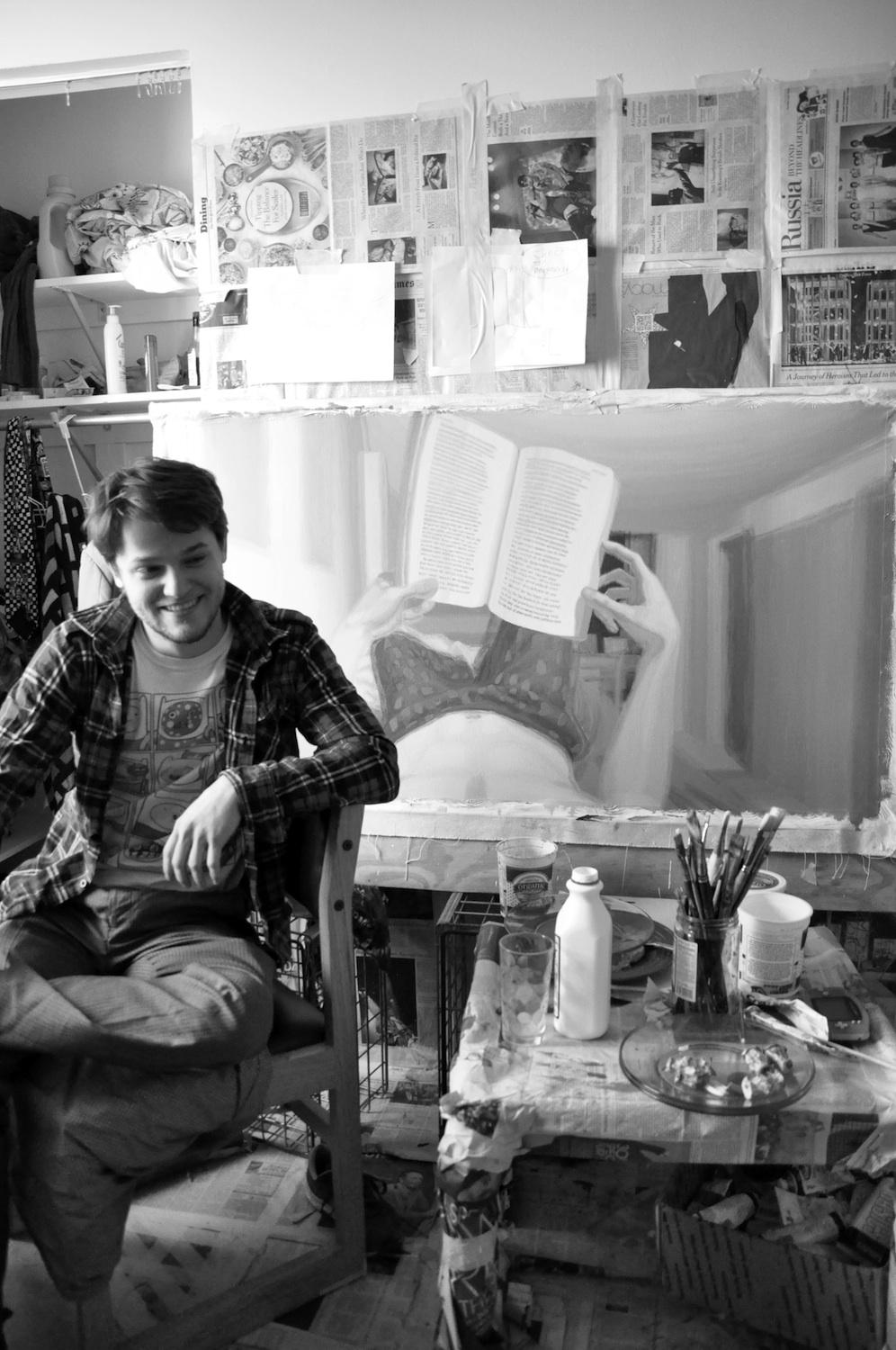 As a painter, Edgerton uses acrylic paints to create works that he describes as naturalistic. His painting allows him to explore subjects that he finds interesting in a way that leaves him with a deeper knowledge of it. For instance, recently Edgerton has been painting in a way that tries to accurately capture what the eye sees in a way that a traditional painting or a camera would not.
"Everyone paints by moving the eyes around the whole thing that they're looking at, focusing on each of those things and producing a painting that's entirely in focus. This is the opposite of your moment-to-moment experience, which is focusing on a tiny area. I want to capture that in paintings," he said.
Another series of paintings he did focused on the ubiquitous camera-in-mirror self-portraits that have become so well known in the age of social networking sites. The idea came after he noticed how popular the photos were and began thinking about what they signified in the photographer.
"I decided to paint them to immortalize their folly, but I was also thinking about the tripled narcissism that it represents." Edgerton said. "You're so concerned about what you're going to look like that you, yourself take control of when the picture is taken and you get to watch yourself the whole time."
Edgerton's artistic career began as a child, when he would scribble all over the walls of his house.
"I had this intense interest in depicting trucks, cars, things with a lot of wheels. I didn't get into drawing people until really late," he remembers.
From there, he participated in several art programs and attended the artistic-leaning Waldorf School in his hometown of Chicago. But most of what he made still came out of his own personal drive to create.
His paintings have gotten attention from friends and strangers alike, five of whom have commissioned their own works from Edgerton. It's an exciting way to earn money, but not enough to support himself in the long run. In the future, Edgerton plans on getting a master's degree in urban planning or learning a trade that will supplement his income as a painter.
Though Edgerton focuses on his painting, he frequently gets equal attention for his other projects.
In his spare time, he writes and records rap music that has gotten him a bit of international press for its unique subject matters. One such instance was in 2008, when out of his love for quality journalism, Edgerton wrote a hip-hop homage to the Economist magazine. On a whim, Edgerton decided to send the track to the magazine to see what they thought, and before he knew it, word was getting around.
The track was featured in the Guardian, a Hong Kong business magazine, and on NPR's "All Things Considered," for which he was also asked to write an NPR rap.
"They asked me about why an aspiring young rapper would write a song about the Economist," Edgerton said about the interview. "I told them that I thought they deserved props for quoting the Onion."
Now he is working on a new album that depicts a day in which he goes on an adventure reflects "The Odyssey" from a New York perspective. Currently, 18 out of the 22 songs planned for the album are finished.
Whether he is painting or rapping, Edgerton is always working on some project or another; it's a part of who he is.
"I'm compelled to do it," he says. "I don't understand people who don't have projects. You just have to keep doing things."