Branden Frazier Coming Into His Own in Sophomore Season
Rams point guard Branden Frazier, Fordham College at Rose Hill (FCRH) '14, spent his days as a kid with a baseball glove and bat in his hands. It wasn't until Frazier was 10 years old that his brother got him interested in basketball. From that instance, Frazier has never looked back.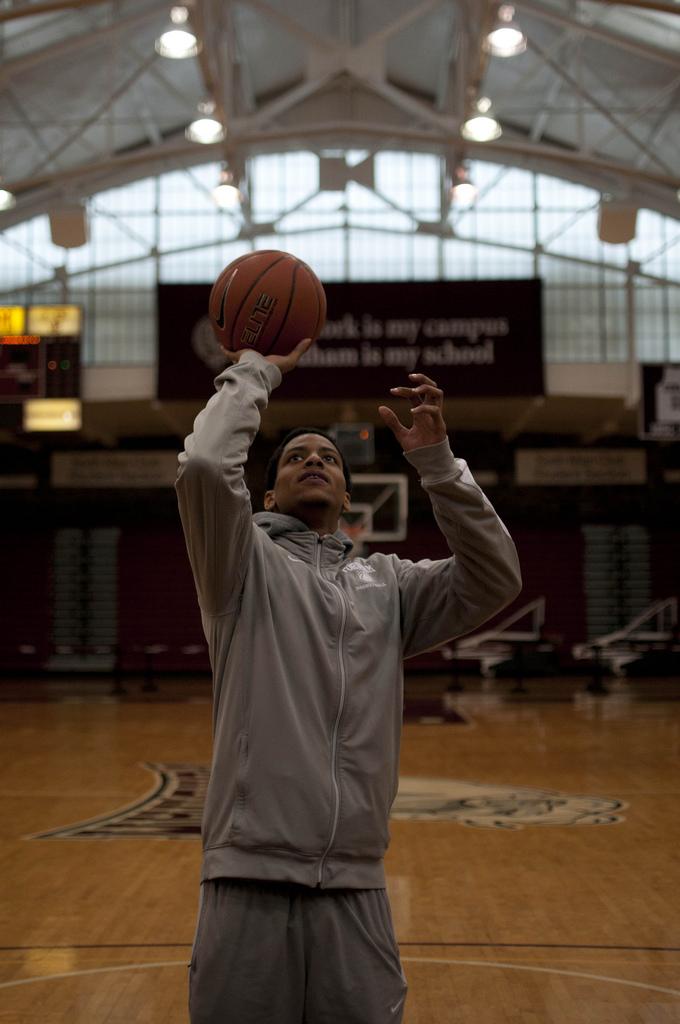 When Frazier developed his passion for the sport, he started shooting hoops on the playground of P.S. 20 elementary school in Brooklyn. The point guard shaped his game after the words his brother told him, "Always keep your head up no matter what you do. It doesn't matter if you miss a shot or turn the ball over, always keep your head up. Never let your opponent or anyone in the crowd see a sign of weakness from you. Be mentally focused and always be prepared."
It was at Bishop Loughlin High School that Frazier was introduced to organized basketball. He played basketball all four years of high school, the final two for the varsity team. Frazier truly excelled during his senior year, leading his team to the city championship. Though the team fell short, losing a nail-biter, Frazier said the loss was his "most memorable high school moment" and a "great way to cap of his career." The point guard's efforts that season earned him All City honors.
Frazier had to make a quick transition from high school to college ball, as he started from day one. "It was tough coming in to Fordham and having to start," Frazier said. "I had to play a big role on the team but I think it helped me grow a lot." He ended a strong rookie campaign finishing third on the team in points per game (11.0) and second in assists (90) and steals (17).
Now, in the midst of his second season with the team, Frazier plays a much larger role. He is the team's primary point guard and the player who runs the entire offense. "I've improved a lot as a player," Frazier said. "I'm better at driving to the basket, getting teammates open, being a coach on the floor and just being a leader everyday."
Frazier draws his inspiration to play from his family. "My family drives me and I love to see them come out games and make them happy each time I'm on the floor," Frazier said. "'Also I want to give my mom everything she wants in this world and I feel basketball can take me there."
While he is on the court, Frazier looks to his "other family" for support. "Kervin Bristol (FCRH '12), helps me the most on the team by making me focus every time we step on the floor," Frazier said. "He makes me smile, but he can make me mad to hype me up to play better. He'll tell me things like 'We got to get this money boy!'"
Outside of basketball, Frazier is your average college student. He loves spending time with his teammates, whether it's going to get food or just sitting around talking. In his free time, Frazier loves watching television, especially "Everybody Hates Chris". Frazier finds the show "crazy and hilarious," and because it's set in his home borough of Brooklyn, he can "relate to it."
At the end of his Fordham career Frazier "hopes to have his jersey lifted or his name in the record books." He said, "I just want to leave Fordham with everyone knowing I was here."
As for the future, Frazier's number one goal is to play basketball professionally. "I just want to be able to play somewhere, either in the NBA or overseas.