Field Goal: Murray Wins Punt Performer of the Year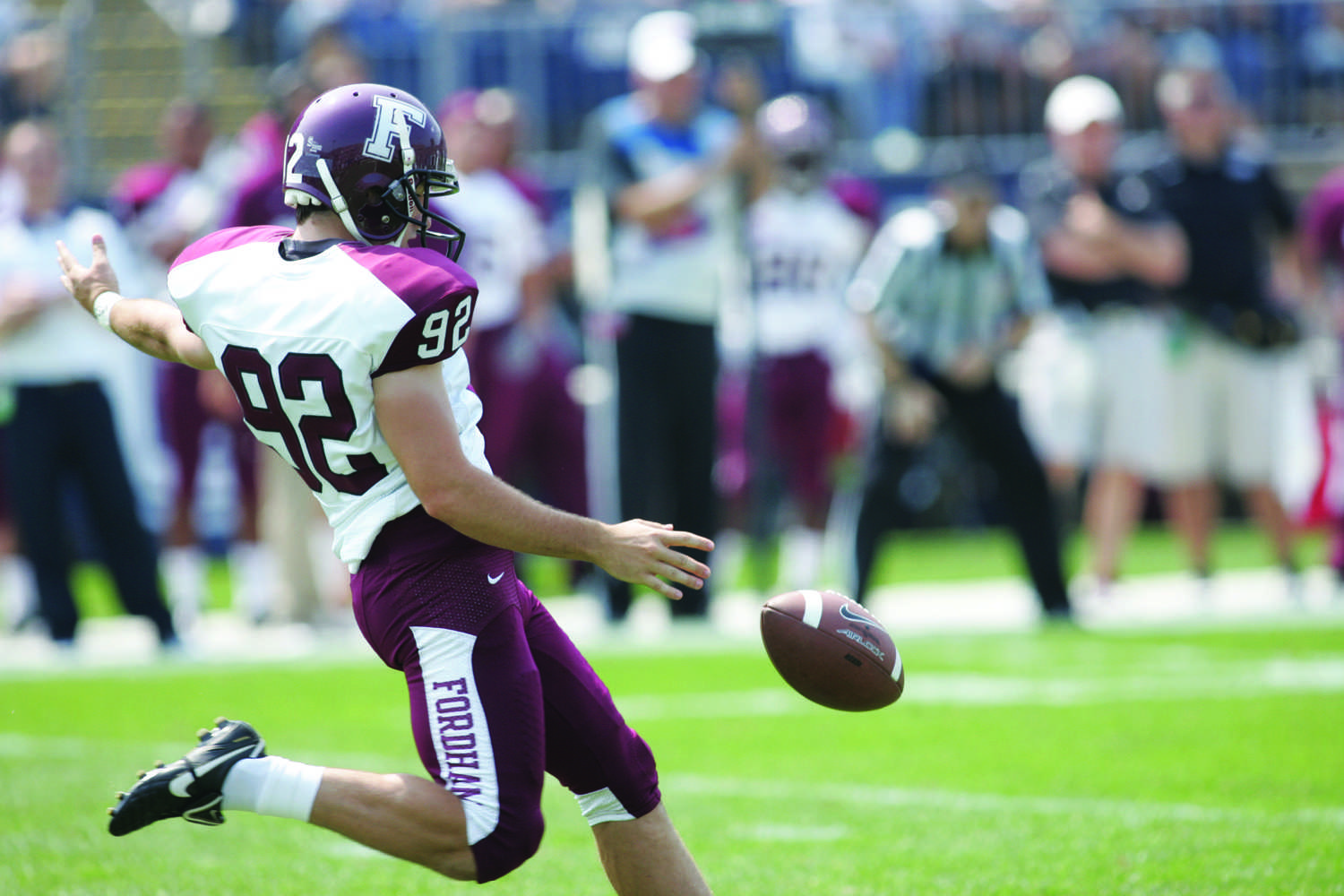 After a forgettable football season, Fordham Rams punter Patrick Murray, Fordham College at Rose Hill (FCRH) '13, now has good reason to always remember it as he was named to the 2011 NCAA All-American team, while also netting the NCAA Football Championship Subdivision (FCS) Punt Performer of the Year honors.
This season, Murray punted 49 times for 2,160 yards for an average of 44.1 yards a punt, tops in the Patriot League and third best in the NCAA FCS. This comes as no suprise, as Murray has led the Patriot League in this statistic since 2009. 16 of Murray's punts traveled more than 50 yards, including a 73-yarder which tied his career high and is second best in school history. In addition to his end of season accolades, Murray was recognized as the Punt Performer of the Week three times this season by the College Football Performance Awards (CFPA).
It is clear 2011 was the best season of Murray's career, but he was just as consistent in his previous two seasons. Murray's 44.1 per punt average is the fourth best single season average in Fordham history and his 41.4 career punting average is second on the school's all-time list. Furthermore, his 5,585 yards ranks sixth all-time.
Murray has had a career worthy of recognition at Fordham, but his high school career was just as impressive. Murray attended Don Bosco Prep in New Jersey where he excelled in many sports including, baseball, wrestling, soccer and Gaelic football, but his primary sport was football. Murray joined the junior varsity team his freshman year in hopes of becoming a running back or a wide receiver, but he wasn't as fast as some of the other players. The coaching staff relegated him to the role of punter and kicker. "I didn't mind the role," Murray said. "I used what I knew from soccer to grow as the team's punter."
Murray helped team to an undefeated season and then joined the varsity squad in 2006. While on varsity, Murray only knew success as the team won three consecutive state championships. Murray was just as successful off the field, making the honor roll all four years of high school.
When it came time to choose college, Murray decided to go to the University of Delaware, but soon transferred to Fordham his freshman year. "As a finance major, I came to Fordham mostly for academics," Murray said. "It's extremely renowned for business and liberal arts, so it was an easy choice."
For Murray, the transition to the college game was not difficult. He handled all the kicking duties for the Rams his first year and was backed by a strong supporting team. "Upon making the team I felt right at home with these guys," Murray said. "We're a big family that's great to be a part of."
However, after four years of success, Murray finally saw what it was like to be at the bottom on a Rams team that finished 1-10. The team never hit its stride and finished the season a nine-game losing streak. "I'm extremely upset and embarrassed about this season," Murray said. "The amount of talent we have on this team is tremendous and it wasn't reflected in our record."
In order to improve next season, Fordham revamped their coaching staff including the hiring of new Head Coach Joe Moorhead. Moorhead's hire has brought new excitement to a team that was very lackluster. "I love the new hire," Murray said. "He told us that we're not going to lose a game this year. He told us that we aren't a rebuilding team, we're a "now" team. The coaching staff is just so full of energy and everyone wants to succeed."
The coaching change comes just in time for Murray and the Rams. Next season will be Murray's last with the Rams, and he thinks he will be heading out on a high note. "I'm excited for next season, I don't plan to lose a game," Murray said. "If everything goes well next season I think we can make it to the FCS championship."