Off the Mark: Inconsistency Plagues the Basketball Team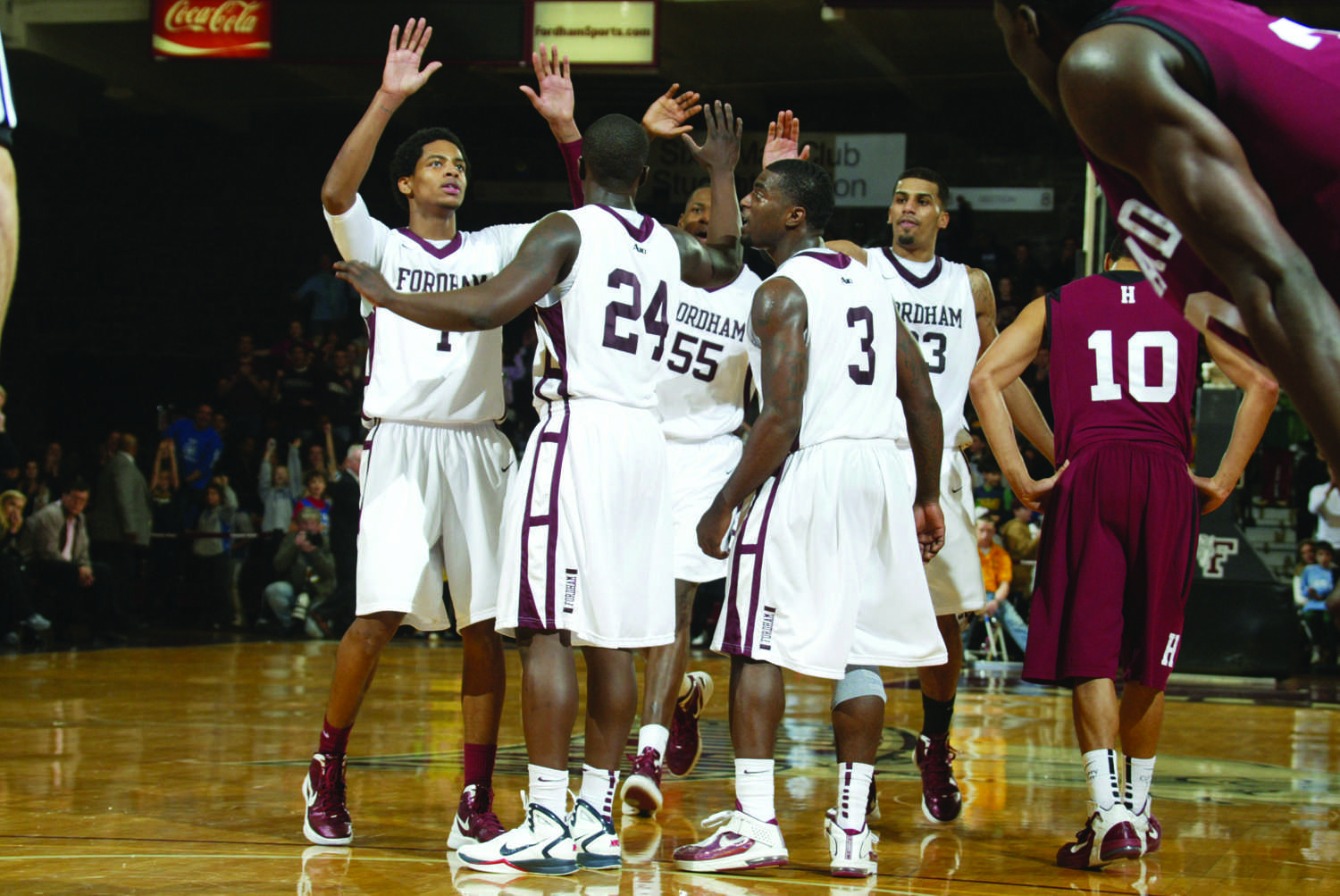 Though the Fordham Rams men's basketball team has made great strides in rebuilding a program that had two wins a mere two seasons ago, the team is still struggling to find consistency.
Under Head Coach Tom Pecora, the team has increased its win total in each of the past two seasons. The team won seven games last season and has already eclipsed that number with nine wins this year. The team is 9-11 and has played extremely well at home with a record of 8-2.
Despite the great record, the team has failed to make any impact on the road. The Rams are 1-9 away from the Bronx and as a result have a 2-5 conference record.
"We have all the characteristics of a young team because we're inconsistent," Pecora said. "The difference between a veteran team and a young team is consistent effort and being able to do the things you need to night in and night out to win."
When asked about the team's lack of wins on the road, guard Branden Frazier, Fordham College at Rose Hill (FCRH) '14, said, "A lot of us are looking for leadership from our seniors and when we see them play bad we don't really know what to do. We're not scoring a lot and not getting rebounds and that's something we do at home."
While the consistency hasn't been there from most of the younger players, the team's veterans have really stepped up this season. Forward Chris Gaston, FCRH '13, currently leads the team in points per game (15.7) and rebounds per game (10.3). Kervin Bristol, FCRH '12 has added toughness in the paint averaging the second most rebound per game (7.5) on the team.
Rebounding has been a big focus under Pecora and the team is a very respectable 42nd in the nation in rebounding. Though most coaches would be content with this kind of output, Pecora feels this isn't good enough. "We have to become a better rebounding team," Pecora said. "We're not getting the rebounding effort we need from our backcourt. Kervin [Bristol] and Chris [Gaston] have been rebounding the heck out of the ball but our three guards have got to rebound more if we're going to continue to play small."
Frazier has led the guard play this season by leading the team in assists per game (3.7) and is currently second in points per game (12.8). Gaston said Frazier is the X-factor that this team needs to play well to win. "We feed off of Braden because he has the most assists and gets everyone involved," Gaston said. "He passes, he scores points and he plays with himself by not turning over the ball."
Frazier said of his performance this season, "I'm doing well. Coach is putting me at the point and I'm getting more comfortable game by game. I'm trying to be a leader and a coach on the floor."
Of all the team's wins this season, the most important came at home against #22 Harvard University. The Rams beat Harvard 60-54, snapping a 54-game losing streak to ranked opponents. Fordham's first win over a ranked team since 1978 showed that this program is heading in the right direction. "It was a big win and we learned a lot," Gaston said. "We're just not a mediocre team. We can beat teams as long as we play hard and up to our ability."
Pecora is happy with the programs direction but doesn't want this to be a long rebuilding process. "We're not that far away from being a team that can be in the top echeleon of this league," Pecora said. "I'm not patient; I don't want to wait until next year for our chemistry to click. I don't want to wait until next year for our guys to understand their roles better. I want to win now."