Bruised and Burned: My Encounter with New York's Meanest Curry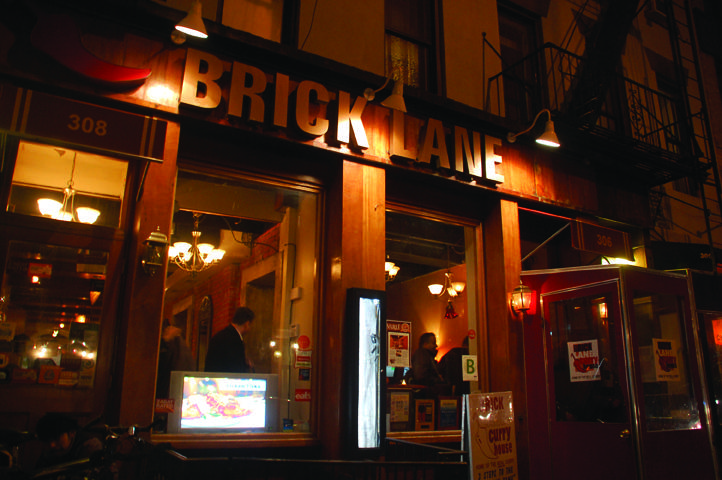 It was like nothing that I had experienced before. Covered in sweat from head to toe, I felt like my entire body was on fire. I had finally met my culinary foe and its name was the phaal curry. Having many Indian friends while growing up in Hong Kong, I had always been exposed to the culinary joys of Indian food.  Ranging from the simple papadum (a type of cracker bread) to the intense vindaloo (a type of Indian curry), I had felt that I could just about handle any type of Indian food. However, that all changed when I encountered the food at Brick Lane Curry House (BLCH).
Nestled in the hip and swanky East Village of New York City, this modern day Indian restaurant does not only offer a huge array of dishes but also offers a unique spiciness challenge that is definitely not for the light of heart. Featured in an episode of the popular Travel Channel show "Man v. Food," BLCH was the ideal place to test my tolerance for spicy food.
As I entered BLCH's main wooden doors, I could already sense the thick smell of chili peppers wafting through the air. Quickly glancing over the menu, I soon came across BLCH's phaal challenge. Considered to be the hottest dish available in Indian restaurants, phaal is a tomato-based thick curry with lots of ground standard chili peppers. The rules of the phaal challenge were simple. I was given 30 minutes to completely finish the dish (this means finishing all the meat and the sauce) and my reward would be a free beer and a certificate saying that I had successfully completed the challenge.  Accompanying me on this mission was my friend, Dave. Dave was also curious to see how spicy the phaal could be. Looking forward to the phaal, we were both disappointed when we found out that we couldn't share the dish for the contest.
Not wanting to order two phaal dishes each, Dave and I decided to forgo the actual official challenge but instead try and do our own personal challenge of finishing the dish at our own pace. On top of ordering some beef phaal, we decided to order other foods. One of the dishes we ordered was the butter chicken masala. In the dish, the chicken was marinated in yogurt and various spices until it was very tender. Placed in a sauce with butter, tomato puree and various spices, the masala had a very nice delicate exotic taste to it and contained no traces of spiciness. I would totally recommend it to someone trying Indian food for the first time as it would give them a chance to try something uniquely Indian while at the same time spare them from the intense spices most Indian foods offer.
Another dish we ordered was the goat dopiaza. Literally meaning "two onions," this type of curry is heavily reliant on the flavor of onions for its great taste and even tends to have more onions than meat in its dishes. Arriving shortly after our masala, the dopiaza was a great alternative to the butter chicken. I personally love the taste of onions so the dish was great for me. The goat meat was nothing special, but at least it was soft and easy to chew. Like the butter chicken masala, I would suggest this to people new to Indian food. However, make sure to ask them if they like the taste of onions, as it is quite strong in the curry.
Although these two dishes were enjoyable, they were nothing compared to the intensity of the beef phaal. The phaal, a dark brown dish covered in large chili peppers, was not to be underestimated. As it was prepared at our table I could already smell the thick aroma of spices.
After much deliberation I dipped my naan bread into the phaal sauce and finally decided to take a bite. I was instantly met with nothing. Was this a trick? Was phaal really not that spicy at all? How could this be? Dave and I started to joke about the phaal and even considered ordering another one for the challenge.
But then I suddenly felt something strange, the lingering heat I initially felt in my mouth started to build up and in an instant my entire mouth felt like it was on fire. The buildup was so fast that my body didn't have time to comprehend that my mouth was in pain. My tongue became so sensitive to the heat that even taking a bite out of the tame butter chicken masala was a struggle. Water really didn't do much to quell the heat, so I decided to save it for later.
Concerned for our well-being, our Indian waiter kept on reminding us that we could always opt out and try their Lassi (a popular yogurt based drink perfect for quelling spicy food), but Dave and I decided we could continue without it. In the end, Dave and I left BLCH with cleared sinuses and, most importantly, a whole new respect for the spices of Indian food. The phaal was definitely one of the hottest things I tried and I tip my hat to anybody who can complete the real phaal challenge.
IF YOU GO
Brick Lane Curry House
Rating: 3/5
$$ out of $$$$$
Where: Sixth Street, between 1st and 2nd Ave.
Darryl's Recommendation: Butter Chicken Masala, Phaal (for the spice experts)

View 308 E 6th St in a larger map