Student's Cupcakes Bring New Meaning to Buying Local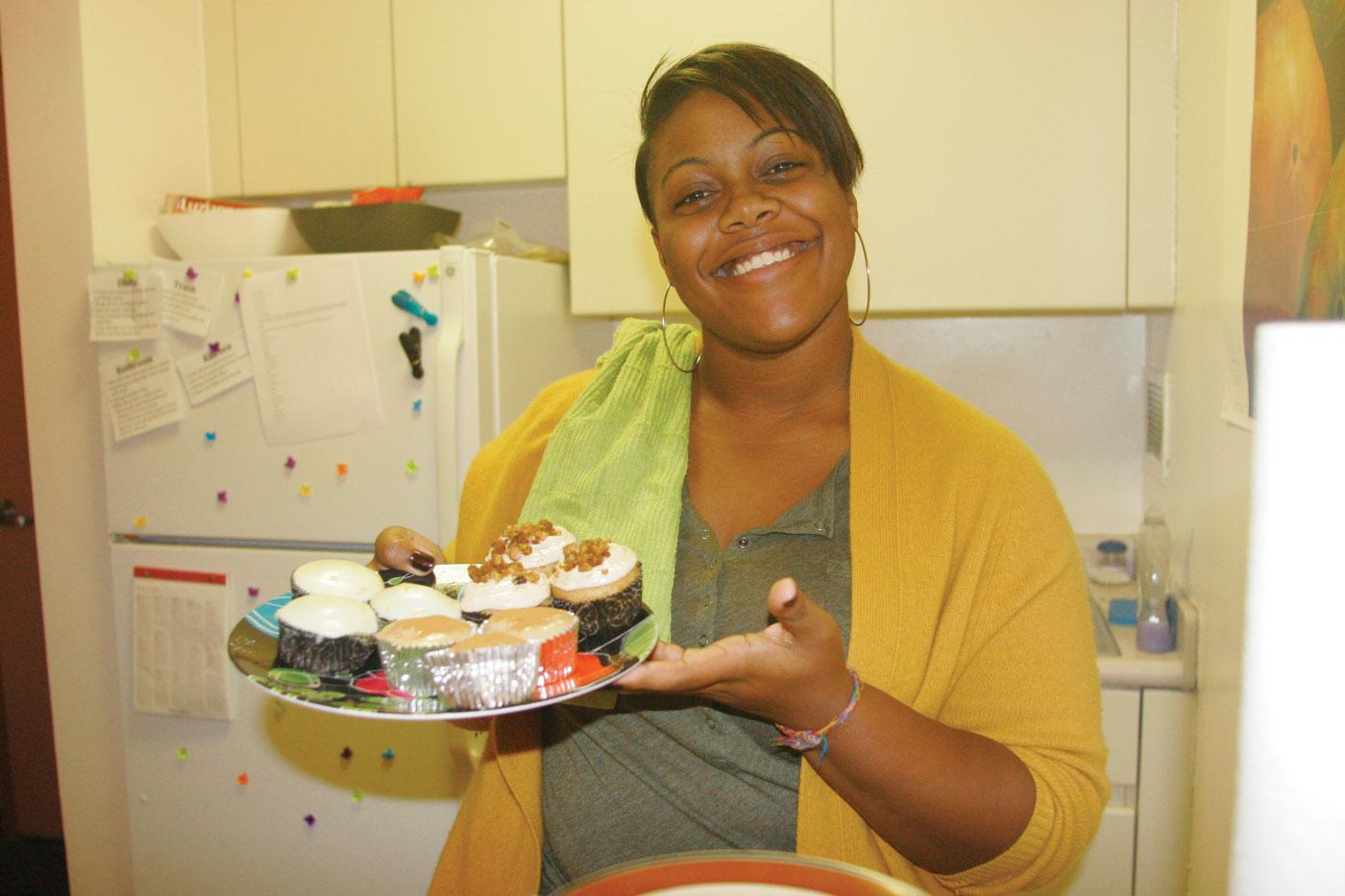 Need a little help gaining that Freshman 15? Magnolia Bakery prices got you down?  Too lazy to walk to Crumbs? Well, look no further than apartment 3D of McMahon Hall, the home of the flourishing KB Cupcakes.
KB Cupcakes, a college-budget-friendly cupcake service founded by Kirstin Bunkley, Fordham College at Lincoln Center (FCLC) '15, a has all the flavor and taste of the expensive New York cupcake joints with a quarter of the price tag.
Bunkley said, "What I'm kind of doing is very similar to when Insomnia Cookies got started where you see a demand and you supply it."  Bunkley says her whole goal is to provide an alternative to the wallet damaging prices of certain NYC cupcake joints while doing what she loves.  "Magnolia, I bet, is delicious. Crumbs, I bet, is delicious. It's also $4 a cupcake."
Bunkley, from Oakland, CA, says that baking and cooking have always been a tradition in her family.  "It's kind of a bonding experience. I would sit in the kitchen as a baby. My mom has told me stories where I would be in my car seat, she would take it out of the car and sit me on the counter while she was cooking. And I would learn and she would talk to me and explain it to me. So in that way, I've always been involved with it."
But her skill really seemed to grow out of necessity. "My mom traveled a lot when I was in middle school and high school, so I kind of had to learn to cook for myself. So, like, baking kind of just came out of being in the kitchen."
Bunkley was originally hesitant to open the makeshift bakery in her dorm, but when playful teasing from friends and cupcake fans turned into real encouragement, she knew her cupcakes were special. And what did she decide to name it? "It's so inventive! It's my name!" she joked.  "The benefit of my initials is it sounds like…cute!"
Bunkley is inspired by almost everything around her that she thinks would make a good cupcake.  "Some of it comes from Stumble Upon, but most of it comes from things I have had before." She says that using the random search engine Stumble Upon gives her some great recipes.  She simply searches baking, and hundreds of delicious recipes cycle in front of her eyes with every click.
The list of specialty flavors she has made is extensive: Rocky Road brownies, white chocolate mocha brownie (inspired by the white chocolate mocha at Starbucks, naturally), Mexican hot chocolate (vegan!), snickerdoodle cupcakes, apple spice cupcakes, chocolate pumpkin cheesecake cupcakes, with new flavors being debuted almost every week.
The art of baking is an important part of Bunkley's life.  While she said that it isn't really something she would like to do professionally, "it is definitely a way to de-stress."
And how do her roommates feel about such a hobby? "My roommates love and hate it.  They love it because they get a lot of good stuff.  They love how much I bake but hate what it does to their body."
Bunkley's roommate, Maegan Davidson, FCLC '15, provided a testimonial.  "It's awesome living with Kirstin!" Davidson said. "It smells really good in here! And I love to eat her stuff. Except for when she charges me."
And what do the customers have to say? "My biggest customer is definitely Connie Lee," Bunkley said.
Connie Lee, FCLC '15, provided a testimonial to KB Cupcakes' product.  "I go there because it is so convenient and the flavors are always creative, like candy corn!" Lee said.  "My favorite flavor is the snickerdoodle cupcake.  When it's all warm and melty it's orgasmic. Never had a vegan cupcake before this."
The winning personality of Bunkley, the delicious and cheap treats and joy of biting into a homemade cupcake is more than enough to set Bunkley apart from her major New York City competition.  For a $1, why not give KB Cupcakes a try?
Interested in buying a cupcake? The process couldn't be simpler! Waltz on over to apartment 3D in McMahon Hall and place your order.  Every week, Bunkley makes a new batch of cupcakes last through the week.  If you wanted a specialty cupcake made to order, KB Cupcakes would be happy to help out.  Ranging from $1.25 to $1.75 depending on ingredients and time devoted to your cupcake, ordering a specialty cupcake specifically for you is a surefire way to brighten up your day.  If nobody answers when you knock on 3D, you can send KB Cupcakes a message on Bunkley's Facebook page or even leave a message on her whiteboard with your name, apartment number and type of cupcake and it will be delivered to you fresh out of the oven!
KB Cupcakes contact information: kb.dorm.cupcak[email protected], twitter.com/kbdormcupcakes, kbcupcakes.tumblr.com.