Navigating the dating world can be intimidating and difficult, especially as a teenager or young adult. Having encountered her own fair share of ups and downs, Carrie Berk, Fordham College at Lincoln Center (FCLC) '24, shares stories in her new book "My Real-Life Rom-Com: How to Build Confidence and Write Your Own Relationship Rules" released on Sept. 19 about dating experiences she had in her teenage years.
Written with dating advice for teenagers, Berk's book and perspective offer a unique twist; she is able to cater to an adolescent's point of view because she was one herself at the time of writing it. 
"It really captures the teen voice," Berk said. "Nobody knows teenagers more than other teenagers."
Berk also noted that she aimed for "My Real-Life Rom-Com" to be a version of "Sex and the City" for Generation Z. She emphasized that it is meant to outline the personal accounts of her dating life and the lessons she has learned.
It was important to Berk that her book was more than just a dating guide telling people how to date and who to date. She wanted to show people who have similar experiences the lessons that she learned along the way. 
The Writing Process
According to Berk, the memoir informally began when her 16-year-old self wrote an essay about her first break up, which would later become the first chapter of the book titled "The First Love." The breakup sparked a series of more personal essays that Berk composed during the COVID-19 pandemic. 
Berk shared that she wrote whenever she felt her emotions were at a high, such as after a bad dating experience or when she encountered a heartbreak. Despite some negative experiences, these relationships prompted her to write everything down and to reflect on them. 
"I was worried about losing my memories during the pandemic, and I started writing everything down I could remember, all the lessons that I've learned and loved," she said. 
After sending these personal essays to a friend, Berk was given the suggestion that her essays would hold much more meaning if they were all put together to project a greater message. As a result, Berk was inspired to turn the essays into an anthology. 
"Reflecting on these experiences brought me closure that sometimes I didn't get in real life that I found through my own writing, which was really beautiful,"Carrie Berk, FCLC '24
Realizing that there are not many — if any — books out in the world about dating that are specifically written by teenagers for teenagers, Berk was highly determined to change that.
Berk wanted her work to serve as a "tool that teenagers would be able to relate to," to prevent them from feeling isolated in their dating experiences.
In writing "My Real-Life Rom-Com," one of the biggest obstacles Berk noted that she faced was having to revisit painful incidents and feelings from the past. She knew that she was on a mission to bring as much emotional authenticity to her readers as possible, even if the writing process proved to be difficult. 
"What kept me going was that people are gonna read my emotions and feel my vulnerability and be able to connect with it," Berk said.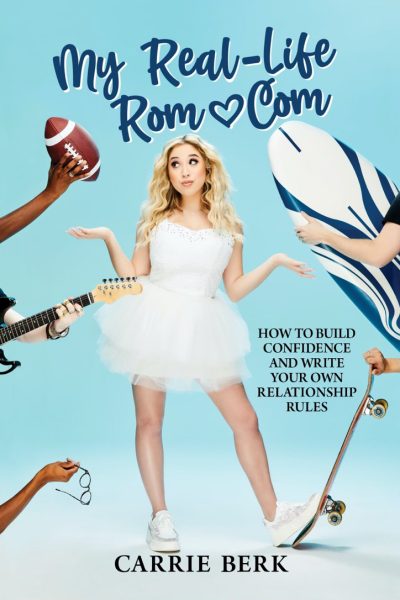 The recently-published writer hopes that those who read her book will be able to relate to the overall abundance of deep emotions that are involved with dating. For teenagers, she intends to make them feel better and let them know that others have gone through what they have.
"I hope my stories resonate with them or they read the way I describe my first heartbreak or my first love and these emotions and are able to relate," Berk said. 
Berk explained that writing the book was beneficial for her, as it brought her closure in her past relationships that she has had. It motivated her to turn her stories into something meaningful that could help teenagers feel seen. 
"Reflecting on these experiences brought me closure that sometimes I didn't get in real life that I found through my own writing, which was really beautiful," Berk said. 
What holds the book together is that no matter what Berk is going through, she always finds herself again and stands firm in her truth.
A Message of Self-Love
According to Berk, the book's final chapter titled "The Journey to Self-Love" was her favorite to write, as she described what the phrase means to her. Keeping with her willingness to be vulnerable, she recounted what it felt like when she had her first anxiety attack. 
"It was super important to me to go into as much detail as possible," Berk said. "I know that if I had a tool like this when I was going through anxiety, if I had someone my age to relate to and feel less alone, then it would have helped me a lot."
In the concluding chapter, Berk narrated that finding self-love is a very long journey that can be frustrating at times. Nevertheless, what holds the book together is that no matter what Berk is going through, she always finds herself again and stands firm in her truth. 
Berk went on to express that her message about self-love really comes together when she is finally able to realize the truth in regards to love and understanding the key to loving yourself and others.
"I can't truly love someone else until I can look in the mirror at my lowest points and love myself fully," she said. 
New Beginnings
Within the first week of the book's launch, Berk was very pleased with the responses to "My Real-Life Rom-Com." She also expressed immense gratitude for how much love and support she has gotten and said that in the future, she would like her story to take "creative license and turn into a fictionalized story" by coming to life on screen in a TV series. 
As a journalism major, Berk shared that her next steps as a writer are to get a job working at a magazine or in publication in the spring. In general, she aspires to continue growing and developing her writing skills more than anything else. 
"I've been writing for 12 years, but I'm in school because I really value continuing to learn and holding on to my passion," she said. 
Currently, Berk aspires to be a feature journalist. She added that if she ever feels inspired and has the time to write another book in the upcoming years, she would gladly begin the writing process once again.