The Metropolitan Transit Authority (MTA) announced increases to the base fare for the subway, local buses and paratransit for the first time in eight years on July 19. The cost to ride these modes of transportation was raised by 15 cents — from $2.75 to $2.90, and went into effect on Aug. 20. Commuting students, defined by the university as "anyone living off campus," make up 50% of the undergraduate student population at Fordham and have expressed concerns regarding how this increase will affect their travels to campus. 
According to an announcement released from the MTA, fare increases were scheduled to be implemented every two years before the COVID-19 pandemic. The announcement noted that due to funding received from New York Gov. Kathy Hochul, the MTA was able to delay the fare increase scheduled for 2021 and agreed it would return to regular fare increases in order to "maintain current service levels and even increase service frequency."
"The MTA is always working to cut costs to reduce operating expenses and keep fares affordable for customers," the announcement read.
Vishesh Chawla, Gabelli School of Business at Lincoln Center (GSBLC) '25, vice president of the commuting students' association and a commuter first-year mentor, believes that all commuter students will "feel the pain eventually," since the 15 cents increase will add up. As a global business student, Chawla has also considered the economic reasons for the MTA's board to decide to raise its prices, but still believes that improvements are needed in order to justify the spike.
"I feel that if the MTA is increasing the fare just to cut down their deficit and not improving the safety, or not improving other features, then it's not justified," he said.
Chawla cited increasing safety, reducing delays and providing more concessionary fares for low-income residents, college students and young riders as potential improvements the MTA could implement to make the higher cost worth it for travelers.
Erika Shaw, Fordham College at Lincoln Center (FCLC) '25, mentioned similar desires for the MTA to make improvements in cleanliness and safety in order to justify the current fare. She noted her frustrations that subway tolls have risen without the guarantee of better services and added that she previously used the MTA to explore the city while residing on campus, but will now rely on its services as a commuting student from the Upper East Side.
"I think that if they are going to raise the prices, they better invest that money in making sure there are fewer delays, cleaner cars and safer stations," Shaw said.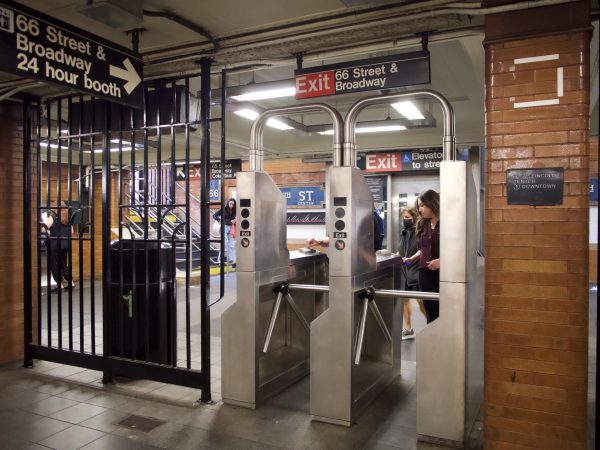 On May 4, the MTA detailed a phased rollout of subway service enhancements, impacting numerous train lines across multiple different boroughs. Additionally, a press release on Aug. 22 announced service increases on N and R train lines, aimed at decreasing wait times with trains arriving every eight minutes instead of every 20 minutes between 10 a.m. and 4 p.m. on weekdays. 
In regard to reliance on the MTA, Chawla, a commuter from New Jersey who uses a New Jersey Transit bus to enter Manhattan, noted that the fare increase has made him reconsider whether he will still utilize the MTA's buses or subway to travel from the Port Authority bus stop to the Lincoln Center campus.
According to Chawla, other commuters, particularly those who live within a 30-minute walk of campus, share this perspective and noted that they will only consider using the MTA as a last resort if they do not have the time to walk.
Chawla expressed a desire for Fordham to respond to the MTA fare increase with its own MetroCard program, or concessionary fares, for commuter students. This is a point he said he raised during the town hall sessions with University President Tania Tetlow, immediately following her appointment as president of the university.
The Metro Grant is only available to those who, during their time of admission, applied to Fordham as commuters from their permanent New York City residence or its surrounding areas, are U.S. citizens or permanent residents, and are enrolled full-time during their time of admission.
Aidan Ilnitzki, FCLC '24 and a commuter to the Lincoln Center campus, expressed a similar recommendation to the university.
"To support students with this added cost, Fordham could consider providing subsidized transit passes or offering shuttle services from major transit hubs to campus," he said.
The MTA offers student MetroCards that are distributed by the university. According to the MTA, the New York City Department of Education Office of Public Transportation works with schools directly to distribute these cards. 
Bob Howe, associate vice president for communications and special adviser to the president, said that the university is unable to respond to specific increases in the cost of living in New York City. He noted that the university's aid budget was increased this year alongside the 6% tuition increase, with extra funds being distributed primarily to students with the most compelling financial needs.
Fordham University currently offers a $10,000 Metro Grant to students who commute from their permanent residence to its campuses. The grant is available to commuter students regardless of financial need and can be renewed for the duration of enrollment, up to four years.
Despite the grant's stipulation, Chawla noted that the grant has shortcomings. For instance, the Metro Grant is only available to those who, during their time of admission, applied to Fordham as commuters from their permanent New York City residence or its surrounding areas, are U.S. citizens or permanent residents, and are enrolled full-time during their time of admission.
"The Metro Grant has its own specifications and limitations. Not everyone is eligible for the grant," Chawla said. "I think increasing the accessibility of the Metro Grant would be a step in the right direction for Fordham."
According to the MTA, the toll and fare increases are projected to generate a total revenue of $117 million. The projected incremental increases in 2025 and 2027 to the tolls and base fare are expected to be an additional 4% increase each time the price is raised.