The Office of Finance announced in an email to the Fordham student community on June 15 that the university had selected Follett Higher Education, a collegiate campus store vendor, to operate its campus bookstores at Lincoln Center and Rose Hill. According to Nicholas Milowski, vice president for finance and assistant treasurer, the university has signed a five-year contract with the new operator, and the new bookstores in partnership with Follett opened on June 20.
Barnes & Noble College, Fordham's former contractor for its campus bookstores, alongside its one-time parent company Barnes & Noble Booksellers, operated Fordham's Lincoln Center location for nearly 40 years. When asked why the decision was made to change contractors, Milowski pointed to the announcements made in the university's communication on June 15 which highlighted that the decision was primarily due to Follett's aligned vision with the university's new strategy of reimagining the campus stores.
"Teaming up with Follett Higher Education, the industry leader in collegiate retail, our vision is to transform the campus store into a dynamic and versatile space that truly adds value to your Fordham experience," the email from the Office of Finance said.
The email outlined seven initiatives that the campus bookstores will improve upon with Follet Higher Education as its vendor. These initiatives include improved access and affordability of required course materials, convenient supplies and snacks, events to highlight faculty, among others. 
Anna Schurr, Fordham College at Lincoln Center '26, noted that the textbook offerings at the previous campus stores operated under Barnes & Noble College were less than ideal due to their pricing. 
"From my experience the bookstore is a little more expensive than renting them through a website, but it is so convenient when there is a time crunch," she said.
Milowski pointed to the announcements made in the university's communication on June 15 which highlighted that the decision was primarily due to Follett's aligned vision with the university's new strategy of reimagining the campus stores.
Schurr noted that required textbooks for core classes such as theology and philosophy would often sell out due to a limited supply, and noted that the bookstore could be more equipped. She added that she hopes the new operator can improve upon the issues of cost and availability.
Follet Higher Education's website advertises that the company is North America's largest college store operator, serving 5 million students at nearly 1,200 stores at institutions including New York University and Stanford University. Milowski and Alessandro Mazzotta, director of strategic sources and office services, sent an announcement to employees on May 31 detailing the bookstore's transition to Follett Higher Education. They noted that Fordham selected Follett through a careful and competitive bidding process which involved several stakeholders including faculty, administrators, staff and students.  
Milowski and Mazzotta's email added that the university's vision for the bookstore entailed a place where the Fordham community can "expect more than just a place to pick up textbooks." They also emphasized that the bookstore will be transformed into a shopping experience that "embodies and reflects the Fordham community" will result from these efforts.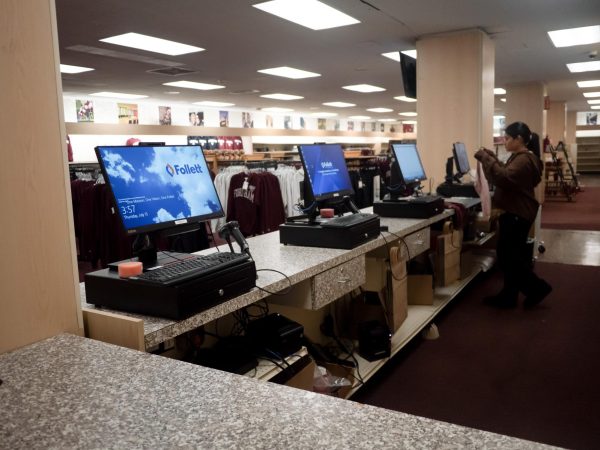 Alongside these noted initiatives, Milowski added that one of the new improvements will have the campus stores operating on a "hybrid" model for textbooks and other course materials. 
Milowski detailed that this framework will shift the purchasing process for those categories from a traditional in-store buying experience to one that allows students to order their materials in advance online. In the case of electronic materials, students will be able to access their course materials immediately and preview them before arriving on campus. This modality will also allow students the option of having their print textbooks delivered or set for pickup, similar to other retailers. 
Students will now be able to access a list of their required course materials through Blackboard in addition to the new campus store website.
According to Milowski, the stores will be renovated through the summer months and into the fall, adding that "we are planning a grand opening of the fully-renovated stores in time for homecoming."
At other universities, Follett Higher Education also offers Follett ACCESS, a service that allows students to access such digital resources as a part of a book charge on a tuition bill. Milowski noted that while Fordham strives to keep course materials low cost and is working to maintain an efficient experience for acquiring those materials, the program will not be offered in the 2023-24 academic year.  
"Additional research is necessary to determine if the access program can help us achieve those objectives," he said.
According to the email sent to students on June 15, the university's work with Follett Higher Education will aim to focus on supporting local and regional vendors by stocking the bookstore's supply with their products. Additionally, the campus stores will offer "branded apparel from Nike, Champion, Johnnie-O, and Peter Millar, among others.
Schurr noted that over the years, she has appreciated the bookstore's merchandise. 
"My favorite purchase isn't a book itself, it is a Fordham phone wallet with a key holder on the back," she said.  
The email also noted that there will be improvements to the technology offered in order to increase engagement and productivity. According to the company's website, Follett Higher Education is an authorized dealer of products from Apple, Dell, Microsoft, Adobe and other vendors; many of its stores have large displays of technology. Milowski noted that the Fordham Lincoln Center store will have a space for technology, adding that the university is exploring options to broaden its availability in all stores. 
Milowski emphasized the need for the store to represent students, faculty and staff. Members of the university community are instructed to email [email protected] should they wish to provide feedback on what they would like to see in the new stores.
The campus stores are currently preparing for renovations and had a 75% off sale on all Fordham merchandise from the Barnes & Noble College inventory while transitioning between vendors. According to Milowski, the stores will be renovated through the summer months and into the fall, adding that "we are planning a grand opening of the fully-renovated stores in time for homecoming."