New Coach, Same Success for the Rams
The women's basketball team had a solid 19-13 season, despite losing both the A10 tournament and the WNIT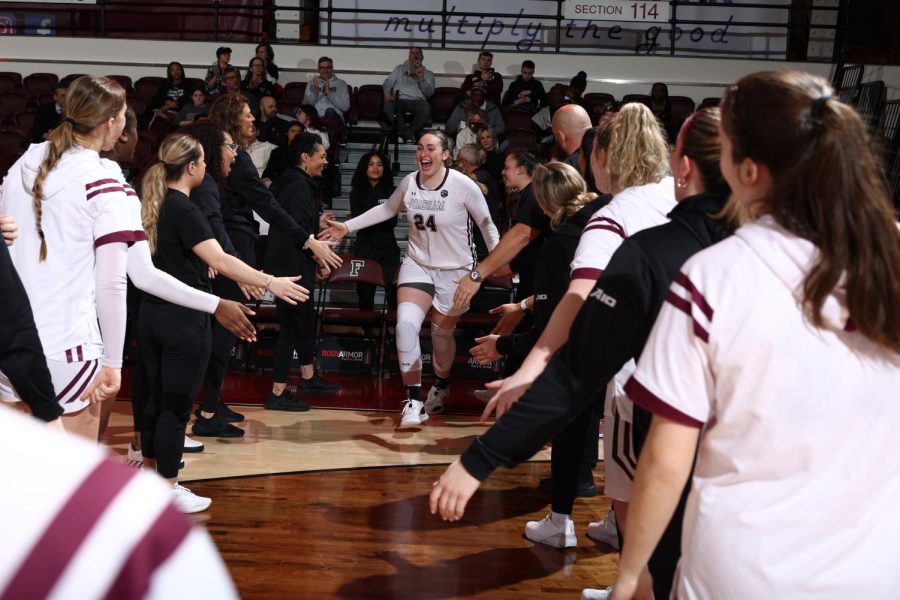 The Fordham women's basketball team kept up the same success as last year, despite a sudden change in the coaching staff at the end of last season. With Interim Head Coach Candice Green at the helm, the Rams concluded their 2022-23 season with a second appearance in two years in the Atlantic 10 (A10) tournament and a 19-13 record including the postseason. 
Last season, the Rams had an identical record and lost in the A10 quarterfinals to the No. 3 University of Massachusetts (UMass). This year, the Rams took that spot, moving from sixth to third in the A10 conference.
The Rams began their season with three quick wins, including their exhibition game against Kutztown University on Nov. 3. But after an 81-39 victory against Saint Peter's University on Nov. 10, the Rams suffered their first loss to the University of Maryland, 83-76, on Nov. 13. Three days later, they fell again, this time to Princeton University, 70-67. 
The Rams won 18 regular season contests out of 29, but it was not an easy campaign. Fordham played two overtime games and regularly faced difficult and high-level opponents. However, on many occasions, the Rams showed off their prowess.
It was undoubtedly a season to be proud of, despite posting the same 19-13 record as the year before.
Fordham's most notable win this season was their 95-48 thrashing of Wagner College. The Rams put on an offensive clinic. They showed off their raw scoring strength, as they put up around 20 points in each quarter. Asiah Dingle, Graduate School of Arts and Sciences (GSAS) '23, performed especially well for her team, scoring 20 points.
Dingle's second and final year at Fordham has been just as spectacular as her first. Her small size has been one of her greatest strengths, helping her secure over 105 steals this season. Dingle led the team's box score averaging 19.3 points per game.  In addition, her speed and ability to swerve between opponents has been her signature. She was also the 26th Ram across both men and women's programs to score 1,000 career points, ending her time in college assertively. 
Another significant Ram this season was Anna DeWolfe, Fordham College at Rose Hill (FCRH) '23. In her 2022-23 season DeWolfe averaged 18.2, a slight improvement from last year's 17.8. Her most successful game was during Fordham's 66-57 loss to UMass on Jan. 18, where she put up 33 points off 12 field goals including seven 3-pointers. Throughout the season, DeWolfe was a vital component of Green's offense.
One of the concerns this season was about the Rams' offense without the 3-point shooting that Kendell Heremaia, GSAS '22, brought to the team. In the end, the Rams were able to play well enough. DeWolfe became the obvious first option from 3-point range for Green, and she flourished in this role. Another major setback for the team was Megan Jonassen's, GSAS '23, season-ending ACL tear. Jonassen was a powerful presence at forward; without her, Jada Dapaa and Kaitlyn Downey, both GSAS '23, saw significantly more action inside the paint.
Although the Rams lost by a single point to UMass on Feb. 8 — the first of a three game losing streak — during their second meeting of the season, it was still one of their best performances. Offensively the Rams exceeded expectations as they put up 79 points, a scoring trend that was present throughout the season. Additionally, Dingle scored a career-high 30 points on 68% shooting from the field. It was a welcome change from their first matchup against UMass, where only four Rams scored. On Feb. 8, all but two of Fordham's nine players scored.  
The Rams were in the tough position of trying to break their losing streak going into their game against Rhode Island on Feb. 22. Fordham had offensive difficulties early on, but tight defense kept them alive, entering the halftime locker room tied.
The game continued back and forth until a last second opportunity presented itself to the Rams. With just four seconds left on the clock, DeWolfe was handed the impossible task of winning the game single-handedly. Miraculously, she drained a 3-pointer to put the Rams up 74-73 as the Rose Hill Gymnasium erupted with cheers.
The Fordham women's basketball season continued, as they were selected for and advanced in the Women's National Invitational Tournament (WNIT). In the first round, the Rams defeated Drexel University, 73-63. They moved on to the second round only to lose to Columbia University, 78-73.
It was undoubtedly a season to be proud of, despite posting the same 19-13 record as the year before. Coaching changes often bring instability in a team, but rookie coach Green has effectively taken the reins of this squad. Even University President Tania Tetlow, J.D., commented that "Against all the odds, Fordham basketball had a remarkable year."
Leave a Comment
About the Contributor
GABRIELLA BERMUDEZ, Former Sports & Health Editor
Gabriella Bermudez (she/her), FCLC '25, is a former sports & health editor at The Observer. Gabriella has spent many years participating in sports, such as basketball and track and field, and managing her high school's football team. Gabriella considers herself a team player, although during her basketball years, she refused to play on certain sides of the court because she only wanted to crowd to see her "good side." Aside from The Observer, Gabriella spends her free time training in MMA, specifically Brazilian jiu-jitsu and Muay Thai.