'Capsules' Film From Fordham Alumni Is Triumphant at Philip K. Dick Science Fiction Film Festival
Fordham alumni Luke Momo and Davis Browne's first feature film wins 'Best Feature' and is sold to an Oscar-nominated studio following its festival premiere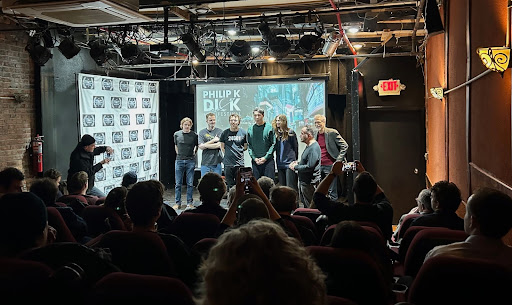 When Fordham Filmmaking Club founder Luke Momo, Fordham College at Lincoln Center (FCLC) '19, met Davis Browne, FCLC '19, at Pizza Star in Princeton, NJ in 2021, the goal was to discuss tabling their plan of producing a feature-length version of their short film "The Stamp Collector." Instead, Momo presented a brand new idea, catalyzing a journey that would lead to their very first feature film, "Capsules." With Momo as director and Browne stepping into an acting role, the duo co-wrote and produced an engaging movie that blended science fiction and horror. It not only won "Best Feature" at its premiere at the Philip K. Dick Science Fiction Film Festival, but was also then sold to Oscar-nominated distributor Good Deed Entertainment.
"Capsules" follows a group of four college chemistry students who, during an intoxicated study session, experiment with ingesting pill capsules filled with an unknown substance. Quickly, the students learn that if they don't continue to take the pills, there will be fatal consequences.
Momo and Browne developed the plot in just two days, had a first draft of the script written in two weeks and then began editing. After their early September pizza shop meeting, filming began in late January of 2022, propelling them on a journey towards their December 2022 premiere.
"It feels very gratifying when you get that recognition from a film festival like Philip K. Dick and our distributor, Good Deed Entertainment."Luke Momo, FCLC '19 and director of "Capsules"
Those who have worked with Momo in and outside of the club have noted that they saw hints of his old shorts within "Capsules," even going so far as to compare moments from them to new shots in the feature side-by-side.
"I like to think of the film like it's like my ultimate Fordham Filmmaking Club film," Momo explained, noting that "Capsules" has benefited from all of the short films he had made in the past. For Momo, the feature film is composed of a series of short films, so the natural progression of his shorts bleeding into his first feature is not only to be expected but celebrated.
"Movies are made of movies," he said.
"Capsules" was filmed in only eight days, and from the get-go, Browne explained, the cast and crew were all in. Immediately, they "really bought in to the vision of what the film was supposed to be." This attitude fostered a collaborative environment on set, on which both Momo and Browne placed a considerable amount of emphasis. Browne detailed their commitment to listening to the cast and crew's input, explaining that he and Momo did not want the set to feel like it had a hierarchy of power. They believe the strongest level of creativity and some of the best ideas came from the collaborative efforts of everyone on set.
Notably, many of these collaborators were also graduates of FCLC, with Momo describing it as "quite a Fordham joint." "Capsules" features the work of Caroline Potter Shriver, FCLC '19, as a lead actress; George Dissinger, FCLC '20, as the film's composer; Eamon Redpath, FCLC '18, as a sound recordist; Emma Szymanski, FCLC '19, with after credits music; Joseph Scanlon, FCLC '18, with sound effects and special music queues; Addison Thompson, FCLC '20, with makeup and costume design; and Ben Strate, FCLC '16, as a supporting actor. Because of their hand-picked team, despite the change in scale, both Browne and Momo felt like they were back in college making a movie.
Momo and Browne introduced some new collaborators too, one of whom was Ashley Thomas, who worked as the special effects makeup artist. Known for her work on high profile projects like "Good Time" (2017) starring Robert Pattinson and NBC's "New Amsterdam," Thomas' work was an integral part of the film. On the very first day of shooting, the "Capsules" cast and crew worked with a moving prosthetic, which started filming off with a bang. The cast and crew had barely met, but they were already crowded around a prop cut-open torso complete with breathing lungs, a beating heart and internal bleeding that Thomas designed herself. By stationing herself off camera and maneuvering the organs in the prosthetic via a remote control, Thomas was able to create the show-stopping scene that Momo and Browne had envisioned.
With a crew filled with Fordham alumni and New York/New Jersey locals, it was fitting that the film was slated to premiere at the Philip K. Dick Science Fiction Film Festival held at the Museum of the Moving Image in Queens. There, Momo and Browne were able to watch their film with an audience for the first time, noting moments that garnered full audience laughs and others that shook the theater into silence. An audience member even left the screening and vomited outside the theater. While the filmmakers certainly didn't wish illness on anyone, they admitted it was quite cool to realize that their film had that much of an impact on its audience. 
"When you're in that environment, you remember why you wanted to do this in the first place," Momo said.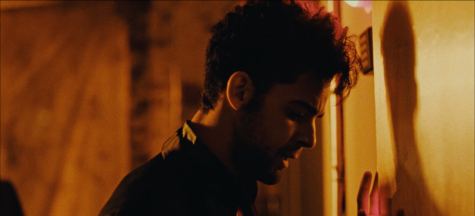 This cathartic joy only increased when "Capsules" was announced as the winner of the "Best Philip K. Dick Feature" award, given to the best feature film at the festival. Yet this was still not their greatest achievement of the weekend. Momo and Browne revealed that their top accomplishment was selling their film to Oscar-nominated distributor, Good Deed Entertainment. The studio is best known for "Loving Vincent" (2017), which received a nomination for best animated feature film at the 2018 Academy Awards. Representatives for the company told HorrorBuzz.com that Good Deed Entertainment is aiming to distribute "more 'elevated horror' films and tell unique stories in an artful and thought-provoking way," making "Capsules" an ideal candidate.
As each new audience watches the film, Momo hopes that they take notice of the intentional way in which "Capsules" subverts traditional horror movie tropes. For example, he explains that the film doesn't feature an "unambiguously evil human villain," in contrast to a slasher film in which the Michael Myers-esque character would hunt down the group of teenagers. Instead, the students in "Capsules" slowly morph into antiheroes, or perhaps even antagonists. The film presents the question: Do values and morals remain sound, or do they morph in response to the fact that life is imminently coming to an end?
In this vein, Browne said he hopes audiences find themselves reflecting on a time when they believed they were invincible — taking risk after risk convinced that they would be fine. This, Browne explained, makes the often abrupt and jarring realization of one's own mortality all the more poignant. He added that before this discovery, "you don't even consider (death) as a possibility."
This sensation is one that the students continue to struggle with throughout "Capsules," as they begin to fall apart under the pressure of imminent death but continue to hold on to the (possibly delusional) belief that they will make it on the other side. None of the students contacted their families throughout the duration of the film; Momo and Browne claim that as further proof of the kids clinging to the illusion of invincibility despite being given evidence that their demise is mere hours away.
Momo and Browne are far from finished with making new work, but right now, they are focused on sharing "Capsules" with as many people as possible. They emphasized that reading what viewers have to say about their film has been a highlight of creating it.
"We're really proud of ('Capsules')," Momo shared. "And when you put in hard work, you expect success based on the work. So, it feels very gratifying when you get that recognition from a film festival like Philip K. Dick and our distributor, Good Deed Entertainment."
Momo and Browne cite both persistence and acceptance as major themes for their young careers, which on paper seem contradictory. But instead, they find that the two are interrelated — acceptance of what is not meant to be, coupled with the persistence to move forward and continue to create, is the perfect recipe for growth. "Capsules" was born that way, and Momo and Browne could not imagine a better outcome.
With the exciting opportunity of large-scale distribution on the horizon, Momo and Browne are itching for more people to have access to their film. The official release date on Apple TV, Amazon Prime and other on-demand channels is March 31, 2023. But for those who want to see the film even earlier, it will be playing at the Garden State Film Festival in New Jersey on Sunday, March 26 at the Jersey Shore Arts Center. The Fordham Filmmaking Club is also hosting a screening of  "Capsules" with Momo and Browne on March 31 at 7 p.m. It is a first come, first serve, RSVP event.