She's Back: Wednesday Addams Reclaims Her Throne as a Pop Culture Icon
Tim Burton's reimagining of the classic tale skyrockets to Netflix's second most popular English-language series, surpassing one billion views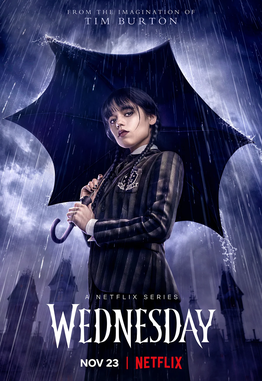 Warning: There are minor spoilers for the "Wednesday" Netflix series.
Many names hold significant meaning, whether they are from family members, fictional characters or pop culture references. When "The Addams Family" first appeared as cartoons in The New Yorker in 1938, the family members were nameless. In 1964, Charles Addams, the cartoonist behind the print series, turned it into a television series and gave the characters names: The parents became known as Gomez and Morticia Addams, and their gloomy daughter took on the name of "Wednesday," based on the "Monday's Child" nursery rhyme line, "Wednesday's child is full of woe."
Wednesday, full of woe and dressed head-to-toe in all black, with her hair in her iconic braids, has been a pop culture icon for several years. However, her surging popularity in 2022 was a big surprise for the Addams Family franchise and Netflix alike. In November 2022, Netflix released Tim Burton's creation "Wednesday," a new series centering on the titular character as she navigates her teen years, new schools and attempted murder. The limited series creates a landscape for an amateur detective show mixed with deadpan comedy.
Although the show was released in November instead of October — missing out on an opportunity to tie in the spooky themes of the show with Halloween — it managed to rack up high ratings. "Wednesday" reached the No. 1 slot on Netflix in 83 countries and currently holds the record of most hours viewed in a week for an English-language Netflix series, with a total 341.2 million hours watched in the first week of its release. "Wednesday" became an overnight phenomenon for teenage and millennial audiences, and it came at Netflix's 11th hour.
Wednesday's prominent status as a self-proclaimed "outcast" adds to her audience appeal and her mainstream popularity.
Netflix had been struggling in 2022 as the company experienced massive subscriber losses due to the amount of new streaming services and increasing annual subscription prices. Last April, Netflix reported that it lost 200,000 subscribers in the first quarter of the year, experiencing its first big loss in over a decade. 
"Wednesday" has proved itself to be a saving grace in Netflix's viewership as last week reports showed that the company added almost 7.7 million subscribers during the fourth quarter, reaching 230.75 million globally. This skyrocket in statistics for the streaming service has allowed Netflix to reclaim its high status among other platforms. Wednesday Addams has made a reentrance into mainstream television, when streaming services and audiences alike needed her most.
With the hit Netflix show "Stranger Things" drawing to a close after its upcoming fifth season, critics and television analysts have identified "Wednesday" as the next hit show in the sci-fi/horror genre, filling the gap left by the Duffer Brothers' iconic series. As both are Netflix productions, the streaming platform will likely retain its dominance in the subgenre. 
The real questions are: Why Wednesday Addams and why now? For the first time, amid an influx of teenage-centered dramas on streaming platforms, we see a protagonist who is undeniably herself. 
While protagonists on television shows like "Riverdale" or "Never Have I Ever" exist in a realm of real-world anxiety and Gen Z angst, Wednesday is able to exclude herself from that narrative, aided by the sci-fi aspect and departure from reality. Rather than watching a show about a fictional high school in an all-too familiar town, "Wednesday" lets audiences escape as they delve into the fictional Nevermore Academy.
As Bianca, a student at Nevermore Academy, says to Wednesday at their winter dance in "Woe What a Night," (the fourth episode), "You're lucky. You don't care what people think of you." To which Wednesday responds, "Honestly, I wish I cared a little more."
Wednesday's prominent status as a self-proclaimed "outcast" adds to her audience appeal and her mainstream popularity. Her unabashed confidence and deadpan personality serve as inspiration for people who feel on the outskirts of society themselves. 
Another important aspect of the popularity of Wednesday lies in her ability to blur the lines between protagonist and antagonist. She cares undeniably about her younger brother, Pugsly, and rushes to his rescue when he is bullied by the high school swim team in the show's opening episode by dumping piranhas in the school pool. However, in "Woe What a Night," when it's revealed that Wednesday's budding romantic interest, Tyler Galpin, vandalized and hurt Xavier Thorpe, Nevermore's tortured artist, she shows no anger toward him. 
When Tyler tells Wednesday, "Look, I did a terrible thing, but I swear I'm not a terrible person," she responds, "Did you think I was going to judge you over some lousy prank? I would have taken it further." Wednesday picks and chooses who she shows her loyalty to, demonstrating traits not often seen in modern media.
Wednesday has not only resurged in popularity through the Netflix platform but through social media platforms as well. Wednesday's iconic dance in "Woe What a Night" to "Goo Goo Muck" by The Cramps, choreographed by actor Jenna Ortega herself, went viral overnight. The dance has been reposted millions of times and was adapted to "Bloody Mary" by Lady Gaga by several TikTok dancers. 
It would be ignorant to ignore that without Ortega as the lead, this show would not be as successful as it has been. Ortega has been in the acting scene since before her breakthrough performance as young Jane in The CW comedy-drama series "Jane the Virgin." Her performance as Wednesday has received such high acclaim due to the actor's preparation and dedication to the role. Ortega even took lessons in cello and fencing, as well as German, to prepare for the titular role. 
In interviews, Ortega also noted that she watched Addams Family movies from the 1990s, read Addams' comics and watched the '60s TV series. Although she was hesitant at first to join the series as she wanted to move her career toward film and away from television, Ortega knew she couldn't pass up the opportunity to work with Burton and step into the shoes of this iconic character.
Ortega's ultra-specific performance of Wednesday attracted not only the attention of viewers but also awards organizations. For an awards organization such as the Golden Globes, the qualifying eligibility period for all nominations is the calendar year from Jan. 1 through Dec. 31. "Wednesday" managed to acquire two nominations within a mere 38 days before the eligibility period was up. Despite losing in both categories – best television series, musical or comedy, and best actress, television series, musical or comedy, for Ortega's performance – the series still managed to turn heads by receiving nominations so late in the season.
"Wednesday" has been renewed for a second season. Details on shooting location, production dates and release dates are all under wraps.