Skip the Swiping, Download Sparkmate: A Student's Contribution to Reinventing Communication
Sidharth Sood, FCLC '25, paves the way for authentic online communication through the launch of his new app, Sparkmate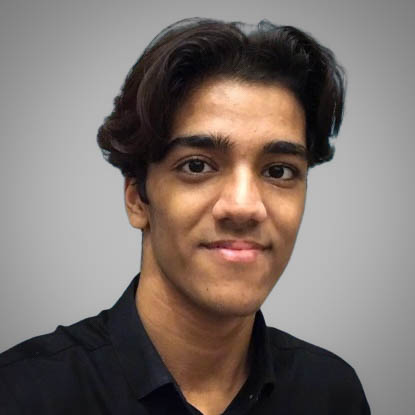 According to tech entrepreneur, TEDx speaker and computer science major Sidharth Sood, Fordham College at Lincoln Center (FCLC) '25, artificial intelligence (AI) will soon influence everything around us, including the places we visit, the interests we share and, especially, the people we meet. With this mindset, Sood is turning to advanced AI in January 2023, when his upcoming dating app, Sparkmate, is set to launch.
Introducing Sparkmate, The Future of Online Dating
According to Sood, Sparkmate will play an integral role in restoring authentic human connection in an online format, as the use of technology's AI will pair individuals with similar interests through candid video conversations. 
The app will use a questionnaire, where similar responses will allow people sharing related likes and dislikes to connect. If two people match, they unlock the opportunity for a brief video conversation.
Sood's vision for Sparkmate began during the COVID-19 pandemic, when he was at home with little social contact outside of with the people he knew. While Sood wanted to venture into the online world to meet new people at this time, he felt there were very few opportunities for people to connect easily with one another. He used online platforms such as Reddit, Twitter and Instagram to meet new people but had no luck. This helped to inspire his vision of creating Sparkmate.  
Say Goodbye to Swipes
Unlike other social platforms such as Tinder, Bumble or Hinge, Sparkmate isn't designed to rely on the swiping of other profiles where little information about the other person is given. Sparkmate will also not make people reach out to their matches to begin awkward and meaningless conversations.
"Social networking platforms rely on a whole network of users building profiles and having to do heavy-lifting ourselves in terms of finding people," Sood said.
Sood added that he feels that Sparkmate's unique use of AI will transform the way individuals interact — by asking for more information, better consideration can be given to pairing people together at the right time. 
Sood believes that his vision for the future of online dating will fill voids left behind by many dating platforms.
"The more of a digital footprint you and I leave, the more metadata there is for social programs to train artificial intelligence algorithms to learn more and more about each other," he said.
With the launch of Sparkmate in January, Sood aspires to scale the app into a larger platform, not only for dating purposes, but for forging platonic and professional relationships as well. 
Sood believes that his vision of growing Sparkmate into a larger social platform will allow the app to cater to bigger audiences.  
"We do not want to limit the application of it to just relationships because I think there is a need to professionally network with people in meeting face to face online," he said. "If you see a connection, you really get to talk to them, which is not something you can do on LinkedIn."
The Sparkmate Team
Ironically, Sood met Sparkmate's Chief Technological Officer, Roshun Sunder, via LinkedIn. Sunder, a second-year computer science and economics student at Columbia University, has had previous experience with technology startups involving app development. Sunder is primarily responsible for the technological aspect of the app and holds a great set of technical skills.
The dynamic between Sood and Sunder is nothing short of inspiring; they are two ambitious students seeking to make a change in the way that people rely on technology to build relationships. 
"We are very understanding of each other because we are of the same age demographics, so there is no mismatch there and that is something I really value," Sood said.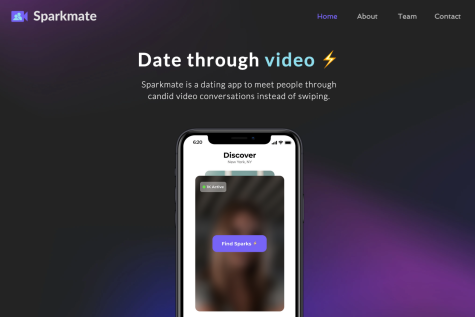 They also work alongside Chief Financial Officer (CFO) Colton Noll, who has over ten years of experience in operational business. As CFO of Sparkmate, Noll is responsible for the company's financial aspects concerning business models, marketing strategies, funding and other related activities. 
A Light in and out of the Business
Miranda Saenz de Vitari, FCLC '25 and a close friend of Sood, recalled one of her earliest memories of him and the impactful impression he gave in their science class. As part of a science project, Sood presented his startup, Curiosity, and his vision to make inhabiting Mars a reality. His devotion to and execution to the classroom project was enough to convince his peers, including Saenz de Vitari, of his unbridled passion for sparking large-scale change. 
"You can tell he is very passionate about the things he works on, and he definitely works hard," Saenz de Vitari said. "You can always tell that he is quick to pick up on things, so I admire him for that." 
Saenz de Vitari added that Sood is someone that all people can look up to, not just young entrepreneurs. He is someone invested in his work, making a greater change in society and reaching new means of success. 
Sood has also utilized the university's resources, such as the Fordham Foundry and its alumni network, in order to reach where he is today. 
"It is easier to network with someone when you share a pre-existing connection, and going to Fordham is a big one," Sood said.
Within Fordham, Sood can be seen all around campus, taking advantage of its public spaces. While balancing his academics with his budding career brings its share of challenges, Sood finds the ability to stay on top of everything by being organized and planning ahead.
Organization is the key to Sood's success, and he described himself as a frequent user of Notion, a note-taking platform used to optimize an individual's productivity and efficiency, with Saenz de Vitari going as far as to call the app his "baby." 
Sood believes that his vision for the future of online dating will fill voids left behind by many dating platforms. He added that his use of AI and ties to the Fordham community will allow many to connect with new people in ways they would not have previously had the chance to.
"Download Sparkmate if you are interested in authentic communication and you prioritize efficiency. If you are not afraid to talk to new people or even if you are and want to build that as a skill, download it," he said.
Sood is passionate about implementing technical solutions in today's society and believes technology will eliminate differences affecting human interaction and mental well-being. 
"Technology presents us with ways not only to tackle societal issues, but to do it at a scale where we can eradicate these issues rather than throwing on a Band-Aid," Sood said.
He is set to deliver a TEDx speech titled "Unanswered" on technology solving present issues in society at Rutgers University next year. He will discuss his philosophy on the reinvention of a utopian society revolving around technology and startup thinking. It will not be Sood's first time as a TEDx speaker, as he recorded a speech in July 2020 called "Charli D'Amelio and a New Generation of Tech-Savvy Entrepreneurs," in which he spoke about the vast importance of technology and passion being key to increasing income in a budding business.