The Fashion Studies Program Looks Forward: Professor Allison Pfingst in Conversation
Fordham's fashion studies administrator talks self-presentation and social media in the liberal arts arena
For Allison Pfingst, Fordham College at Lincoln Center (FCLC) '14 and current professor of fashion studies at Fordham, the university's fashion studies program isn't just an impressive amalgamation of disciplines ranging from finance to fine arts, nor is it simply one of the university's most rapidly expanding programs — it's a homecoming of sorts, the fruit of years of Pfingst's labor. 
Much of this labor happened close to home, both in the halls of the Lowenstein Center as well as museums scattered around Manhattan. As an undergraduate art history student insistent upon writing all of her papers on fashion, and more recently as an adviser and administrator of fashion studies at Fordham, the intersection of art, fashion and education has long been a cornerstone of Pfingst's academic and professional careers. 
After graduating from Fordham in 2014, Pfingst worked in art galleries, later receiving an accreditation from the Metropolitan Museum of Art's Costume Institute in collections management. Further study of dress and textiles history led her to Scotland, where she completed her postgraduate studies in 2017 at the University of Glasgow. 
Fashion Studies, Full Circle
A comprehensive background in art history informed Pfingst's approach to crafting the fashion studies program, but she considers her time as a Fordham student to be the most valuable preparation for her current role. The current fashion studies program only existed in theory during Pfingst's undergraduate years.  
"We were very vocal, those of us fashion girlies back in the day, about wanting more," she said. 
At the time, the only offering was a singular course in fashion design, taught by a Fashion Institute of Technology (FIT) graduate and the then-director of the theatre department. Since then, fashion studies has blossomed not only into a myriad of interdisciplinary courses but also into a minor at Lincoln Center with a prolific community. 
The fashion studies program boasts roughly 120 students whose minors are officially declared. Pfingst anticipates the number will increase in coming years. 
She attributes the program's popularity, affirmed by a sizable influx of students declaring a fashion studies minor, to the ways in which our world has become highly visual, amplified by, or perhaps stemming from, social media. 
"If you want to be at the forefront of what's going on with fashion, you need to understand the context it's created in." Allison Pfingst, fashion studies professor at Fordham
"This idea of self-presentation has become so central," Pfingst stated. "I have kids coming who have, literally, millions of followers on social media. And even if, you know, it's a few dozen, or a few hundred, or a few thousand, you're being seen by so many people, all the time." 
Pfingst intimately knows the value of the student voice. Since her days of advocacy as an undergraduate, she's been focused on building the program that students want. 
"It's very Fordham from start to finish, with a lot of alumni involvement and a lot of student involvement," she said. 
Clothing in Context
The program frequently markets itself as one that teaches fashion in context, an idea of which Pfingst is a fierce proponent. She described the phrase as the notion that a piece of clothing is not solely aesthetic. 
"You can't separate it from the person wearing it," she said. "You can't separate them from the body, from the time period it was created in, from the culture that was surrounding it." 
From this vantage point, fashion, and the history that accompanies it, becomes intimate, personal and perhaps more accessible to the modern student. 
According to Pfingst, teaching fashion in context isn't only valuable for fashion studies students. She believes that students interested in current trends and in the constant breadth of change that characterizes the fashion industry should also seek an understanding of the larger picture. 
"If you want to be at the forefront of what's going on with fashion, you need to understand the context it's created in," she explained, clarifying that such an understanding "requires an understanding of the other cultural factors." 
While Pfingst hopes fashion studies students graduate with practical skills like the ability to synthesize information from a variety of sources, she also hopes that they understand the value of self expression as well as fashion's capacity to aid an individual in presenting the most authentic version of themselves. 
Humanities Through a Fresh Lens
"Sometimes everything we learned about in history is so big. It's the king, it's the war, it's these extraordinary, once in a lifetime things," Pfingst said. "But everyone has woken up and chosen what to wear, put on clothes, brushed their hair." 
The interdisciplinary nature of fashion studies is quite literally woven into the fabric of the program (no pun intended). The courses are hosted by a variety of departments, from "Fashion as Communication" under the communications and culture umbrella to "Fashion and Art in the Modern Age" held by the art history department. 
Pfingst explained that a lack of photographs, especially prior to the 19th century, makes the study of art history in relation to fashion critical. Any understanding of historical dress, she argued, comes from "paintings, drawings, sculpture, etc. So it's really important to be able to understand the mechanics and the history of the art."
"We're looking at ways that we can allow some more flexibility and kind of personalization within the minor and hopefully, some more overlap between the minor and different majors." Pfingst
While students interested in the design and synthesis of clothing are encouraged to take hands-on courses like Fashion Design, the fashion studies program has a decidedly academic focus — one that's highly informed by FCLC's liberal arts curriculum.
According to Pfingst, real world application is central to and inextricable from the fashion studies pedagogy. 
"You have your theology, your politics, your social sciences, but where the rubber hits the road is in how we present ourselves. All those ideas were kind of abstract until they met humanity, until they met the human body," she said. 
A Bright Future for Fashion Studies
The liberal arts nature of Fordham's course offerings also distinguishes the university's program from the plethora of fashion and design schools riddled throughout New York City. 
"We're not teaching you how to sew," she said. 
Instead, the program "is meant to be a broad scope, from creation through selling." Fashion studies at Fordham is holistic and, given the nature of the minor program, inextricably linked to academic fields outside of the fashion arena.
"We know we're not FIT or Parsons, which have very different focuses; the kind of transitioning between the fashion industry itself and the more academic side of fashion study I think has definitely been helpful when developing the program," she said.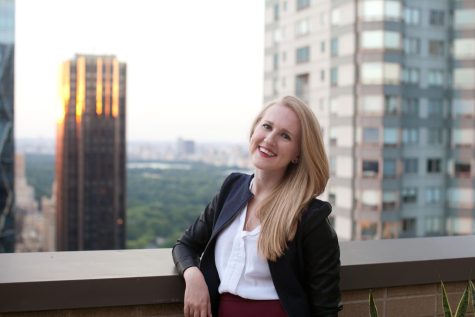 In fashion studies courses, a unique dynamic is at play — the convergence of traditional academic fields, like art history or business, merge with cornerstones of the digital age, such as TikTok and influencer culture, making for a dynamic, unprecedented intellectual landscape.
As for fashion studies' future? Look out for expanded course offerings and, down the line, a new major. Pfingst is hopeful about the program's capacity for intersection with a broader swath of fields of study so that students are able to complete the necessary courses. 
"We're looking at ways that we can allow some more flexibility and kind of personalization within the minor and hopefully, some more overlap between the minor and different majors," she said.
Pfingst believes that people are starting to understand the power of self-presentation "in creating an identity and a sense of self." She hopes, quite fervently, that students see their interests represented in the curriculum and feel inspired to engage with them. 
"I think it's really gratifying and validating for students when they come to Fordham and realize that we are taking this very seriously, and our courses are considering this topic seriously," she said.